Drag Race Season 3 Deepens Its Diversity: RuPaul Quaran-stream Rewatch
Welcome back again, Queens, this time for another season of RuPaul's Drag Race. So, grab your skinny bitch snack of choice, sharpen those claws, and get ready, because here comes all the tea of season three. This time, the stakes are higher than they've ever been before with 75,000 dollars on the line as well as a lifetime supply of Kryolan makeup in addition to the tour and the title of "America's Next Drag Superstar". So get tucked, get ready, and start your engines.
First and foremost, halloo, Shangela is back (not like anybody really campaigned for her back), and she is the hot topic of this whole season. The girl still can't sew even though she had years since she was eliminated first on season 2 to up her game. While she can't sew, she did up her drag game, which was totally a given seeing as when we first met her, she had only been doing drag a handful of months. She made it probably farther in this season than she maybe needed to, but at least she got a chance to prove what she'd learned.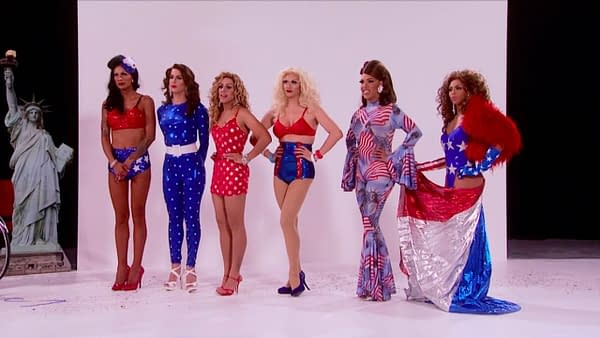 This season was the season of the often overlooked queens: we got three plus-size queens and two Puerto Rican queens. Diversity is kind of a big deal, especially in a community where thin, pageant pretty, and having a certain look/demeanor/style seems to be the status quo. By casting queens from all over and all styles, RuPaul is sending the message loud and clear that anybody can do this just as they are. You can be fabulous regardless of any race, religion, orientation, gender, creed, status – all that matters is what you feel and that you be true to yourself. Time and time again this is what's rewarded on the show, and that's as it should be. Don't be afraid to be yourself, whether it's showing your unique style or refusing to change to fit in. Be you and be proud, queen.
I feel like this season's winner, Raja, totally embraced that; she has been in the game for a while, and it shows. She takes challenges and shade in stride and with class, all the while not compromising who she is as a person and a queen. She's not as "fishy feminine" as others, but that's her – she's a little punk and colors outside the lines, and it's how she likes it. Congrats to the third season's winner – well deserved.
Though Yara Sofia did win Miss Congeniality, I kind of liked the other Latina queen, Alexis Mateo, better. I thought her big Florida queen style was hilarious and found it incredibly endearing. Though, not to say Yara Sofia didn't deserve that sash, but the last Miss Congeniality (Pandora Boxx) did leave some pretty big pumps to fill. Regardless, this whole season was a delight, even if it did get hella shady at times. The queens are getting craftier and figuring out how to manipulate and play the game, and casting is finding the most caustic queens and riling them up and sticking them all in the workroom to explode…and it is so incredibly entertaining.
Keep checking back for season four – it's one of my personal favorite seasons, mostly because of one Chad Michaels, but Sharon Needles and basically every other queen on that season is fierce. So, pack up your silicon boobies and make sure you look absolutely sickening because as wild of a ride as season 3 was, the fourth season will be at least 35% more: more queens, more drama, more shade! Let's pray these ladies don't f*** it up because if not, they just might be "America's Next Drag Superstar" on RuPaul's Drag Race.