The Flash Season 3: Harry Tries to Help Caitlin, and Flash Goes North
We've got a scene from tonight's new episode of The Flash season 3, entitled 'Therefore She Is'. While the episode's main focus includes the return of Gypsy (Jessica Comacho) and will be dealing with her relationship with Cisco (Carlos Valdes) and trying to thwart… there word, not mine… the Thinker's plans, the clip actually focuses on Caitlin (Danielle Panabaker) and Harry (Tom Cavanagh). Spoilers ahead.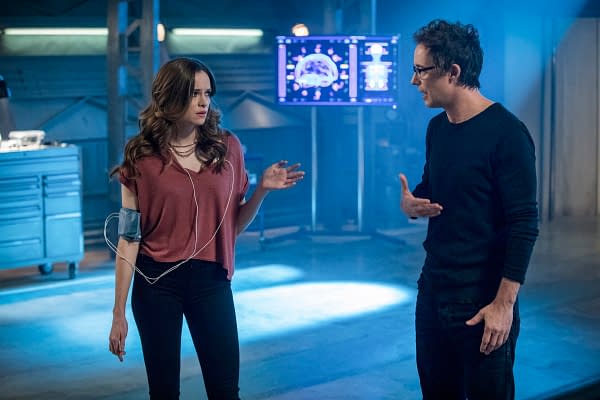 Here is the synopsis for the episode:
GYPSY RETURNS — Barry (Grant Gustin) and Team Flash team up with Gypsy (guest star Jessica Camacho) to try to thwart Thinker's plan. Meanwhile, Cisco (Carlos Valdes) and Gypsy have a heart to heart talk about their relationship. Rob J. Greenlea directed the episode written by Sterling Gates & Thomas Pound (#420). Original airdate 5/1/2018.
The first clip below has Harry trying to help Caitlin trigger the anomaly in her system that is Killer Frost, but she can't trigger because she no longer has dark matter in her system. It's something that Harry forgets because of what happened to him when DeVoe attacked the lab and he overloaded him self with dark matter. Looks like it's time for the rest of the team to find out.
A second clip was posted as I was writing up this article. The clip shows trouble brewing between Vibe and Gypsy. When they go to take on DeVoe (Neil Sandilands) he sends Barry off to the Great White North — and he has to run back.
The Flash airs tonight at 8 p.m. ET on the CW.
https://youtu.be/z23yRNY82Xw