Gen: LOCK debuted on Rooster Teeth early in 2019, and in many ways pushes the traditional boundaries of mecha based animation. Gen: LOCK features an all-star cast, cutting edge animation, and some truly wicked mech designs.
I had the chance recently to ask Gray Haddock, the creature of gen: LOCK, five pressing questions about the big mech madness of his new series. Please to enjoy!
The Genesis of gen: LOCK
Bleeding Cool: The series gen:LOCK has a lot of classic anime and science fiction influences in its DNA, but is also very much its own creature. What was the spark that ignited this project?
Gray Haddock: I like big bots, and I cannot lie. At the time I'd pitched the show, there was a dearth of serious mecha and cyberpunk storytelling, particularly outside Japan. I grew up on this stuff and I was missing it. So when Rooster Teeth said they were looking for their next RWBY, I pitched something I genuinely wanted to watch. I'm a sucker for blending truly human, intimate character-driven stories with sci-fi action, and a dash of existential philosophy-fu. Thankfully, so were the people who selected the pitch.
I also wanted to offer a combination of escapism and morale boosting, for people whose heads continue to spin from current real world events. The show served as an outlet for me, letting me at least offer some themes that might help with that, without getting too soap-boxey about contemporary specifics.
An All-Star Cast for Big Mech Mayhem
Bleeding Cool: What was your process in gathering the voice cast together for gen: LOCK? Did you purposefully look to actors not usually known for their animation work?
Gray Haddock: We're still outsiders, and new to that tier of the process, to a certain extent. So the beginning of the casting process relied most heavily on our foolhardiness. We simply and humbly reached out, sent some materials (some customized to the talent), and asked if they wanted to come out and play. Rooster Teeth continues to be better recognized in the industry as an innovative development studio with an increasing amount of success in the market, and it was a test to see if our momentum was at the point where we could leverage that. Thankfully, once we got the material in front of them, this ensemble saw something in the show's potential. And they liked what they saw when they researched RT, as well. Overall, we were incredibly, incredibly fortunate it all lined up.
Creatively, the casting was more about finding the absolute best possible fit, regardless of notoriety for voice acting. And each of them was so very perfect for their parts, a true dream team. In some cases, the idea of certain specific talent, Michael (B. Jordan) in particular, informed the character development process even before it occurred to us to actually contact him – so it was very strange to actually wind up with them in the final cast.
The majority of the cast had some voice work experience, so we weren't starting from zero, really. I also had faith, given how amazingly talented these actors are, if they didn't voice act regularly I'd still be able to find a directing style that would connect with their skills – even if that was more of a live action communication style. I was more concerned with me figuring out when to get out of their way and just let them work their magic.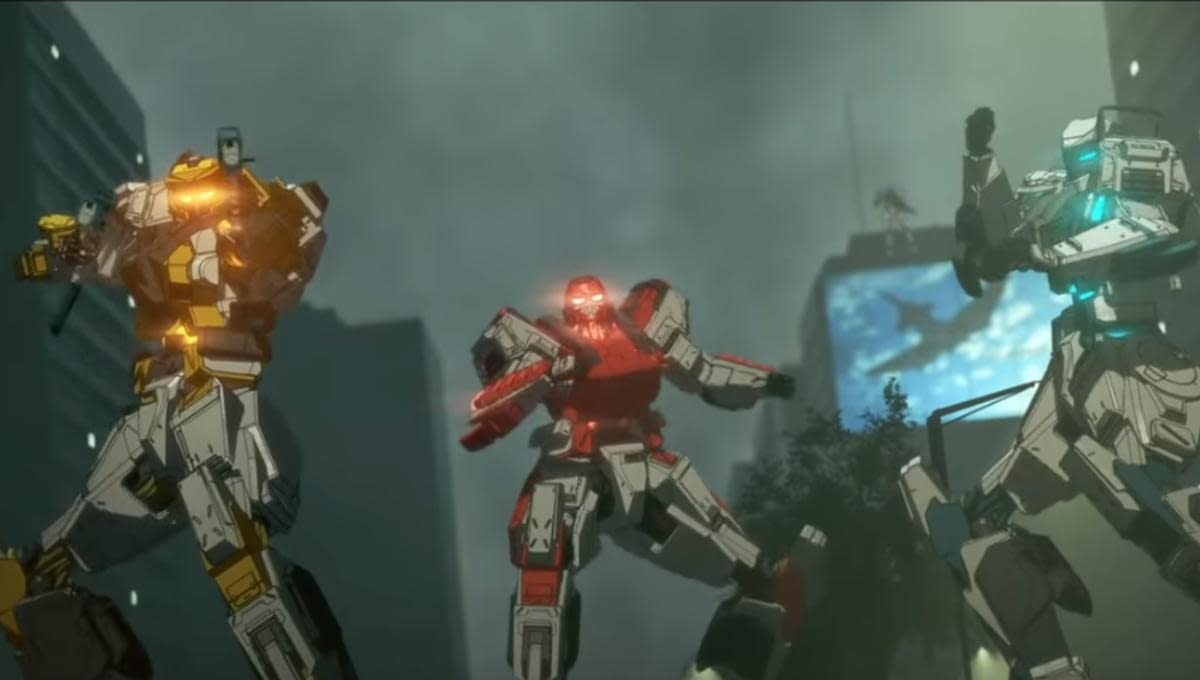 Breaking the Mold
Bleeding Cool: The animation on gen: LOCK is breathtaking, with a uniquely fresh take on mech combat. What was the approach to the animation side of things, and how long did it take to get started?
Gray Haddock: We had a handful of weeks after RWBY 5 came down to test some technical ideas on how to shake up the look from RWBY, and try some more 2D-inspired techniques. We also began work on movement guidelines for the holons. We developed character-specific posture and walk styles that would apply to both human and mechanical bodies, to further help the audience identify which mind was in what mech. We also went back and forth, between motion styles that would suggest the scale of these things, but still, allow for some faster action.
Mighty Mech Mayhem
Bleeding Cool: What were your inspirations for the mech designs on gen:LOCK, and what look were you hoping to convey?

Gray Haddock: The endoskeletons under the armor were very much inspired by cutting edge 3D printing techniques for prosthetics. There are some really elegant things happening on that front these days, that we only began to suggest. And I wanted the mechanics and the ratios to be close to human at first, to keep the idea that an untrained human mind that's been ripped from a human body will adapt better to a body that feels and moves closer to human. And then over time we can start going crazier with the mechanics, try some really exotic forms.
Similarly, I wanted the outer armor to evolve over the course of the show. It needed to be driven by storytelling reasons, to show you who was influencing the team at what time. But it also allowed for some homages to classic mecha ideas. For example, the first armor designs were aided by Vanguard engineers, hence the boxier, more militaristic look, which also let us nod to older Gundam anime and other influences. Later, when those armor sets have been damaged to the point of being unusable, we get to reveal the project Cammie was using to work through her mid-season trauma, and present new armor sets that are more individualistic and sleeker. They were also intended to be a little reminiscent of more super-mecha shows.
The Future of gen: LOCK
Bleeding Cool: What would you like to see the future hold for gen:LOCK?
Chase and the team have a bit of a journey and further evolution ahead of them and I can't wait to get into that. But the pace at which we open up the scope of the show and its world is definitely a longer play as well. So I want to reward the more patient audience members who want to know more detail about what's going on in the world and what the Union is about. And attentive fans who caught the post-credits scene should know we've already kind of promised that. But at its heart, gen:LOCK will always be a more intimate, emotional, character-driven experience. We had one shot to charm our audience with these characters, potentially only one season. So I decided to go all-in with that in our first season, to maximize the odds that the audience would bond so much with the hearts of our characters. If we've done our jobs right, then people will come back due to that bond and we can get into more world details at that time. I just want to do it again. We learned so much, and I so miss working alongside this amazing crew. This season turned out really well, but I know there's more we can do, and ways we can improve – and that I can improve. I also just want to get more stories out there that connect with this audience. Anything we can do to help entertain, at a minimum, but hopefully, also stimulate and motivate fans to get through their days better will be a success in my mind.

The first season of gen:LOCK is available now on VRV and through Crunchyroll as well. The series is an absolute blast, with incredible mech action and a fantastic voice cast, including Michael B. Jordan, Dakota Fanning, David Tennant, and Maisie Williams.
Enjoyed this article? Share it!