'Gotham' Season 5 "Ruins": Gordon's Bad Decisions Hurt City, Episode [SPOILER REVIEW]
Someone literally left FOX's Gotham in ashes! That can only mean three things: Gordon is going to make some questionable decisions in his quest for justice; the wrong person is going to be implicated; and we're about to board the Bane Train! Toot-toot!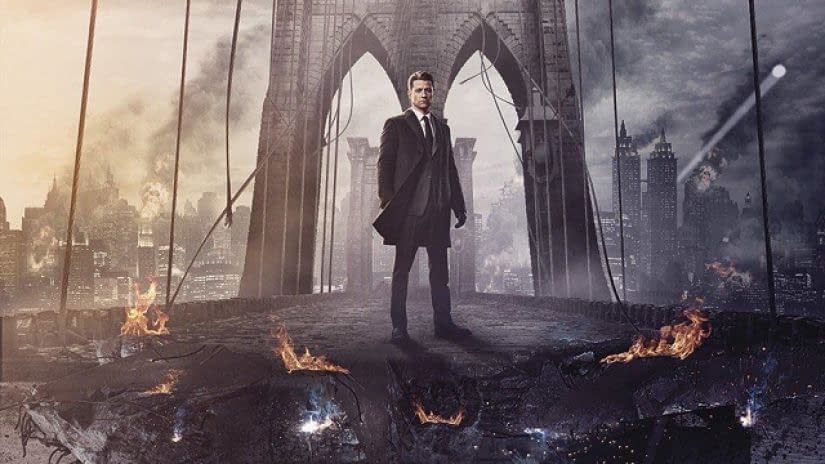 After the explosive conclusion of "Penguin, Our Hero," we'll give the Gotham writer's room a little bit of slack to get back up to speed with "Ruins". Haven, the sanctuary that Captain James Gordon (Ben McKenzie) and crew have established for the refugees of Gotham City, has been blown to bits. The cute little kid that Gordon saved is missing, and the survivors of the blast are shell-shocked, confused, and not just a little concerned that they'll be attacked again.
Penguin (Robin Lord Taylor) and his goons show up to outfit the GCPD with enough guns and firepower for an army, and their combined forces set out to investigate a tip. There's a shady character hiding out in an abandoned part of town, and multiple witnesses saw this person lurking around Haven right before the explosion. The joint "task force" arrives at the suspects lair, and are surprised to find Victo Zsasz (Anthony Carrigan) – brimming with sass and ammo – waiting for them.
Jim takes Zsasz down with a flying 30 foot tackle, which sets off a morality play that finds Gordon squaring off against Harvey Bullock (Donal Logue) and Penguin over whether he should give in to mob rule, or continue to keep the faint ember of law and order stoked.
Meanwhile, Bruce (David Mazouz) and Alfred (Sean Pertwee) attempt to find Selina (Camren Bicondova) before she can enact her revenge scheme against Jeremiah Valeska (Cameron Monaghan).
"Ruins" is not the best Gotham has had to offer, but it's far from the worst. Gordon's fraying resolve is an interesting thing to watch, and seeing Harvey as the voice of reason was a refreshing change. Carrigan is clearly having a blast, with his Zsasz blowing kisses to Penguin, insisting on being strip searched, and somehow being charming and creepy all at once. And any episode with Monaghan is worth watching, his Jeremiah/Joker pretty much steals the show every time he's on. Tonally, "Ruins" feels a bit like "Trespassers" in that the script is definitely setting the show up for a big payoff in a later episode.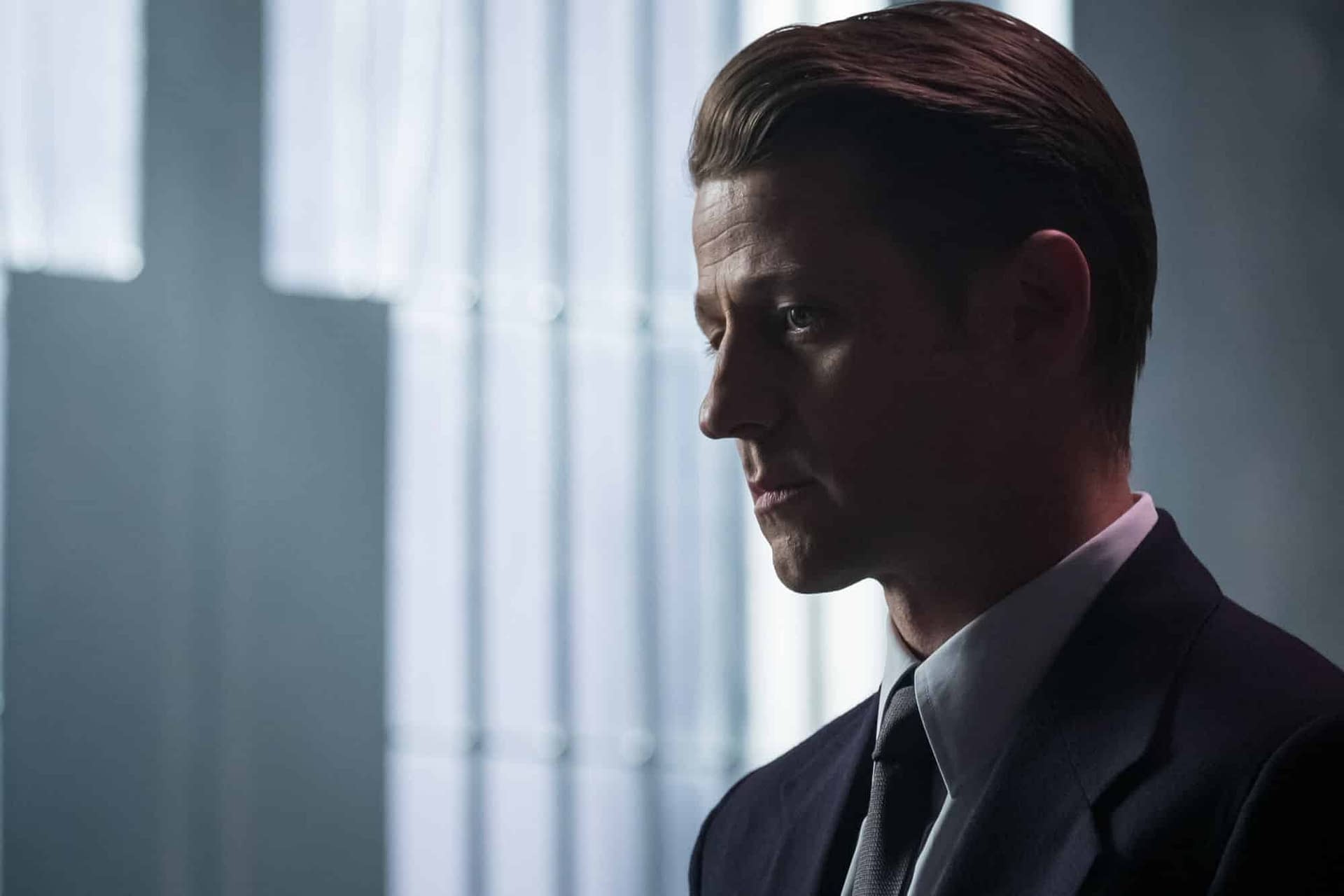 Okay, now that Gotham is in ashes… let's get so the spoilers! Zsasz's trial at Penguin's lair was pretty intense, with the mob barely constrained – thirsting desperately for revenge. The set design for Gotham is often exquisite, but this particular scene – with its rich, umber-hued murals, stark, smoky lighting, and sweeping architecture – is simply stunning. Sometimes, the sets and costumes on Gotham feel like they come from a big budget production.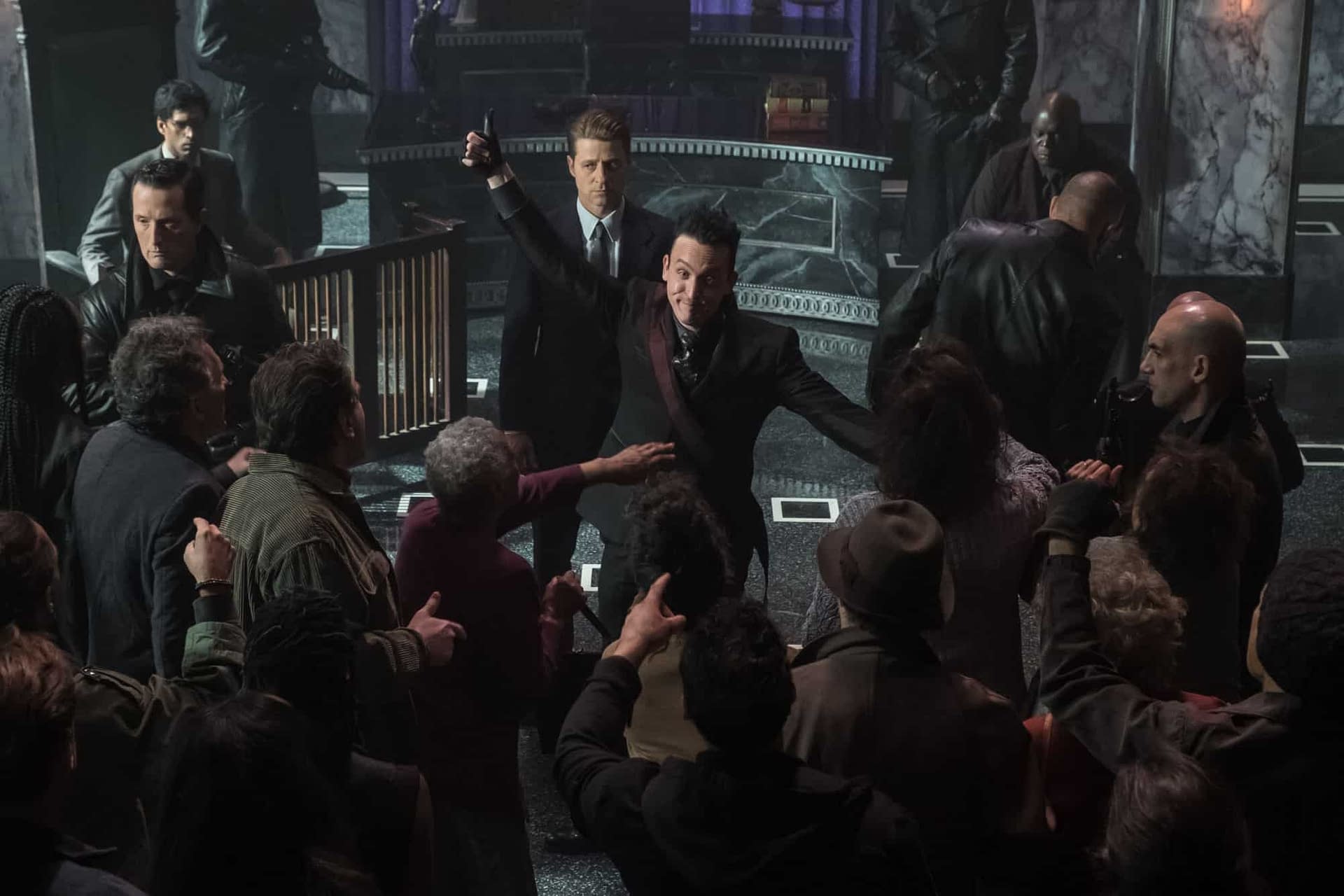 Selina's fight with Jeremiah was a jaw-dropper, and he really couldn't have seen it coming. We counted, and yeah: she stabs him nine freaking times. So much for his nine lives considering he looks pretty dead in the trailer for next week's episode. Were we wrong about Jere-Joker? Is there yet another Valeska out there… or is this yet another Gotham misdirect?
Riddler's (Cory Michael Smith) ongoing "what's Ed up to while I'm sleeping" mystery deepens, as he winds his way in and out of the investigation behind the Haven explosion – only to find that he's probably the one responsible in the first place. Why would Ed want to kill hundreds of people?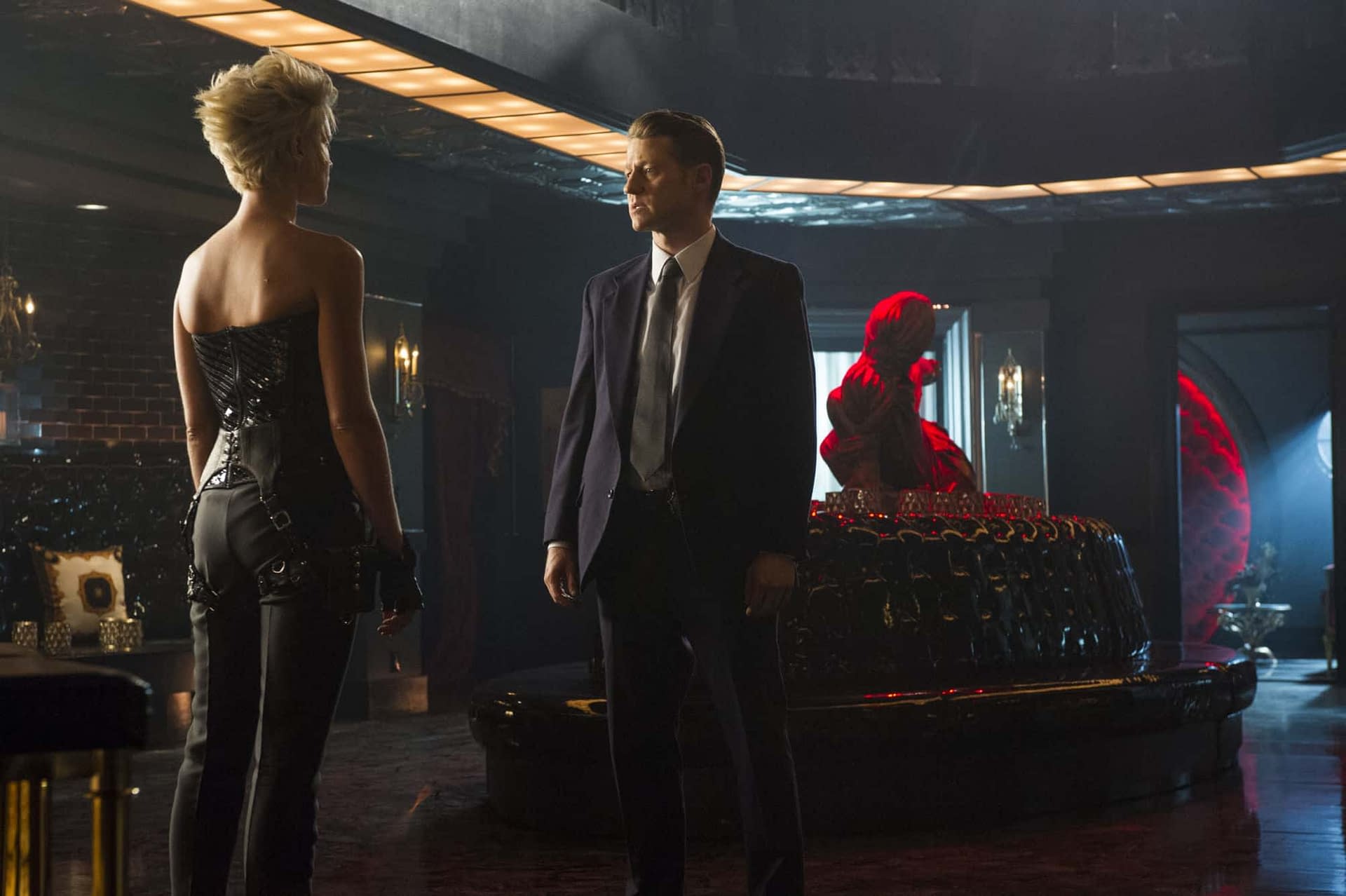 Jim, we need to talk, buddy. You're falling apart – and right when Gotham City needs you most. Grow the mustache. And we were about to tell you to maybe stay away from Barbara (Erin Richards) – but you wouldn't listen, would you? You should be out saving lives, arresting Penguin, growing the mustache, anything – just anything – other than KISSING BARBARA FREAKING KEAN.
We're not mad, Jim. Just disappointed.

Next week, "The Bane Train" pulls into FOX's Gotham Station – here's a little taste of what's coming next week:
https://www.youtube.com/watch?v=RPHfd8l-SJg
Gotham s05e05 'Pena Dura': A military task force, led by Eduardo Dorrance (guest star Shane West) is called in to provide relief to Gotham. Meanwhile, Nygma looks for answers from Penguin, who leads him back to Hugo Strange (guest star BD Wong). Then, Bruce is concerned about Selina's recent behavior. FOX's Gotham stars Ben McKenzie as Detective James Gordon, Donal Logue as Detective Harvey Bullock, Morena Baccarin as Dr. Leslie Thompkins, Sean Pertwee as Alfred Pennyworth, Robin Lord Taylor as Oswald Cobblepot/The Penguin, Erin Richards as Barbara Kean, David Mazouz as Bruce Wayne, Camren Bicondova as Selina Kyle/Catwoman, Cory Michael Smith as Edward Nygma/The Riddler, and Chris Chalk as Lucius Fox.