Ira Steven Behr Shares 'Deep Space Nine' Doc Update, First HD Clip
Star Trek: Deep Space Nine paved the way for many a space drama. It remains my personal favorite of the Trek series, mostly in part due to the strong as hell female characters and the script work throughout the series. Sure, some things get bogged down in the first season (you know, like ALL Star Trek)- but the overwhelming power of the cast and strong storytelling throughout make it an under appreciated entry into the Roddenberry galaxy.
DS9 showrunner Ira Steven Behr has been working on a documentary about the series for a few years now, and today offered an update. It's both good and bad news.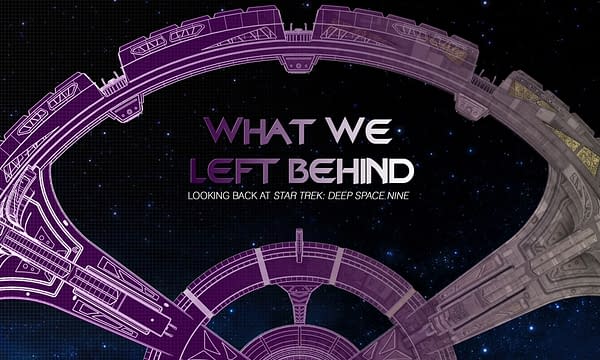 "What We Leave Behind" (the name of the doc, taken from the final episode of the series) was expected to release sometime in 2019, but that isn't going to be the case, says Behr.
"What We Left Behind is not going to be released this year. I know I promised it would be. I thought ti would be. And it could have been. That's right if I wanted to release the film as it was shown at the screenings in Los Angeles, New York, and Birmingham, you could be watching it now instead of having to listen to me.

So what the hell happened? One night last August, I suddenly realized that I did not want to release the film until we had remastered all the show clips we're using into high definition.

Now, at first, my colleagues Dave, Kai, Joe, and Luke were not thrilled with that decision. They said it would be too expensive, that even with another fundraiser we'd still have to take out a huge loan to pay for it, that it wasn't financially feasible, that the remastering process itself would take months and months and months and months, and that we'd never have the film ready in time for 2018.

And you know what? They were right. But this is an opportunity, perhaps the only opportunity for years to come to show how great Deep Space Nine looks in HD, and I'm afraid I can't pass that up. And Dave and the guys, they came around, and I hope you will too. So in spite of the cost, in spite of this annoying delay, that's what we're going to do."
Included in the update video from Behr is a snippet of an HD clip:
We're certainly looking forward to this documentary being completed. Time to go watch "His Way" again.