James Gunn Puts to Rest More Superman: Legacy Casting Misinformation
Taking to Twitter once again, DC Studios' co-head & Superman: Legacy writer James Gunn put to rest more false intel on the feature film.
---
While things may not be so clear on who may or may not be directing DC Studios's upcoming James Gunn-penned Superman Legacy (more on that in a second), Gunn isn't wasting a second clearing up a rumor that's rumbling around social media like it's a fact. Basically, a casting call has been put out already for actors to play Clark Kent/Superman & Lois Lane, along with the age ranges that the film's looking for. Well, goodness gracious! Guess what? It turns out that it's not true, with Gunn responding to a question on that very topic that was posed to him on Twitter by making it clear that no casting calls have been put out yet since "a casting director hasn't even been hired" yet.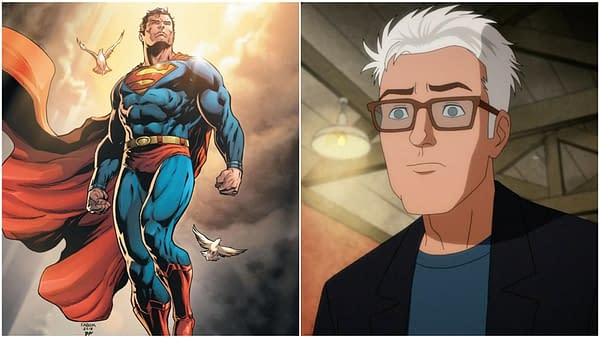 Here's a screencap of Gunn's response from earlier today regarding the casting question:

So What's This About James Gunn Directing Superman: Legacy?
So here's what happened. As Tom King (Batman, Wonder Woman) was being interviewed by ComicPop Returns, the topic of King being a member of Gunn & Safran's DC Studios writers' room/DCU brain trust came up. At around the 51:00-52:00 mark in the video interview, King mentions that Gunn is both writing and directing Superman: Legacy before continuing on. You see where the eyebrow-archer is there, right? Because up until now, it was confirmed that Gunn was only penning the script. Could Gunn be tackling both efforts to guarantee that the foundational film in the new DCU is a home run? Now, this is where it gets interesting because even though you can grab clips of the moment on social media – the episode itself has gone MIA.
In the interest of common sense & fairness? There are two ways this can be viewed. Either the video was pulled because King said more than he was supposed to and just leaked a big reveal about the film under the assumption that it was a known thing. On the other hand, it could've also been King hearing so many people speaking as if it was a given that Gunn was directing that King assumed he was directing. If our memories serve us correctly, something like that happened last year with Rosario Dawson and the rumor that Jon Bernthal was returning as Frank Castle, aka The Punisher. At the time (wow, things have changed), Dawson had heard it so much that she assumed that it was just a known thing at that point.