Jesse Ventura Supports Mask-Wearing, Jill Stein Presidency
It was more than thirty years when Jesse "The Body" Ventura defeated The Masked Marauder to retain his Miller Lite-A-Mania championship. Still, the wrestling legend and former Minnesota governor has now come out in favor of mask-wearing in order to prevent the spread of coronavirus. Ventura took to Twitter on July Fourth to state his position, saying, "July 4th. Celebrities made statements, so I'm assuming you want one from me? America is selfish. I wonder why I served in the military every single day. I protected America. And you want nothing better than to kill each other. Because you won't wear a mask."
Ventura responded to arguments that mask-wearing should be a choice, tweeting the next day, "Yes, we're privileged to have the freedom to be STUPID. That's true. But your stupidity has consequences. Your stupidity will kill people – those you might barely interact with, just because you're too dumb to what? Wear a mask?" He continued, "When your STUPIDITY harms others, you're a THREAT to all of us. Nothing to do with government. You choose to harm others by not social distancing & not wearing a mask? You serve no value. You are not an American. You're a selfish idiot who deserves legal consequences & then some."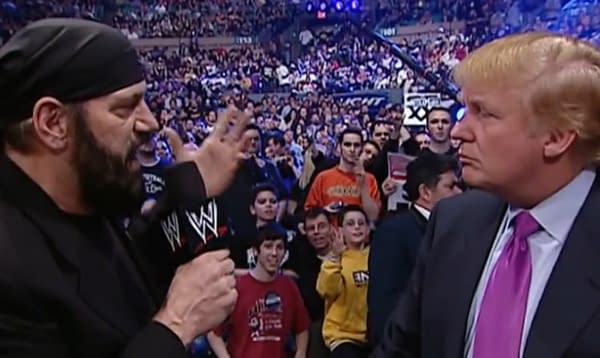 "I can't believe I have to explain this, but with ALL THE PEOPLE WHO HAVE DIED, it has amassed to NOTHING as far as herd immunity goes," Ventura went on. "So really, how many people you want to die before you WEAR A MASK exactly? What's the MAGIC NUMBER OF DEATHS? You sick fool." According to Ventura, the country would be a lot better off if Jill Stein had won the presidency in 2016. "Yes, I voted for Jill Stein @DrJillStein in 2016. She has a Harvard medical degree among many other prestigious qualifications on her resume that Dems & Repubs to this day don't have, so STOP telling me 3rd part isn't good enough #COVID19 #COVID."
Ventura clearly stands against fellow WWE Hall-of-Famer President Donald Trump's position on masks, but the two were once allies. Back at WrestleMania 20, Ventura interviewed Donald Trump at ringside, and Trump vowed to financially back Ventura if he decided to run for office. However, Ventura decided earlier this year not to run against Trump in 2020, even though it would have been a historic first for the country with two pro wrestlers competing for the ultimate championship: the presidency of the United States. At press time, Bob Uecker had no comment on being right about masks all along.