Syfy's upcoming Superman prequel series, Krypton, has just added a new face. Hannah Waddingham, who played the 'shame' shouting, bell-ringing Septa Unella in Game of Thrones, has joined that cast to play Jax-Ur.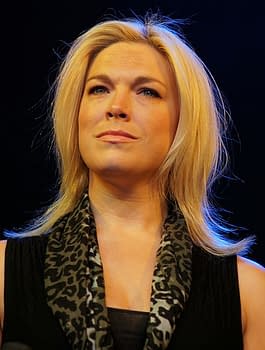 The studios described the new character as: "Formerly one of Krypton's greatest scientists with deep ties to Krypton's past, Jax-Ur is now determined to bring radical change to Krypton as leader of the underground terrorist organization, Black Zero."
Jax-Ur is from the comics, making 'his' debut in Adventure Comics #289 (October 1961), created by Otto Binder and George Papp. He was an amoral and criminal scientist that ended up in the Phantom Zone before Krypton exploded. The character was used a few times before Crisis on Infinite Earths but then stayed on the shelf for many years before reappearing in Supergirl. Jax-Ur appeared in Superman: The Animated Series voiced by Ron Perlman and in Man of Steel played by MacKenzie Gray. This will be the first time the character has been depicted as a female.
Set two generations before the destruction of the legendary Man of Steel's home planet, Krypton follows Superman's grandfather (Cameron Cuffe) — whose House of El was ostracized and shamed — as he fights to redeem his family's honor and save his beloved world from chaos.
Based on DC characters, Krypton is executive produced by David S. Goyer (Man of Steel, Batman v Superman: Dawn of Justice, The Dark Knight trilogy). Cameron Welsh (Ash vs Evil Dead) will serve as executive producer and showrunner.
Krypton premieres March 21st on Syfy.
Enjoyed this article? Share it!