Let's Talk ABout America's Next Top Model Cycle 24 Episode 2
Last week you may recall that one of America's guilty pleasure shows returned for it's 24th cycle. America's Next Top Model premiered on VH1 (their second season with the cable network after many years on The CW and before that UPN) last Monday, introducing a new crop of model hopefuls and bringing back the mogul who started the franchise, Tyra Banks.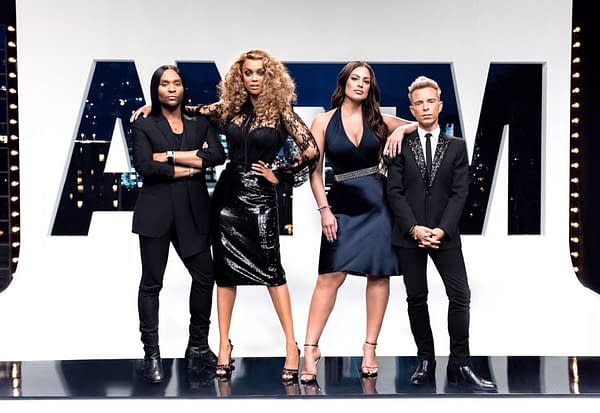 Banks is now retired from professional modeling, but continues to pursue other interests within the industry- photography, art direction, and obviously model scouting. She's joined this season by a judges' table including plus-size supermodel Ashley Graham, Creative Director at Paper Magazine Drew Elliott, and stylist Law Roach.
Big changes for this cycle include the absence of an age limit- one contestant is over 40 – and the ability for Tyra (and possibly the judges, although this hasn't really been explored yet) to dismiss/send home a contestant at any time during the competition, not just during panel.
Even if you don't have cable, you can still watch the show through VH1's website. Episode 1 is up now, episode 2 should be up in a day or two.
Things that happened in Cycle 24 episode 2, "Beauty In Los Angeles":
Tyra Mail #1 of the cycle welcomes the girls to their new home, but tells them to "chill and glide", hinting at their next photo challenge.
The girls end up at Venice Beach, at a skate park.
Stacey McKenzie shows the girls how to walk.
This goes about the way it usually does, some of the girls have the walk right off the bat, but others really need the advice Stacey gives them.
Challenge #1 ends up being an outdoors fashion show for designers Baja East
The contestants have to walk a thin runway through active skateboarders
Winner of the challenge gets to walk for Baja East at their New York City Fashion Week show.
Two girls missed their marks at the end of the runway, no one fell.
Christiana won the challenge with her focus, her energy, and gets to walk in NY Fashion Week.
Back at the house- the drama starts. Someone left a half eaten apple in the fridge, who DOES that?
Tyra Mail #2- "Is it me or are you glowing?", hinting at the theme for the photoshoot elimination challenge
Challenge #2- 'Bohemian Baby Mamas' shot by Charlotte Rutherford
The makeup is good, nice application and color matching on the various skin tones. The styling maybe wasn't perfect for each girl.
Some had issues on set, nothing terrible though, no temper tantrum tears.
Tyra Mail #3- "Are you Next Level Fierce enough to survive?"
First panel of the season, Tyra has the worst wig we've seen her in since probably Cycle 5
Prizes for the winner of this cycle include a cover and spread with Paper magazine, modeling contract with Next Management, and the new twist this year- an ANTM mobile game where the winner will be an avatar along with Tyra, and $100k from Pantene.
Tyra edited the film with her mom the night before panel.
Cora could work in any fashion city in the world right now, and so could Rio.
Challenge Winner was Cora, runner up Rio
Maggie, who struggled with who she really is, is the first contestant leaving this season.
Not the most eventful second episode in Top Model history, but hopefully once the amount of girls in the house goes down, we'll get to know them a bit better.
Teaser for next week's episode is the one we all wait for- THE MAKEOVER. Who will cry, who will rage, who will emerge a new person entirely?
We'll find out next week when America's Next Top Model airs on VH1 on Tuesdays.