Lio Rush Rips Drake Maverick Angle, HHH Says It's Still Real to Him
Earlier today, we reported on the conclusion of the angle involving Drake Maverick, who was supposedly laid off from WWE along with dozens of his coworkers in April. However, Maverick took to the internet the day of the layoffs to cut a promo on video in which he broke down into tears but pointed out that he was happy to still be allowed to compete in the NXT Interim Cruiserweight Championship Tournament. However, as Maverick hung on in the tournament, eventually making it all the way to the finals. At the same time, the announcers played up his contract status and Maverick's own in-ring storytelling was of a man fighting to keep his career alive, it became pretty clear that this was all a work from the start. That is to say, that Maverick's story was a work. Everyone else was really laid off.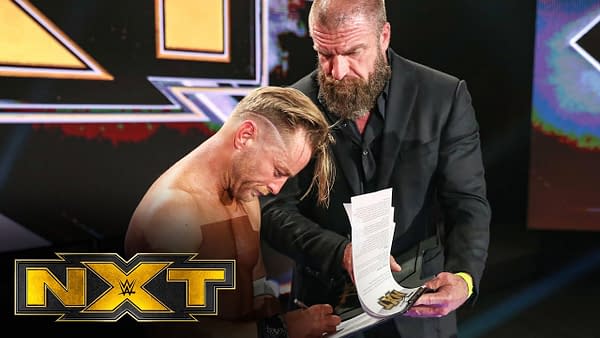 So when last night's NXT ended with Drake Maverick losing the final match of the tournament but with Triple H granting him a WWE contract anyway, the whole thing didn't sit well with at least one former WWE wrestler who really was laid off in the middle of a pandemic as WWE is on track to make record profits. Lio Rush took to Twitter to say, "Man….Are they going to hire everyone back then? Kind of a slap in the face to use this as a shoot work. But i guess I'm not surprised. Super happy for anyone getting there job back. But damn, real trauma and a lot of others were apart of this." Rush continued, "I wish that i was still a child just staring at the bright lights on the TV screen being a fan. Instead of being so self aware of corporate." He added, "Literally making a mockery of legitimate firings."
Rush was sure not to blame Maverick himself, saying, "BECAUSE ITS F**KED UP. It's called having a heart and showing compassion for those who have also suffered from loosing their jobs on that day. It's not spuds fault. It's the companies and it's disgusting." And Rush has a point. WWE made an angle out of the job loss that they created, many would argue unnecessarily considering they didn't need to cut that talent to save money.
However, Triple H, long ago an anti-authority figure as a member of Degeneration X but now a suit-wearing WWE executive, defended the company, claiming on a conference call today that it wasn't a work. According to a transcription from 411 Wrestling, Triple H said, "We already had the tournament booked out and I believe it was a little bit of a jumble, but we already had it promoted. Then, the releases happened, which is horrible. No one wants to see anyone lose their job, especially in the world right now. A lot of companies, around the world, are having to make tough business decisions to ensure they're still there. Difficult decisions were made."
On Drake Maverick, Triple H said, "He was given the option of continuing the tournament and wanted to prove he that he could still be here. If you've met him or know him, he's one of the most passionate guys and loves WWE. Couldn't be a better guy. As we said when the release happened, it wasn't like he was involved in anything, it just happened. But through the process of this tournament, he captured people's hearts and imaginations. He earned that spot. It was already out there, in the biggest way possible. You either ignore it or turn it into something, so we turned it into something based off him and his performances. I'm personally thrilled for him that he can continue to do what he loves and dreams about doing. I'm thrilled we were able to get where we did."
So is Triple H telling the truth here? One thing you can count on in wrestling is that if there's even the most remote possibility something is a work, it's probably a work. And almost nothing is off-limit. Either way, Drake Maverick will stay in WWE, and that's a good thing, even if it may be a slap in the face to everyone who really did lose their jobs from WWE.