Join Us Tonight: We're Gonna Live Tweet X-Files Season 11, Episode 4
It's that time again, X-philes — a live tweet of tonight's season 11, episode 4 of The X-Files on Fox. After a super-lacking and enraging episode 1, a pretty solid episode two, and an AMAZING episode 3, our hopes are finally back up to a fairly optimistic level.
E4, titled 'The Lost Art Of Forehead Sweat', is written and directed by longtime X-Files team member Darin Morgan. Exploring "the idea of The Mandela Effect," in which large groups of people remember an alternate history, Mulder and Scully find out how the X-Files themselves may really have originated.
In a recent interview with TVInsider, Darin Morgan spoke a bit about what inspired him to write the episode. Namely, the election of the USA's 45th President:
"This one, to be honest, was a reaction to Trump becoming president. That was the starting point. I was saying, 'What story can I come up with to deal with my feelings on that?' And somewhere along those lines, I stumbled across the Mandela Effect online.

They seemed to work; it's disturbing those work together. The combination of those two things, they had an element of forgetting or lying."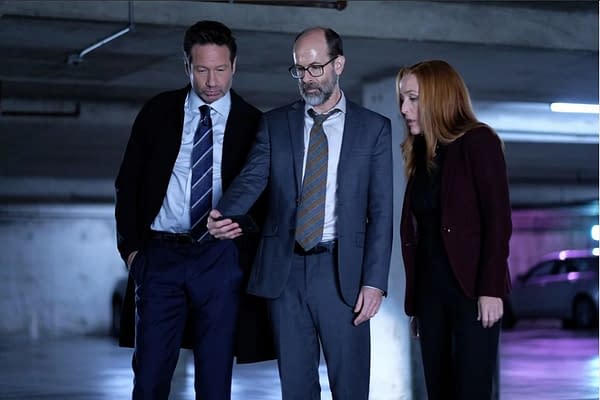 Gillian Anderson (Scully), David Duchovny (Mulder), and Mitch Pileggi (AD Skinner) are all on board for this episode, as is special guest star Brian Huskey as character Reggie. David Duchovny tweeted that tonight's episode is one of his favorites, so our hopes are SUPER high.
Join us tonight on BleedingCoolTV (which you should follow if you like our TV-centric posts) on Twitter for a live tweet of 'The Lost Art of Forehead Sweat' starting at 8 p.m. (PST), reactions to follow.