Lucasfilm Announces New Star Wars Animated Series Galaxy of Adventures
Young Star Wars fans are going to have a new animated series to devour starting this Friday. Launching along with a new Star Wars Kids YouTube channel, Galaxy of Adventures will feature characters, sounds, ships, and pivotal moments from the original trilogy in short bursts as entry points into the saga for young ones. The animation style is fast and stylized, and each episode will feature educational segments as well. Check out the trailer below.
"With Galaxy of Adventures, we wanted to craft something that allowed parents to help their kids take their first step into a much larger world whether they were ready to show their kids the films or wanted to find new ways to explore the content," James Waugh, Lucasfilm's vice president for franchise content and strategy, tells StarWars.com.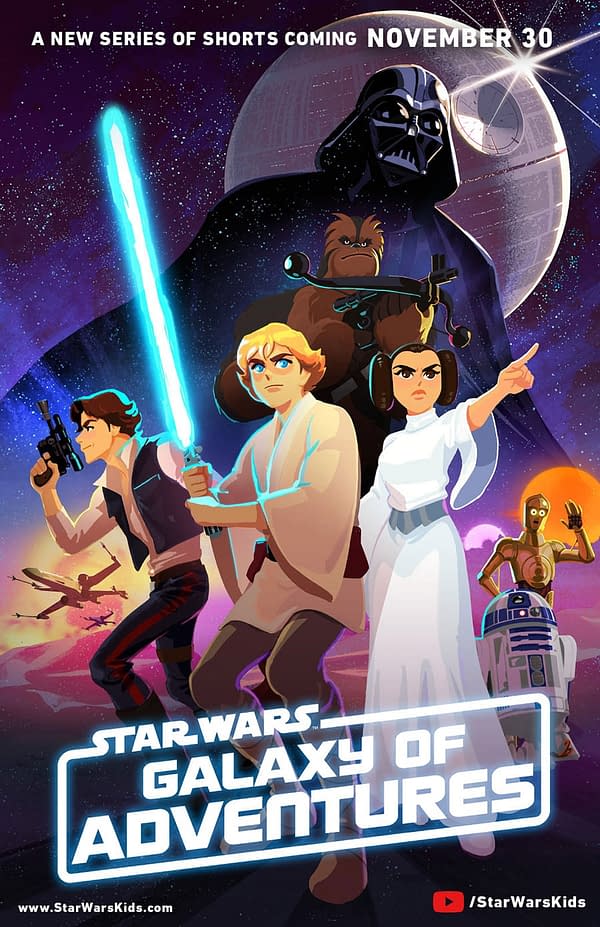 These first shorts will features story content from the original trilogy, with more shorts debuting in December featuring other characters from the saga. More will release on a regular schedule through 2019 leading up to the release of Star Wars: Episode 9 next December. This is the centerpiece of the launch of the new site StarWarsKids.com, which will be a hub for younger fans of Star Wars, along with family-focused content set in the galaxy. Basically, Lucasfilm sees an issue with older fans wanting to introduce their kids to Star Wars, but they may feel they are not ready for the films yet. I myself have a 6 year old, and while she has been watching the films and animated series since she was a baby, not everyone wants their kids to deal with some of the themes and visuals contained in the films that early. Kudos to them for seeing that problem and working to help bridge kids to the more adult parts of Star Wars lore.
StarWarsKids.com and the YouTube channel, along with Galaxy of Adventures launch this Friday, November 30th.