Lucifer Season 6: Netflix Makes a Deal with The Devil, Confirms Return
This week, Netflix is more than giving The Devil his due. Following up on Monday's announcement that Lucifer would be returning with the first eight episodes of its fifth season on August 21, the streaming service confirmed what had been rumored and wished for over the past year: the series will be back for a sixth run. Here's a look at the official announcement of what Netflix promises is the "sixth and final season. like, FINAL final" of the Tom Ellis/Lauren German-starring series. Following that, we have another look at the announcement teaser but with a twist: an initial overview of the season's first half.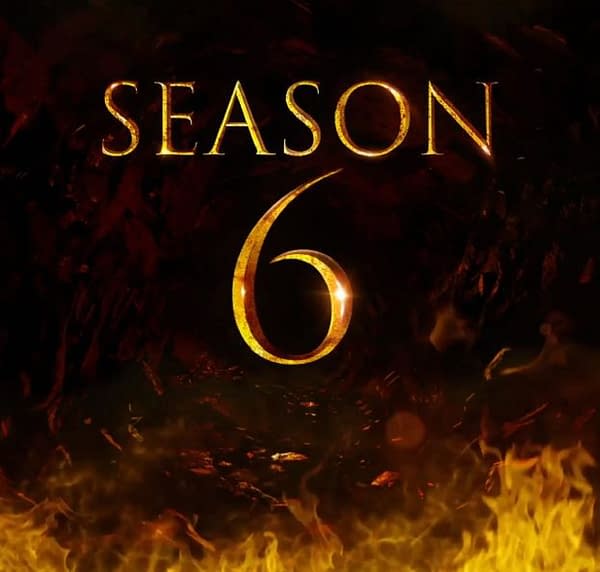 Lucifer makes a tumultuous return, Chloe rethinks romance, Ella finally finds a nice guy, and Amenadiel adjusts to the whole fatherhood thing.
Here's a look back at the shooting script info tweet sent out to usher in the title of the season 5 opener, sporting the curious-sounding title "Really Sad Devil Guy" – written by executive producer Jason Ning (The Expanse) and directed by Eagle Egilsson (Gotham). Following the opener, viewers can look forward to "Lucifer! Lucifer! Lucifer!", "¡Diablo!", "It Never Ends Well for the Chicken", "Detective Amenadiel", "BluBallz", "Our Mojo", "Spoiler Alert", "Family Dinner", "Bloody Celestial Karaoke Jam", "Resting Devil Face", "Daniel Espinoza: Naked and Afraid", "A Little Harmless Stalking", "Nothing Last Forever", "Is This Really How It's Going To End?!", and "A Chance at a Happy Ending" (so much to unpack in that run of titles).
Series co-showrunner Ildy Modrovich is set to helm the season's penultimate episode, "Is This Really How It's Going To End?!" (written by Ning, and what a wonderfully ironic title). Now that she's free to talk about it (so wait, as showrunner would she have to yell at herself if she spoiled anything), here's Modrovich's thoughts on the announcement: