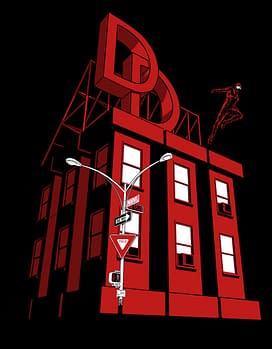 Marvel loves its Easter eggs and cameos, even when it comes to the Marvel/Netflix universe. They've had Stan Lee pop up in photos on the wall, posters on the streets, and ads on a bus. Other creators have had their name dropped in as boxers and bad guys, but the third season of Marvel's Daredevil features a cameo by writer/editor Roy Thomas. The cameo was mentioned when Thomas recently appeared on the Marvelists podcast with hosts Peter Melnick and Eddie Wilson. Thomas said that no one will even see him unless they're watching the show with a magnifying glass.
Thomas was the writer on Daredevil for 21 issues straight (#51-#71) and then became editor-in-chief in 1972, the first man to hold that title after Stan Lee. In his time, Thomas co-created one of the most important characters in the Marvel/Netflix universe: Turk Barrett. The streetwise criminal with all the answers first appeared in Daredevil #69 and was created by Thomas, Gary Freidrich and Gene Colan. Turk is played by Rob Morgan and at this point has appeared in Marvel's Daredevil, Luke Cage, Defenders, The Punisher, and Jessica Jones. He just needs to appear in Iron Fist to be the one actor in all of them. In the comics, Turk eventually steals the suit of the criminal known as Stilt-Man and has a very bad night. We've seen part of the Stilt-Man armor in Melvin Potter's workshop, so we can hold out hope that Turk suits up eventually.
During his run on the character, Thomas pitted Daredevil against villains like Mister Fear, Death's Head, Stunt-Master, Torpedo, Crime-Wave, Mr. Hyde, Jester, Cobra, and Gladiator.
Marvel's Daredevil season 3 is in production now and most likely will air in early to mid 2019.
Enjoyed this article? Share it!