NBC Renews Blindspot for a Fourth Season
The NBC series Blindspot has gotten a fourth season renewal today, keeping the adventures of the tattooed Jane Doe going for another round. The series, created by Martin Gero and exeutive produced by Gero, Greg Berlanti and Sarah Schechter, moved to Friday nights this season where it became one of the network's lowest rated series, but it was also consistent. Overnight numbers averaged 3.5 million viewers with a 0.7 demo rating. It kept that 0.7 or above in 9 of the seasons 13 episodes. But when looking at the Live+7 numbers, the show jumped to 5.4 million viewers and a 1.2 demo rating. That's a +94% bump over the same day ratings and +9% bump in demo rating over last year.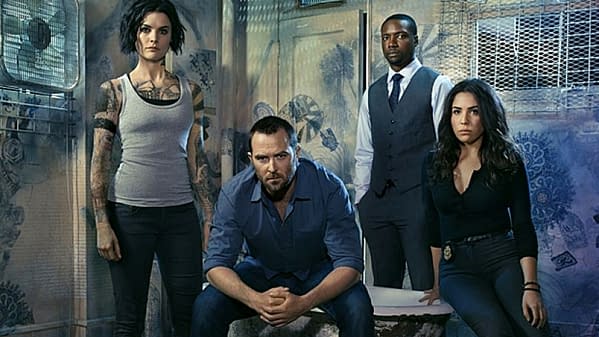 The series stars Jaimie Alexander as an amnesiac Jane Doe who was found naked in Time Square and covered in tattoos, including the name of FBI Agent Kurt Weller (Sullivan Stapleton). Now Jane works with Weller and the FBI to figure out the meaning of the tattoos. The series also stars Rob Brown, Audrey Esparza, Ashley Johnson and Luke Mitchell. The series comes from Warner Bros. Television, the same place that NBC is getting their new series Manifest that was picked up to series at the same time Blindspot got renewed. Possibly a packaged deal.
The season three finale of Blindspot airs Friday, May 18th.