Netflix Announces Paradise PD from the Creators of Brickleberry
Nextflix has ordered a new adult animated comedy series from the creators of Brickleberry, Waco O'Guin and Roger Black. The new series, Paradise PD, has gotten a 10-episode order and will premiere later this years. Paradise PD, focuses on a bad, small-town police department. And when I say bad, I don't mean their on the take and corrupt. Their really horrible at their job. The series is being produced by Odenkirk Provissiero Entertainment and Bento Box Animation.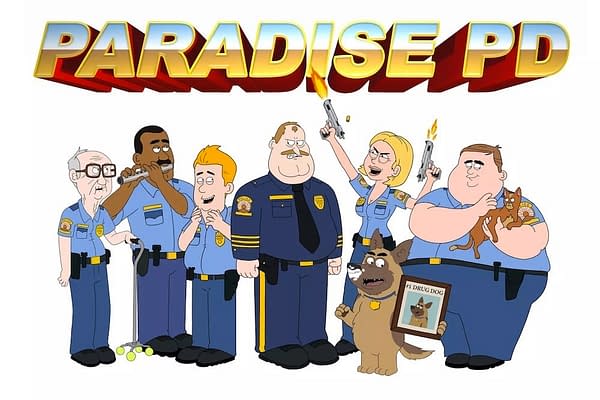 Netflix released the above image along with a list of the characters and the voice actors doing them: Stanley Hopson/Dusty Marlow: Dana Snyder (Aqua Teen Hunger Force), Gerald Fitzgerald: Cedric Yarbrough (Speechless), Kevin Crawford: Dave Herman (Bob's Burgers), Chief Randall Crawford: Tom Kenny (Spongebob Squarepants), Gina Jabowski: Sarah Chalke (Rick & Morty), Bullet (dog): Kyle Kinane (The Standups).
Paradise PD joins Netflix's growing list of adult animated series include Big Mouth, BoJack Horseman and the recently added Tuca & Bertie.
Source: Deadline