Nic Pizzolatto Offers Up 'True Detective' Season 3 Finale Clues (SPOILERS)
The third season of HBO's True Detective offered up plenty of great performances, a compelling mystery, and a whole slew of confused viewers. Series creator and showrunner Nic Pizzolatto sat down with Esquire to offer some closure to a few of the more intriguing plot-lines.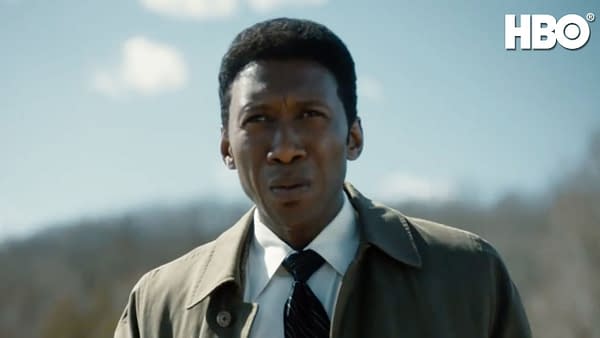 One of my favorite things about season three's mystery is how people didn't realize they were following in Wayne (Mahershala Ali), Roland, (Stephen Dorff) and Amelia's (Carmen Ejogo) footsteps- getting so caught up in the mystery that they made it far more complex and elaborate than it was.
The root of season three's story wasn't the mystery behind Julie Purcell's disappearance; it was about the effect of dementia on the cognitive ability of a brilliant detective, a character study on the way the disorder effects the thought processes of even the most orderly of minds.
Wayne Hays could no more abandon the Purcell investigation than he could remember recent conversations. The past is more clear to him than yesterday's breakfast, and he will most likely relive the Purcell case for the remainder of his time on earth.
Regardless, theories ran rampant online, with some wannabe sleuths speculating that Amelia was the real killer, and that Roland might be gay. Pizzolatto did his best to clear up some of these theories:
Pizzolatto: I just felt like there was no reason to not offer some clarity about those issues. The Amelia thing, I just really didn't get. She's a complicated, ambitious, but fundamentally good person who wants to be a writer. I don't see how you would make the leap from there to child killer.

That kind of twist isn't something I really considered good storytelling—that I was lying about how I was portraying a character. And it would make Wayne a pretty terrible detective, because he was married to this woman for 33 years and he never clocked the fact that she was a murderer. So I thought that by providing clarity to that, it would help those fans who thought they were being set up for something like that. And again, the same thing with Roland—I was just providing clarity.
My favorite theory, though, involved speculation that Wayne died in Vietnam, and that the entire Purcell case was something he imagined as he was dying:
Yeah, that's not true. I'm not sure how much I should say about the very final sequence because I can literally explain it, but it might be the kind of thing that's better left to interpretation for a while. But Wayne definitely did not die in Vietnam, and everything that you witnessed actually happened. That was one of the things that I tried to dispel earlier on, this idea that everything is only a good a thing in Wayne's mind. It's much more of a realist procedural character study with some kind of physical interpretations of Wayne's condition given how we move around in time.
This is a theory I kind of chuckled at, personally. Being a kid during the time that Wayne was in Vietnam, I guarantee you he didn't think up anything like cell phones. We dreamed big in the '70s, but cell phones were more Star Trek than reality at the time…
Pizzolatto goes into detail on Julie Purcell's true fate, reveals a few deleted scenes, and discusses the surprise "villain" from the season finale. It's a fun read, definitely worth checking out for True Detective fans!
Will there be a season 4 of True Detective? We'll just have to wait and see!