A Look Back at 1987's Nightflyers and the Hilarity of That OTHER Adaptation
1987 was a great year for genre film-making: Robocop…Spaceballs…Arnold Schwarzenegger punching in our faces with both Predator and The Running Man. Unfortunately, not everything hitting cinemas that year was gold, with quite a few notable stinkers making viewers want to claw their eyes out in terror. Dolph Lundgren stumbled woodenly through Masters of the Universe; Superman IV almost single-handedly hobbled the super-hero genre; and a little-known writer at the time had an obscure novella he wrote made into a gloriously awful cinematic journey into mediocre terror!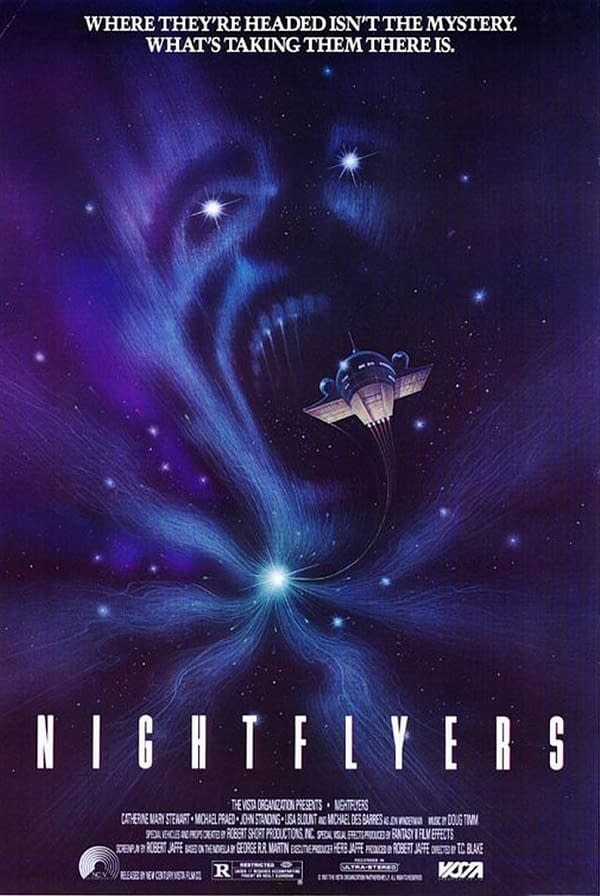 Novelist George R. R. Martin wrote Nightflyers as a 23,000 word novella in 1980, which was then expanded into a larger work of short stories and re-published in 1985. Nightflyers was optioned for cinematic glory in 1984 by Robert Jaffe, the writer and producer of 1980's ironically-titled-considering-the-quality Motel Hell. In hindsight, Martin probably wasn't expecting much.
Nightflyers was not a successful movie by any stretch, earning only $1 million+ during its time in theaters. The movie did find a small following on home video and cable, which helped it make back production costs. The fact that it is truly, hilariously awful and aged even worse actually adds to the film's odd charm now. Check out all of the glorious cheese this cinematic train-wreck has to offer just in the trailer alone:
Interestingly enough, Martin credits the original Nightflyers adaptation for saving his career:
"Nightflyers… the movie… was not a huge hit. But it's a film that I have very warm feelings toward. Nightflyers may not have saved my life, but in a very real sense it saved my career, and everything I have written since exists in no small part because of that 1987 film."
Lucky for us, too: Martin would go on to write his mega-succesful Song of Ice and Fire series, which would result in the world-wide addiction that is HBO's Game of Thrones. All of this brings us full-circle, right back to Nightflyers. From the trailers and previews for SYFY's new recently-premiered series adaptation, it looks like we'll be getting a much better adaptation of Martin's work – with plenty of atmospheric scares to help you stay warm this winter.