NXT Recap: Did Samoa Joe Get Revenge On Karrion Kross?
Hey gang! So it's been an odd couple of weeks for the NXT brand and it was made all the more weird last night with Karrion Kross's Raw debut. The brand feels a bit without firm direction at the moment, but that can always change with a series of good shows, so here's hoping that kicks off tonight!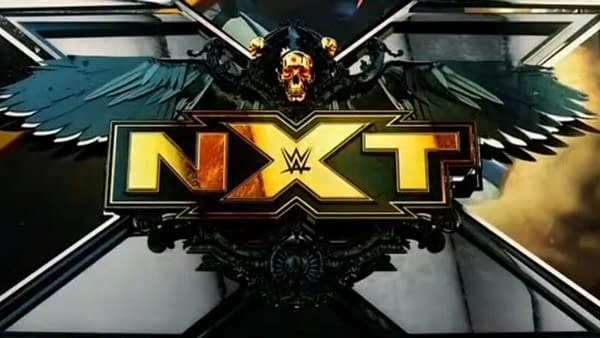 We open the show with the roars of Godzilla and Samoa Joe makes his way to the ring with his wrists and fists all taped up, looking like he's ready for a fight.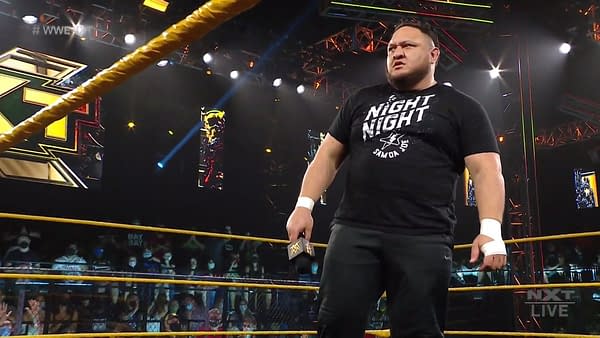 He immediately grabs a mic and calls out Kross, but NXT GM William Regal runs out to remind him he cannot do this, but Joe says he was provoked and is within his rights to fight Kross. They argue back and forth whether it's right or wrong, but Regal forbids Joe from attacking Kross and demands he settle it with him without violence. Joe relents and says it will all end tonight, but he will not promise it will end peacefully and he guarantees someone will go to sleep.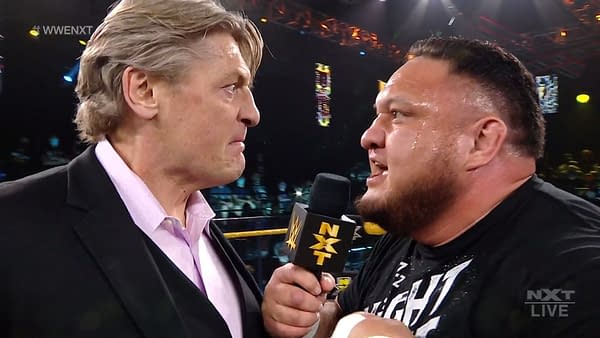 Nice strong opening!
We now go to a video promo from Xia Li, where she threatens Raquel Gonzalez and promises to become the NXT Women's champ tonight.
Diamond Mine vs Bobby Fish & Kushida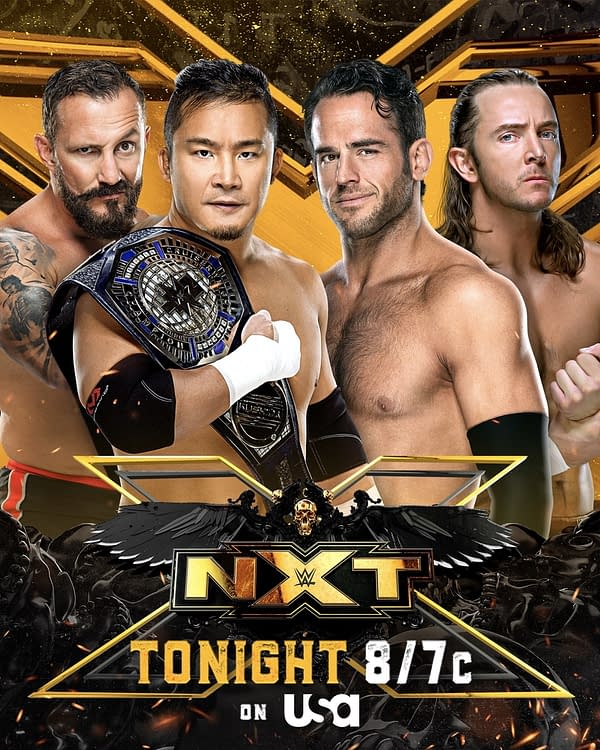 As Strong and Rust make their way to the ring, Fish and Kushida jump them on the entrance ramp and throw them into and then out of the ring.
They get the match going and Fish and Strong go at it with strong strikes and exchange some holds. Kushida tags in and goes to work on Strong with kicks and armlocks. Kushida tries an armbar, but Strong turns it into a hard backbreaker and tags in Rust.
Rust keeps it on Kushida with a belly-to-back suplex. He tags Strong and they double team Kushida and Strong hits a double underhook suplex. Rust tags in, but they both eat a handspring elbow from Kushida, who tags in Fish.
Fish runs in and pounces on both opponents. He hits a series of knees on Rust, but Strong distracts him and backdrops him on the ring apron. Rust hits a big scissor kick on Fish for two and then locks in a headlock. Strong tags in and keeps the pressure on Fish with holds.
Rust tags in and kicks away at Fish before locking in a step-over abdominal stretch. Fish punches out and hits a big spinebuster on Rust before tagging Kushida, who takes out both men. Kushida rolls through a sunset flip and kicks Strong in the face. Rust tags in and hits a gutwrench powerbomb on Kushida.
Rust locks in an ankle lock, but Kushida rolls out of it. Kushida hits a top rope elbow on Rust and locks in the Hoverboard Lock for the submission.
Winners: Kushida & Bobby Fish
We now go to Cameron Grimes driving LA Knight to the Performance Center, where an altercation with Drake Maverick happens.
Franky Monet with Jessi Kamea vs Jacy Jayne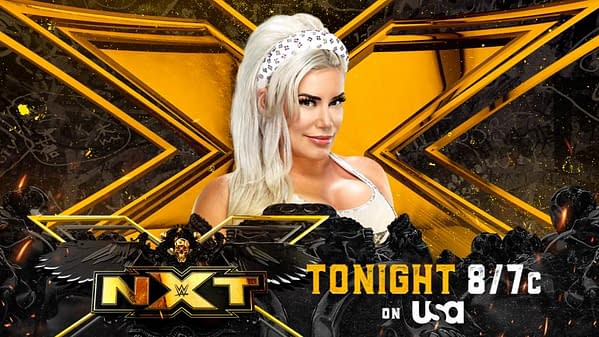 Another whatever match for Monet. Robert Stone came down early on to act like he's involved. Mandy Rose came down mid-match and lounged out on the announce table.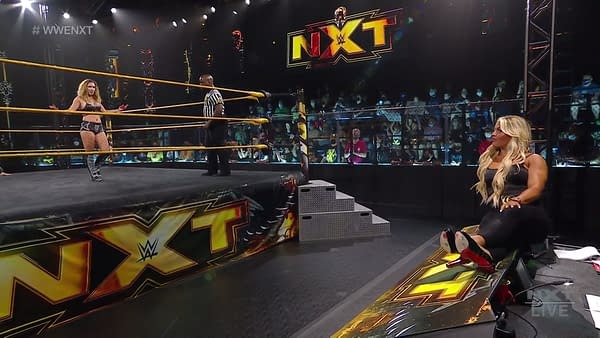 Winner: Franky Monet
Next, we see an interview from earlier with Johnny Gargano and Austin Theory, where Kyle O'Reilly shows up and challenges Theory.
We now see a sit-down interview with Wade Barrett and Bronson Reed. Reed says it broke his heart to lose the NXT North American title, but he's very confident to face Adam Cole next week and shut his mouth.
Kyle O'Reilly vs Austin Theory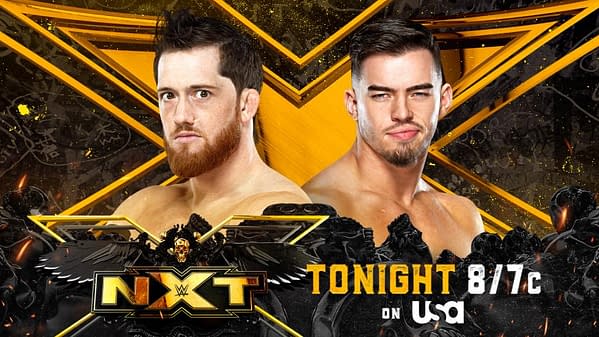 Lots of strong lock-ups and holds early here for both men. Theory hits a snap suplex and takes over with punches. O'Reilly responds with knees, but Theory overpowers him and gets him in a grounded headlock. O'Reilly sneaks out and they reverse some takedowns on each other until O'Reilly kicks him out of the ring.
Theory returns and hits O'Reilly with a backbreaker. O'Reilly fights back and hammers Theory with knees to the back. He gets an armlock in, but Theory fights out and gets O'Reilly in a reverse chinlock. He tries a suplex, but O'Reilly kicks out of it and grounds Theory with a series of kicks.
Theory elbows him hard in the jaw and then hits a rolling blockbuster. He goes for another hold, but O'Reilly gets a heel lock in. Theory gets out and suplexes O'Reilly. They exchange holds until O'Reilly hits Theory with a series of Muay Thai strikes. He hits a double underhook suplex into an armbar and then into an ankle lock until Theory grabs the rope.
O'Reilly escapes a powerbomb, but Theory hits him with a series of suplexes and slams for two. They head outside and Theory sets up the ring steps, which enrages O'Reilly who slams him into the crowd barrier. He throws Theory into the ring and explodes on him with strikes and kicks. He hits a diving knee from the top rope and then locks in the heel lock for the submission.
Winner: Kyle O'Reilly
O'Reilly won't break the hold at the bell and appears to have "snapped", ala Ken Shamrock.
NXT Women's Champion Raquel Gonzalez and Dakota Kai are interviewed about her title defense tonight, but they both seem completely focused on Ember Moon.
Legado del Fantasma enters the ring for "Mariachi Musical Madness" and there are some Mariachi guitarists wearing Lucha masks in the ring. Escobar dismisses them and says he will not lower himself for this crowd and will not do "the Hit Row thing". He says he's going to take the North American title, but he's interrupted by Hit Row, who hit the stage and start insulting them.
Hit Row takes turns dropping insults on Escobar, Wilde, and Mendoza. Swerve says he'll make Escobar his bitch and Escobar says he's taking his NXT North American title. Hit Row gets in the ring and they all start brawling. Escobar grabs a guitar to hit Swerve, but B-Fab grabs it from him and gives it to Swerve.
Escobar runs from the ring, but Wilde is trapped in the ring alone with all of Hit Row and Swerve smashes the guitar onto Wilde.
We now go to The Way in the locker room, where Candice lectures the team on how bad they've all been lately. Indi interrupts her and says if Theory wants to kiss Dexter, he should kiss Dexter?!
Candice and Johnny say they're calling the therapist cause Indi is out of control, meanwhile, Theory just grabs his stuff and leaves as they all argue.
Next, we go to Samoa Joe pacing in front of the entrance door. Regal approaches him to tell him Kross will be there tonight but pleads with him to handle things peacefully.
Andre Chase vs Odyssey Jones – NXT Breakout Tournament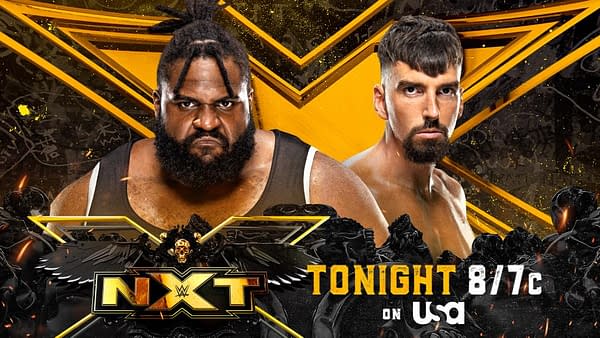 Jones has the serious size and power advantage here and uses it against Chase early on. He lifts Chase up for a powerbomb, but Chase fights out and Jones tosses him out. Chases tries a vaulting crossbody on Jones to the outside, but Jone botches it and drops him hard on his shoulder. Chase recovers and throws Jones into the ring post.
They get back inside the ring and Chase hits a top rope moonsault on a standing Jones. Jones hits a running crossbody on Chase and then a running splash in the corner. He then hits a sort of Bossman Slam on Chase for the pinfall.
Winner: Odyssey Jones
MSK is interviewed backstage where they say they'll welcome any and all challengers. As they're about to explain what MSK means, the video is interrupted by Imperium, who lectures the tag team division and says the champs are clowns.
Next, we see Pete Dunne and Oney Lorcan challenging Tommaso Ciampa and Timmothy Thatcher to a match for next week.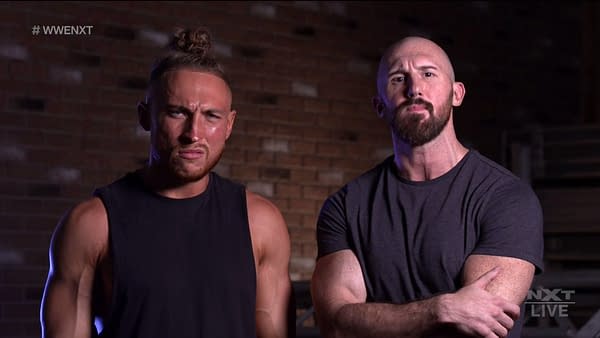 LA Knight vs Drake Maverick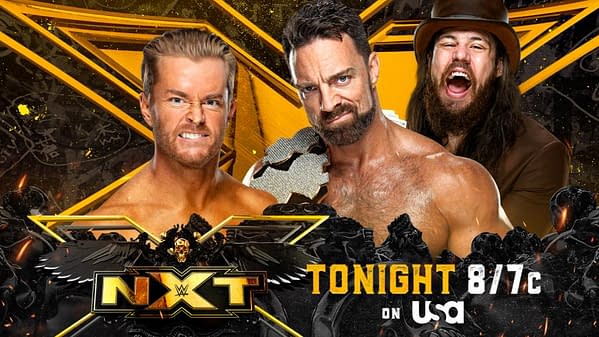 Maverick gets some quick shots in early, but Knight is quick to respond. Knight keeps getting distracted by Grimes not holding his belt correctly and playing with the crowd, allowing Maverick to get a roll-up for the win.
Winner: Drake Maverick
After the pin, Knight pummels Maverick all over the ring, telling Grimes it's his fault. Grimes gets involved and throws Knight off of him. Knight then orders Grimes to beat up Maverick, but Grimes tries to walk away. Knight won't let him and order him to hits Maverick, which Grimes does reluctantly.
Knight celebrates as Grimes looks horrified at what he's done.
We now see Kross's car pull up and Joe rips open the door to find a random guy behind the wheel, who says Kross told him to pull it up there. Joe then storms away.
Raquel Gonzalez vs Xia Li – NXT Women's Championship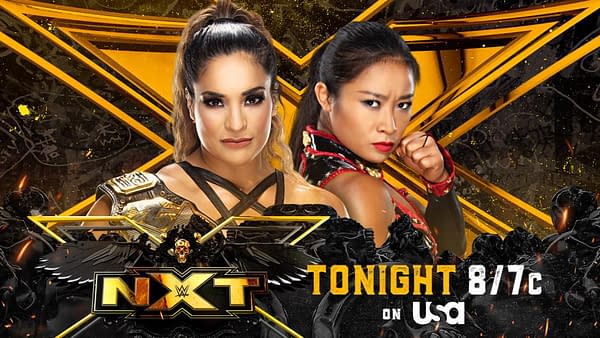 Gonzalez has the big size advantage here and uses it right away against Li. Li is a fighter though and keeps it coming to the champ. Gonzalez plants her with a big boot, knocking her out of the ring. She then puts Li on her shoulder and smashes her into the ring post. Gonzalez goes for a big boot against the post, but Li dodges it and hangs up Gonzalez around the post, pounding on her leg. Li then throws Gonzalez into the ring steps.
They get back in the ring and Li kicks away at Gonzalez's legs. She kicks her to the mat for a two count and then tosses her into the corner for more kicks. Li works Gonzalez on the ropes and keeps kicking her injured leg. She gets Gonzalez down and applies a side leglock until Gonzalez kicks her off and retreats to the corner.
Li keeps the attack on in the corner and dropkicks her leg into the ropes over and over. Li gets a single leg crab on Gonzalez, applying pressure to that bad leg, but Gonzalez gets out. Li tries a running move, but Gonzalez gets her with a fallaway slam and a series of shots.
Li hits a series of pin reversal attempts on Gonzalez to no success. She then hits a spinning roundhouse kick to Gonzalez for two. She tries another kick, but Gonzalez catches her and slams her down, and then hits a turnbuckle elbow drop.
Something appears to have gone wrong here and the doctors are in the ring checking on Xia Li. They show replays and Gonzalez landed full-weight onto Li hard.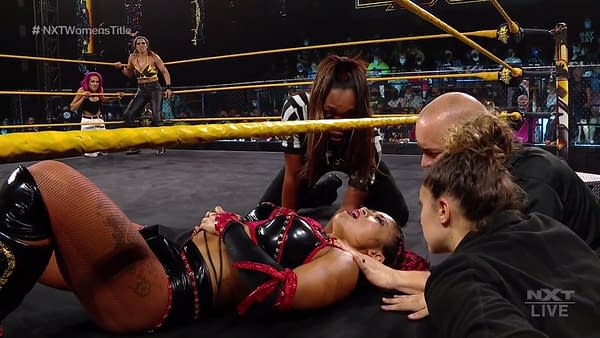 Gonzalez hits her finisher quickly and pins Li for the win. Hopefully, Xia Li is okay.
Winner and still NXT Women's Champion: Raquel Gonzalez
Samoa Joe now storms the ring and demands Kross come out and face him. Kross appears on the video tron saying this is his world now and the NXT title means he can go wherever he wants and hurt whoever he wants.
He then shows Regal knocked out under him in the parking lot as lightning perfectly crashes behind him! Kross gets in his car and speeds off as Joe comes after him screaming.
Great ending!!!
We've all been hard on NXT as of late, but many stories evolved this week and this Samoa Joe/Karrion Kross rivalry has really gotten heated and the inevitable match between the two will be a must-see!
Till next time friends!
---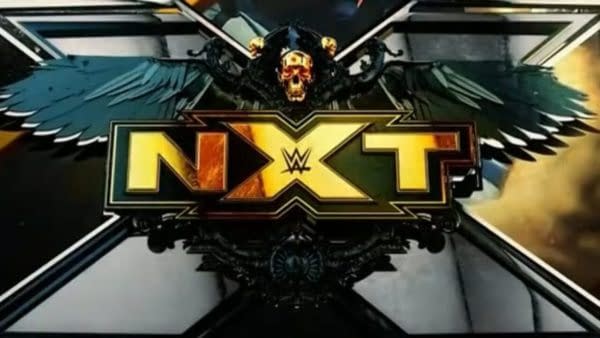 ---
A much better episode than the past couple of weeks! Rivalries were furthered and we have a more clear path forward here for a lot of the characters. And the Samoa Joe and Karrion Kross rivalry is heating up big time!
Credits
---
PROS
Everything of Samoa Joe vs Karrion Kross; Hit Row vs Legado del Fantasma; Diamond Mine vs Fish & Kushida
CONS
The sloppy Tournament match; Franky Monet is still weird; Raquel Gonzalez injuring Xia Li