Kurt Angle will wrestle his final match at WrestleMania this week, and that combined with the fact that Angle will apparently really be wrestling Baron Corbin for that match, the Olympic Gold Medalist appears to have reached "gives no @#$%s" territory and has started dropping spoilers for the biggest wrestling show of the year willy-nilly on podcasts. Angle appeared on Gorilla Position today where he shocking revealed that global entertainment superstar John Cena, who has long been rumored for a match at WrestleMania but not officially announced even with the show just days away, will have a match on the show.
🚨BREAKING NEWS?!🚨

Kurt Angle tells GP that "John Cena WILL have a match at #WrestleMania" pic.twitter.com/XWHeRC40BZ

— Gorilla Position (@WWEGP) April 5, 2019
Here's what Angle had to say, as transcribed by 411 Wrestling:
I was hoping it was going to be John. It didn't happen. I'm sure that he has another match in mind. I wanted him to end my career, just like, when he started, I started his career. It was good storyline but, unfortunately, it's not going to work out. I love John and I know that he will have a WrestleMania match. I'm not sure if they announced it, but I'm almost positive he's going to be there.
Many hoped that Cena would replace Corbin, due to the fact that Corbin sucks, but that appears to not be the case, at least if we don't assume that Angle is working the audience to draw attention away from the fact that Cena really will replace Corbin. But that sort of thing never happens in professional wrestling, does it? Hmmm…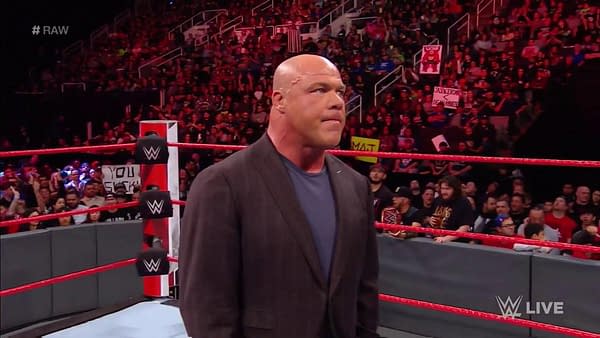 Enjoyed this article? Share it!