Revenge is a Cup Best Served Warm: Jeff Hardy v Sheamus at Backlash
Before the match starts, we see Braun Strowman pull up to the Performance Center in his muscle car, which has been repaired since Miz and Morrison wrecked it on Smackdown a few weeks ago. Braun grabs his bags and walks to the rings. The dramatic tension is unbearable! We also get a commercial for Extreme Rules. Welcome to Bleeding Cool's live coverage of WWE Backlash. The third match of the night (second on the main card) is Jeff Hardy vs. Sheamus.
This is clearly WWE's hottest angle. Well, warm, really. Internal body temperature. Jeff throwing a cup of urine at Sheamus on Smackdown on Friday is what really sold this PPV for me. Sheamus has been torturing Hardy over his past drug problems, which is certainly not a new angle for WWE. Neither is throwing a cup of urine in your opponent's face, but you know what? Sometimes the classics are worth repeating.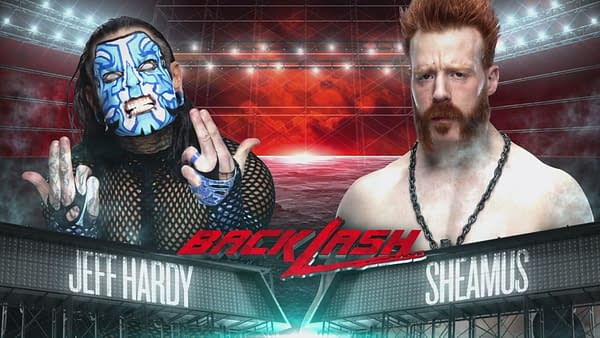 Jeff Hardy vs. Sheamus in a Piss on a Pole Match*
*note: there is not actually piss on a pole, but there should be.
Jeff Hardy comes to the ring first. Has he gone to the bathroom before this match? Does carrying urine to the ring inside your bladder make it legal to use in the match, like when Hulk Hogan or Cody use their weight belt? These are the kinds of questions Michael Cole ought to be answering instead of mindlessly shouting out cliches and hashtags. Sheamus heads to the ring next, looking like a man who has just had his entire worldview changed by the discovery of a new fetish. The Celtic Warrior is… thirsty.
Sheamus starts off by taking Hardy down with a headlock and giving him noogies. Hardy scrambles out and manages a side headlock of his own. Sheamus takes control back with a nose lock in the corner and begins ripping off Hardy's shirt, presumably trying to get himself more of that delicious urine.
Sheamus is a man crazed with thirst. Every time Hardy manages a little bit of offense, Sheamus puts him down and continues the beating. Sheamus chokes Hardy on the ropes and rips his shirt some more. Hardy manages to dodge a charge by Sheamus and drop him to the apron, then dropkick him to the ringside. Hardy gets a flying splash off the ring steps and takes solid control of the match for the first time. He smashes Sheamus's head into the announce table and tosses Sheamus in the ring.
Hardy considers bringing the ring steps with him but thinks better of it. Sheamus has had time to recover thought and reverse a Hardy suplex attempt before pummeling Hardy with elbows. Sheamus plants Hardy dick first on the ringpost from the corner. Hardy sells a pee injury… I mean, knee injury. Thank goodness!
Sheamus goes for… something but ends up just dropping Hardy on the ground face first. He hits a knee drop off the ropes for a two-count. Sheamus yells at the performance center crowd, calling them enablers, and chokes Hardy with his booty on the ropes. Sheamus hits the Irish Curse backbreaker twice for another two-count.
Sheamus applies the chin lock as both wrestlers catch their breath. Hardy escapes with some elbows and a jawbreaker, but Sheamus takes him back down with a knee to the face. Sheamus yells at Michael Cole and Corey Graves a bit, then puts the chin lock back on. He gouges Hardy's nose (which Cole calls his eyes). Hardy fights back again, and rams Sheamus into the turnbuckle, and hits a backdrop suplex.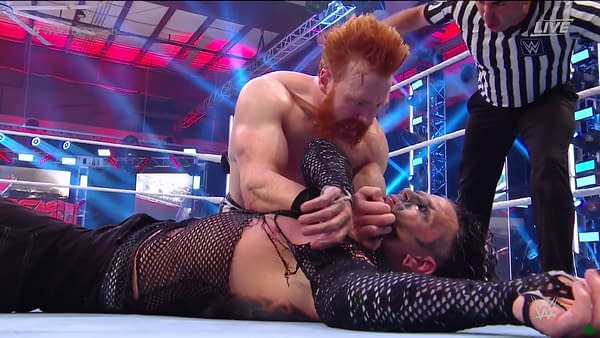 Hardy's comeback ends quickly with a clothesline from Sheamus. Sheamus goes to the top but misses a flying clothesline. Hardy hits Whisper in the Wind on Sheamus for two, but Sheamus is to his feet first. They trade blows and Hardy hits his signature offense, the running arm smash thing and the leg drop to the balls, which Cole calls Vintage Hardy, for two. Hardy hits what can best be described as a falling splash for two.
Sheamus rolls Hardy up for two, but Hardy hits his mule kick. Hardy dodges the Brogue Kick hits a sling blade. He heads to the top for his finisher, but Sheamus is too quick, driven by a need for urine in his mouth. They battle on the top rope and Hardy manages to knock Sheamus down, conveniently into position for the Swanton. But Hardy can't gain his balance and Sheamus takes him down from the ropes and hits White Noise for two.
At this point, Sheamus has gone 48 hours without a drink of piss. He's experiencing severe withdrawals. He's irritable. He's irrational. Get out of there, Jeff! Sheamus kicks Hardy in the stomach and puts him in the Texas Cloverleaf. Hardy makes it to the ropes. Sheamus kicks him in the kidneys multiple times until Hardy crawls outside the ropes. Sheamus picks him up by his tattered sheet on the apron. He hits his chest smashing spot and Hardy crumbles to the apron.
The Finish
Graves says the official should stop the match because Hardy is helpless, which means the comeback is happening any second. Sheamus drags Hardy in and gets him up on his shoulders, but Hardy grabs the ropes. He shoves Sheamus into the ring post, hits a Twist of Fate, and the Swanton. But Sheamus gets his foot on the rope!
Sheamus rolls outside. Hardy tries to follow with his spot where he runs the ring barrier, but Sheamus catches him with a Brogue Kick midair. He tosses him in the ring and hits another Brogue kick, and it's all over for Jeff Hardy at Backlash. Sheamus wins the match and, presumably, Hardy will have to supply him with primo urine for the next month.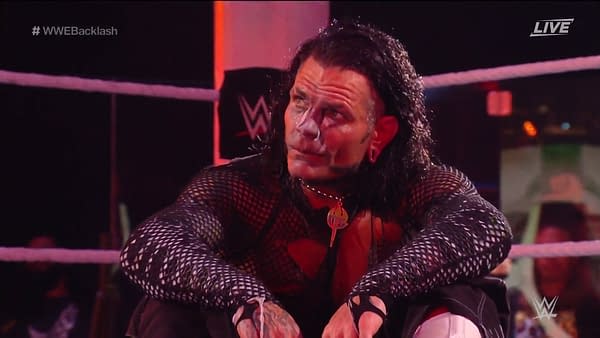 To me, this was the main event. I'm disappointed that I have to watch, what is it, five more matches now? The story of the match was great, with Sheamus dominating Hardy, who just couldn't keep up with Sheamus's superior strength and, more importantly, hatred. The easy choice here would have been for Hardy to get his comeuppance, but Sheamus not only ruined his life over the past month, but he beat him at the PPV as well. Now Jeff Hardy's redemption story will have to continue.