"Rick and Morty" Season 4 "Claw and Hoarder: Special Ricktim's Morty": Jerry's Feline Horror Keeps Things from "Dragon" [SPOILER REVIEW]
Fans of Adult Swim's Rick and Morty had been counting down the months and days until Dan Harmon and Justin Roiland's animated mayhem returned to their screens once more. That wait ended early last month with season premiere "Edge of Tomorty: Rick Die Rickpeat" (reviewed here), where we got a crash course in "death crystals" and gained a deeper understanding of just how hard it would be to kill Rick Sanchez – and keep his dead.
"The Old Man and the Seat" (our review here) proved a brilliant balance between sharp social satire and a gut-punch examination of love, loss, control… and poop. Which lead to "One Crew Over the Crewcoo's Morty", which "heisted" our minds in such a way that it made it our favorite episode of the season so far (check out our review here).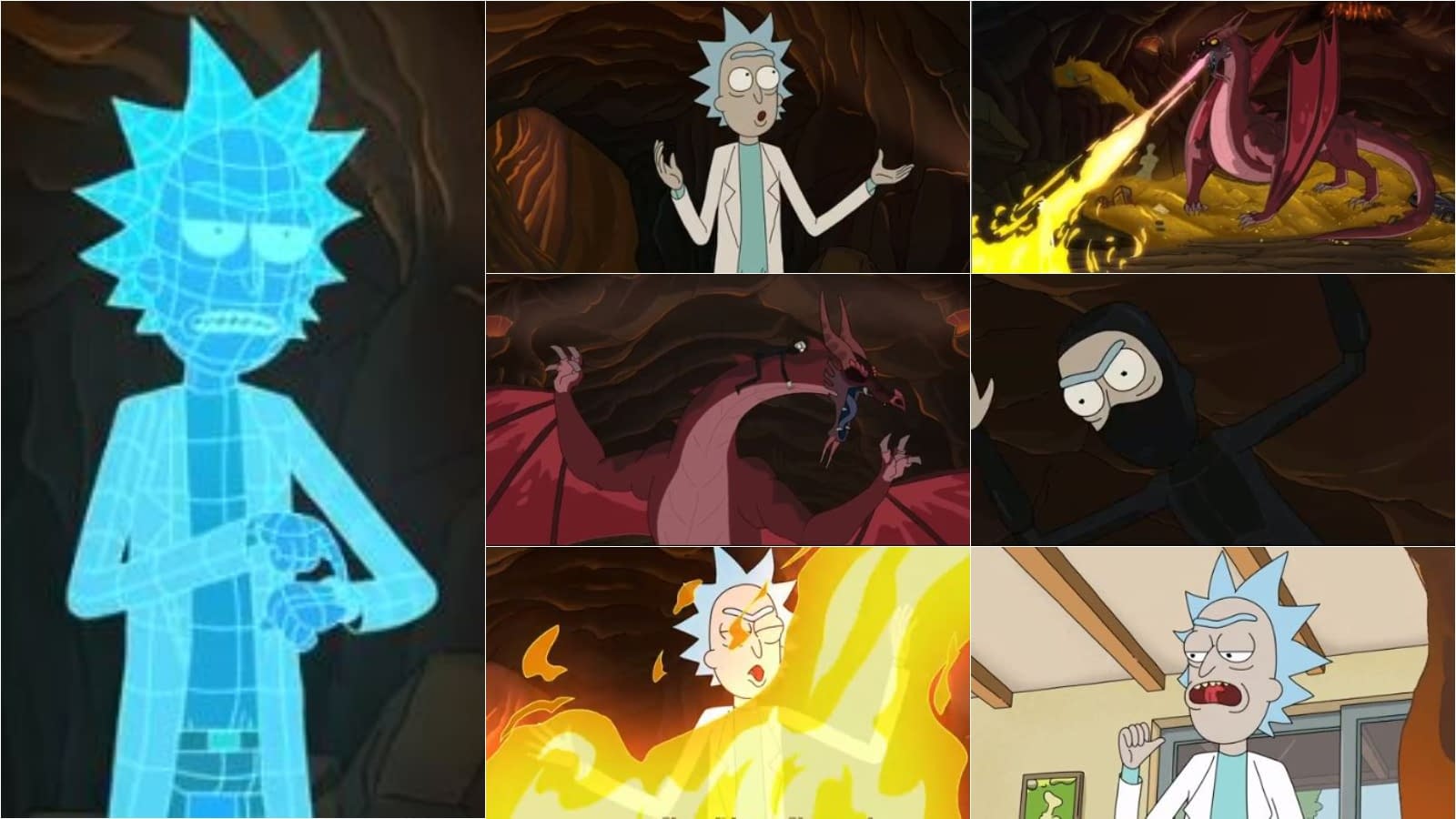 Now after a break for a good chunk of us to shove way too much food down out throats to repress the true history of the holiday being observed, our dimension-hopping duo are back with "Claw and Hoarder: Special Ricktim's Morty". When Rick makes a deal with Morty for a mission, Morty holds up his end of the bargain – so he's getting that dragon.
But did the episode hold up its end of the bargain? MAJOR SPOILERS ahead…
For a show that made it painfully clear that they're not fans of heist films, I feel like we had a "fast one" pulled on us this week. We were sold on an episode where Morty getting a dragon was going to be the focus, but it turns out that it was the Jerry/talking cat subplot that still has us pondering its implications this morning.
It was simple enough – and in its simplicity dwelled the horror. Jerry finds a talking cat in his room that convinces him to take them to Florida for a beach party – so of course Jerry agrees because Jerry. False accusations of "beach pooping" and a bad showing at a yacht party later, Jerry and the talking cat are picked up by Rick – but instead of going home, they make a detour to the desert for some truth. Rick traps the cat and runs a brain scan – and what they see horrifies them to their core. So much so that Rick erases Jerry's memories of it – yet we never get to see what they saw.
What the hell?!? You see what I mean, right? Not a lot going on, lots of quiet moments, and a talking cat that seems almost as confused about his talking skills as he is about everyone else's lack of issue with it. But it's the ending that makes you reconsider everything you've seen before – and we shudder thinking of what would've happened if whatever's in the cat's mind got out on the plane.
Even as much as Jerry was just being Jerry when he took the cat up on its offer, it didn't seem like typical "duh" Jerry – more of a "I'm concerned but I think I have to go ahead with this" vibe. Hell, it could even be said that we saw a thawing of the relationship between Rick and Jerry just a smidge this outing.
On their way back home, Jerry shows he's on the same page as Rick when it comes to trapping and scanning the cat – conceding to Rick's expertise in these matters. In return, we saw genuine concern in Rick when he tried to prevent Jerry from looking at the brain scan results – and some level of sympathetic regret before erasing Jerry's memories of the experience.
Rick and Morty is a series known for creating great characters we may never meet again and fascinating storyline paths that may never be travelled down – that said? We need more of the cat. We have so many questions…
As for the Morty/dragon storyline? Eh – more a collections of funny moments and great visuals than anything thematically cohesive. We're appreciating Morty's growth this season as he continues flexing some of those "alpha muscles" (he's getting his damn dragon!) while showing all of the "teen boy" qualities you know Rick is going to love. It also never gets old watching Rick find practical loopholes around the "rules" of magic and supernatural.
But as for the story itself? We're guessing it was twisted "afterschool special" way of telling us that relationships aren't worth tossing aside completely for someone else? The heart wants what the heart wants? Dragons are truly horny beasts? You should practice "safe dragon-ning"? How to get tell the person you hooked up with was just a one-timer? We're still not sure – but there were some great lines and the designs of the dragons alone make for repeat viewing.
Four things to keep in mind:
● Apparently, all "ultimate cubes" are purple – so color-coordinate appropriately.
● "Slut dragons" is a redundant expression – but most draw the line at f***ing woolly mammoths.
● If you find yourself feeling oddly horny for dragons by the time the end credits role, you're not alone. No judgements.
● When I'm king, Liam Cunningham (Game of Thrones) will be allowed to voice one character in every animated project moving forward – could listen to this dude read the terms of service on a toaster.

From the Upfronts earlier in the summer, there was the announcement of season 4 with an accompanying video (see below), and red carpet interviews with Harmon and Roiland that teased (jokingly?) a Rick and Morty future with Daniel Radcliffe and Kanye West in it. In late June, Adult Swim announced a second addition of its two-day festival in Los Angeles – which will be of particular interest to fans (more below).
And then? Things got serious with the season 4 trailer…
https://www.youtube.com/watch?v=Rw6BrzB1drs
Buckle in for disappointment because there's no way these episodes will be good enough for how long you waited. But maybe they will be? It's season four! It's sexy and smooth. Buckle in! Did I already say that? Definitely stay buckled in.

Rick and Morty is the Emmy-award-winning half-hour animated hit comedy series on Adult Swim that follows a sociopathic genius scientist who drags his inherently timid grandson on insanely dangerous adventures across the universe. Rick Sanchez is living with his daughter Beth's family and constantly bringing her, his son-in-law Jerry, granddaughter Summer, and grandson Morty into intergalactic escapades.

Rick and Morty stars Justin Roiland (Adventure Time), Sarah Chalke (Scrubs), Chris Parnell (Saturday Night Live), and Spencer Grammer (Greek). The series is created by Dan Harmon (Community) and Roiland, who also serve as executive producers.