With Adult Swim's Rick and Morty ready to wrap up its fourth season Sunday night, we're getting a sneak preview image of what viewers can expect. With a season that feels like it's been building towards something (though we're not sure what), there are a lot of eyeballs out there wondering how things will be left heading into what we're hoping is only a six-month break before the fifth season (more on that below). So Dan Harmon and Justin Roiland's animated series looks to be taking a trip back to Dr. Wong's (Susan Sarandon) couch, which we're taking to mean that the family's been going on a regular basis and that's a good thing. What's not so good? Jerry's therapy puppet, which looks as disturbing as we thought it would. It's going to score some major "creepy points"
So will it turn out that Beth's been a clone since last season? Is there a reason for Summer lashing out and growing animosity? Will Dr. Wong advise Jerry to run for the hills? Will she advise Jerry's therapy puppet to run for the hills? Will we end up not even seeing Dr. Wong because one of about a billion random things happen to throw everything off-course? The image above gives us the impression that we'll be sitting in for another round of therapy, but we'll know for sure Sunday night. Until then? Let's take a look at what feels like the opener for the episode. Expanding on the original promo's scene, the preview below had two big takeaways for us. First, it established our desperate need to see what one of Jerry's therapy puppets looked like; as well as the disturbingly gleeful disbelief in Jerry's voice when he thought Rick had actually disintegrated (and can we address his use of the word "we"?):
With the last episode now only hours away, our thoughts have turned towards the fifth season. Will ten-episode, split seasons be the norm? Should we pencil in November 2020 and May 2021 for our next five-episode rounds? While he had had promising news about the fifth season to share, it looks like Roiland is as much in the dark over how the next season will go release-wise just like the rest of us: "I think it's largely dependent on how quick the episodes can get produced. I know season five is mostly in the can. They're still gonna be reworking when the animatics come back, so that can extend the process. I believe if they have the full ten episodes, they'll release them without a split, but I honestly have no idea. That's kind of a question that's outside of my jurisdiction. They do what they think is best for the show."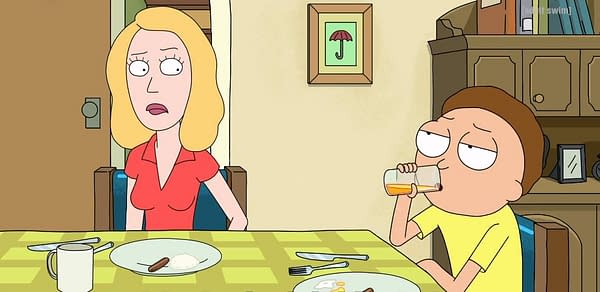 Roiland isn't just a fan of having a split in the schedule like we saw this season, but he loves the idea of playing around with release schedules and other new ways of getting episodes out to the fans. Even monthly: "I've been saying we should drop an episode each month, just make it a big event. I like the idea of thinking outside the box with how any show is delivered to the masses. If you do one a month, the show is alive the whole year and you're still buying us all the time we need to make them as good as they need to be. I'm not saying that's ever gonna happen, but I have brought that up in the past. That just goes to the point that I have no idea what the plan is for season five. I'm sure whatever it is will be the right decision."
Enjoyed this article? Share it!