Posted in: Adult Swim, Amazon Studios, BBC, Cartoon Network, CBS, Disney+, Fox, Good Omens, HBO, NBC, Netflix, Review, Rick and Morty, Star Trek, Star Wars, Starz, streaming, Trailer, TV | Tagged: 2019, Adult Swim, amazon, barry, bbc, bbc one, bleeding cool, cable, cbs, cbs all access, discovery, disney, disney plus, fleabag, fox, good omens, HBO, live with yourself, nbc, prime video, prodigal son, Review, rick and morty, star trek, star trek: discovery, streaming, television, the boys, the good place, The Mandalorian, trailers, tv, Watchmen
---
"Rick and Morty", "The Boys", "Fleabag" & More: The Bleeding Cool TV Top 10 Best of 2019
Once upon a time… working for television was labelled a "demotion," a professional death sentence for actors whose careers were considered on a no-way-back downward spiral.
Today, actors of all ages and experiences (especially women and actors of color) have found more opportunities to practice their craft and tell their stories (and be recognized for it) than ever before. While there are still many roads that need to be travelled in terms of fairness and equality on both sides of the camera, progress has been made – even as the film industry continues a slow descent into "event film haze" to remain relevant.
Once upon a time… it was thought for a show to succeed, it needed to start every September, end every April/May, and run at least 20 episodes per season.
Today, fans wait over a year for a half-season of Adult Swim's Rick and Morty, and have shown their willingness to embrace an 8-episode quality season over a 16-episode "padded" season.
https://www.youtube.com/watch?v=Rw6BrzB1drs
Once upon a time… television meant "The Big Three," HBO went off-air at 11 p.m., and "water cooler" moments before the VCR could be a very select club at the work place.
Today, cable and streaming have turned "The Big Three" into "The Big 333" – with DVR, on-demand, and binge watching making any time a great time to watch.
With that said, it's hard to believe it's been a year since our last go-around – and as difficult as it was to choose only 10 shows last year, this year tripled the pressure. Once again, it felt like we were trying to find ten specific needles in a pile of needles – and this year, that pile was huge… and twice as painful when it came to cuts.
But we prevailed – and over the past ten days, we've presented a list that best represents the diversity in thought and expression that graced our screens. This list would not have been possible without perspectives from the Bleeding Cool team: Alejandra Bodden, Margo Staten, Adriel, Rich Johnston, Tom Chang, Tiffany Tchobanian, Andy Wilson, Jeremy Konrad, Adi Tantimedh, and Erin Wilhelm.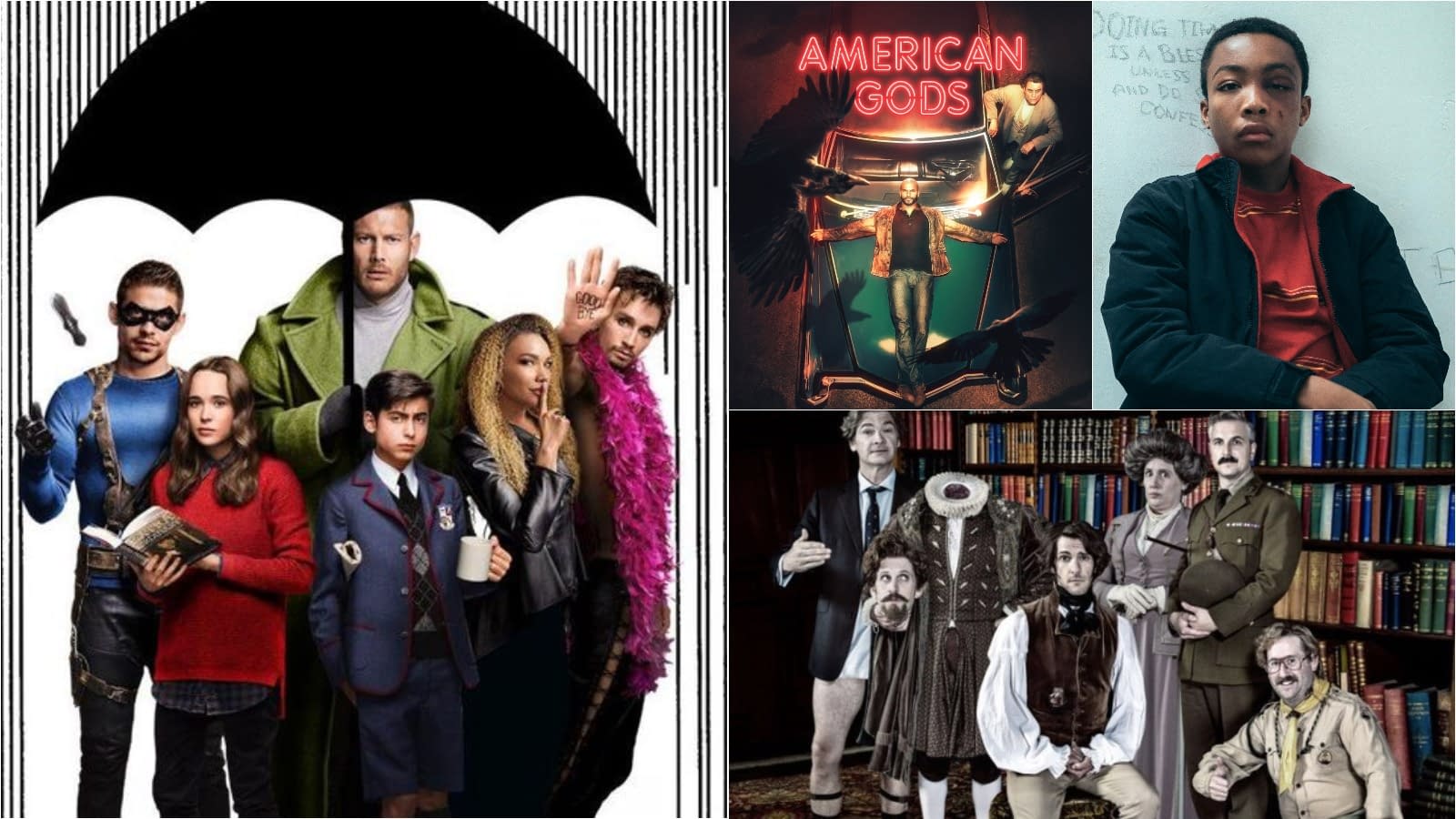 Honorable Mentions: "American Gods" (STARZ), "When They See Us" (Netflix), "Ghosts" (BBC), and "The Umbrella Academy" (Netflix)

#10 "Living With Yourself" (Netflix)
Miles Elliott, a man struggling in life, undergoes a novel spa treatment that promises to make him a better person, only to learn he's been replaced – literally – by a better version of himself. Living with Yourself premieres October 18 on Netflix.

Living With Yourself is an existential comedy that asks: do we really want to be better? Told from multiple perspectives and intersecting storylines, the eight episode series stars Paul Rudd, Paul Rudd and Aisling Bea, and was created and written by Emmy® Award winner Timothy Greenberg (The Daily Show with Jon Stewart), and directed by Jonathan Dayton and Valerie Faris (The Battle of the Sexes, Little Miss Sunshine). Greenberg executive produces with Anthony Bregman and Jeff Stern for Likely Story, Tony Hernandez for Jax Media, Dayton, Faris, Rudd, and Jeff Blitz.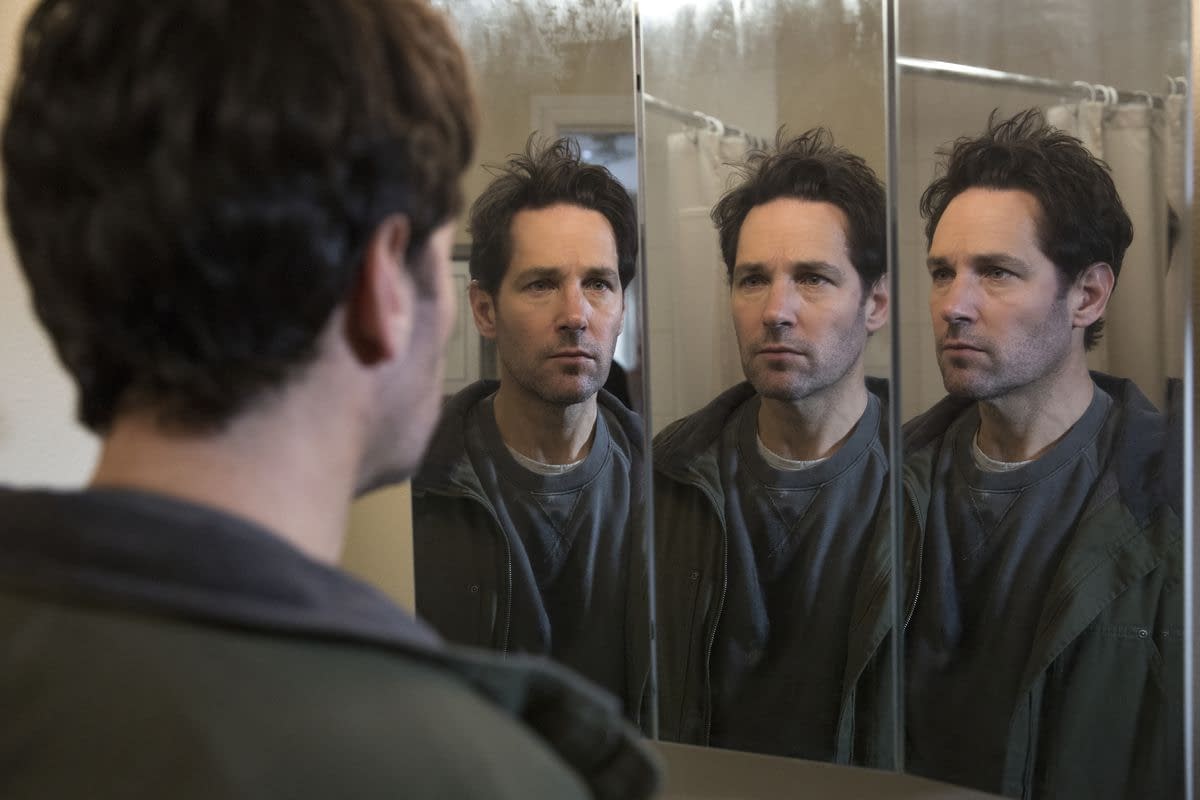 "When sitting down to start 'Living With Yourself', I was not expecting at all what we were given. From a storytelling standpoint, seeing the events of each episode played back through the eyes or each character was a genius move, adding layers to the story that would have fallen by the wayside. Blowing up the central theme of the show halfway through was a bold risk that paid huge dividends as well. It also confirmed the thing that most of us always knew: there are not enough Paul Rudds in the world. We can always use more."

– Jeremy Konrad
#9 "Barry" (HBO)
Desperate to leave his violent past behind in favor of his newfound passion, Barry is attempting to untangle himself from the world of contract killing and fully immerse himself in acting. But getting out is messy. While Barry has eliminated many of the external factors that pushed him towards violence, he soon discovers they weren't the only forces at play. What is it about his own psyche that led him to become a killer in the first place?

As season two opens, Barry struggles to focus exclusively on the theater and his girlfriend and classmate Sally, hoping against hope to rid himself of the ties that bind him to the Chechen mob group now led by Noho Hank, who ascended to the top job after Barry whacked his boss last season. Although he's persuaded grieving acting coach Gene Cousineau to return to class, Barry is incapable of extricating himself from a violent criminal triangle involving the Chechen, Bolivian and Burmese underworlds – not to mention some deeply suspicious LA detectives. Meanwhile, on the Midwest horizon looms Monroe Fuches, Barry's erstwhile boss, who has found it exceedingly difficult to hire a replacement in Cleveland as capable as his onetime ace assassin.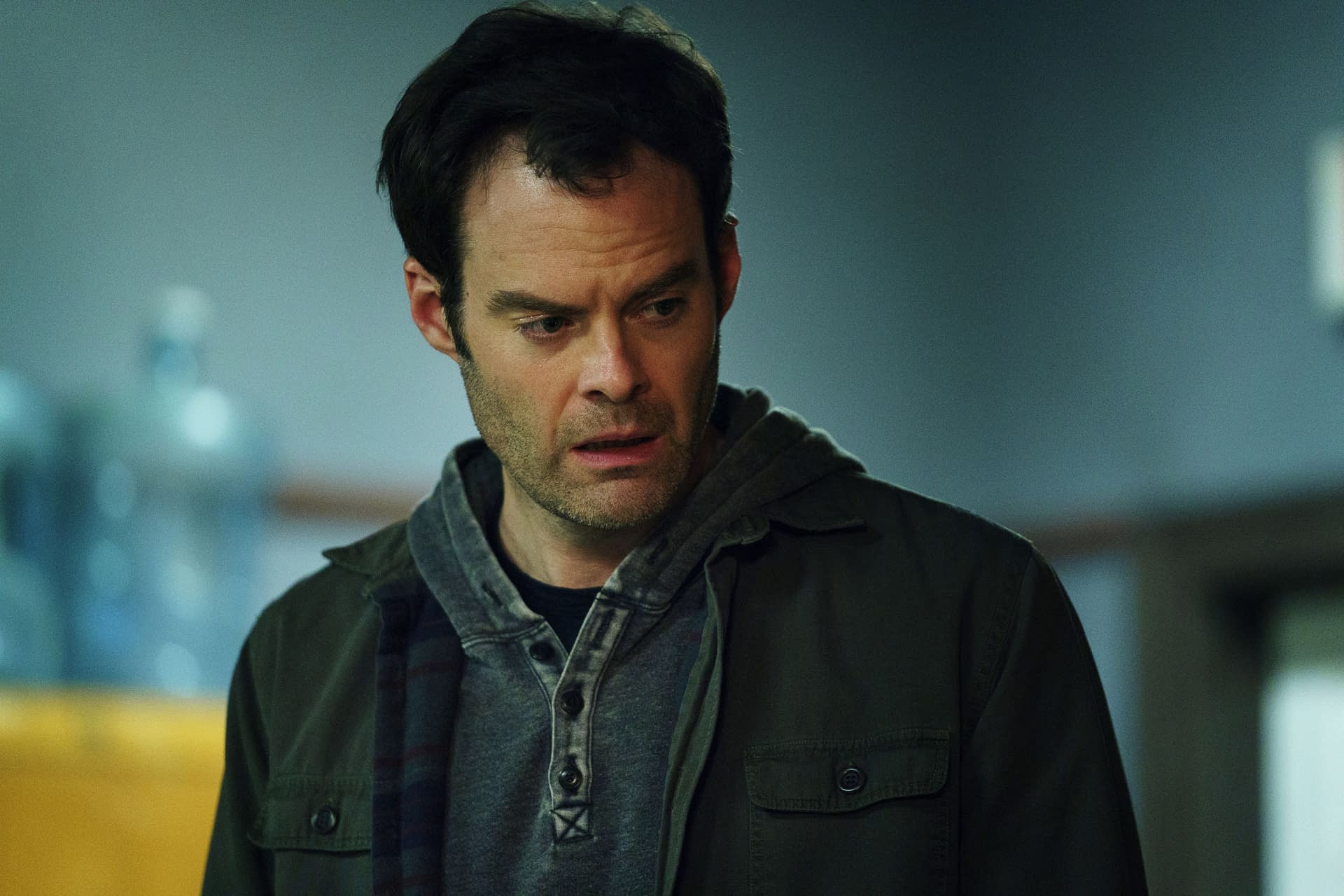 "I've been mesmerized by HBO's 'Barry' since the first trailer for Bill Hader and Alec Berg's paradoxical and ambitious brainchild dropped. Every episode keeps viewers on edge and we never know what to expect. 'Barry' presents the perfect balance between laugh-out-loud comedy, thrilling action, gut-wrenching drama and a dash of heart-warming rom-com. Hader, Henry Winkler, Anthony Carrigan and Sara Goldberg deliver career defining performances. Simply put, 'Barry' deserves all the accolades it gets because it is pure genius."

– Tiffany Tchobanian

#9 "Star Trek: Discovery" (CBS All Access)
After answering a distress signal from the U.S.S. Enterprise, season two of STAR TREK: DISCOVERY finds the crew of the U.S.S. Discovery joining forces with Captain Christopher Pike on a new mission to investigate seven mysterious red signals and the appearance of an unknown being called the Red Angel. While the crew must work together to unravel their meaning and origin, Michael Burnham is forced to face her past with the return of her estranged brother, Spock.

"Star Trek: Discovery" season two cast members include Sonequa Martin-Green (Commander Michael Burnham), Michelle Yeoh (Philippa Georgiou), Doug Jones (Commander Saru), Shazad Latif (Ash Tyler), Anson Mount (Captain Christopher Pike), Anthony Rapp (Lt. Commander Paul Stamets), Mary Wiseman (Ensign Sylvia Tilly), Wilson Cruz (Dr. Hugh Culber), Mary Chieffo (L'Rell), and Ethan Peck (Spock).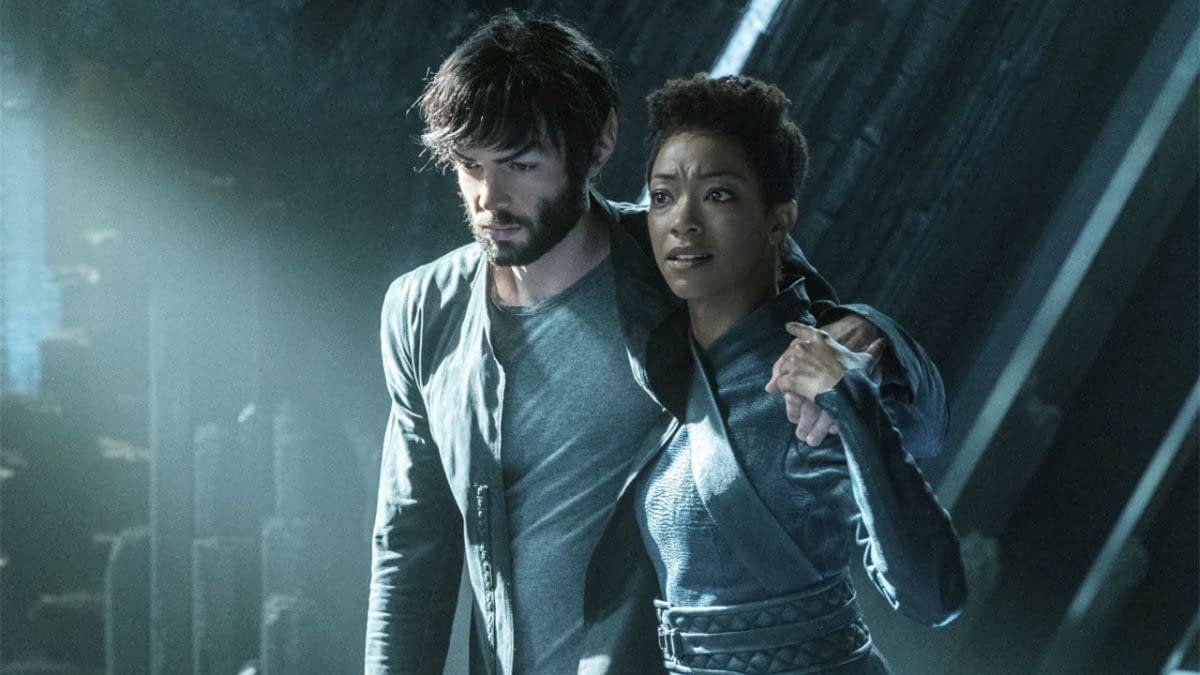 In Season 2, Star Trek: Discovery finally became the show viewers wanted it to be. Character development, pacing, world building, and that nostalgic Trek feeling all improved drastically. While the season was a bit uneven, and spent too much time teasing Spock, the ending – and the Enterprise – were worth the wait. Captain Pike (Anson Mount) was a great addition to the cast, however, I would have preferred the focus stay a bit more on Michael Burnham (Sonequa Martin-Green). Discovery's journey to the future, and escape from the canon stranglehold, have us excited for a groundbreaking Season 3.

– Erin Wilhelm
Malcolm Bright (Tom Payne) has a gift. He knows how killers think and how their minds work. Why? Back in the 1990s, his father was one of the worst, a notorious serial killer called "The Surgeon." So it makes sense Bright is the best criminal psychologist around; murder is the family business. He will use his twisted genius to help the NYPD solve crimes and stop killers, all while dealing with a manipulative mother, annoyingly normal sister, a homicidal father still looking to bond with his prodigal son, and his own constantly evolving neuroses.

Meet the happy family. Dr. Martin Whitly (Michael Sheen) is intelligent, wealthy, charismatic and also happens to be a predatory sociopath who killed at least 23 people. Bright's mother, Jessica Whitly (Bellamy Young), an elegant and WASPy New Yorker, wields sarcasm like a samurai sword and has an opinion on every aspect of Bright's life. Perhaps Bright's only ally is his sister, Ainsley Whitly (Halston Sage), a TV journalist who wishes her brother would "take a break from murder" and have a normal life.

Unfortunately for his sister, the only way Bright feels normal is by solving cases with the help of his longtime mentor, NYPD Detective Gil Arroyo (Lou Diamond Phillips). Arroyo's one of the best detectives around, and he expects no less from his team – Detective Dani Powell (Aurora Perrineau), a headstrong no-nonsense cop who quickly becomes impressed with Bright's work; and Detective JT Tarmel (Frank Harts), a born-and-bred New Yorker who questions whether Bright is a psychopath himself.

From Emmy Award-nominated executive producer Greg Berlanti, executive producer Sarah Schechter ("Riverdale," "You"), and executive producers/creators Chris Fedak ("Deception," "Chuck") and Sam Sklaver ("Deception," "Bored to Death").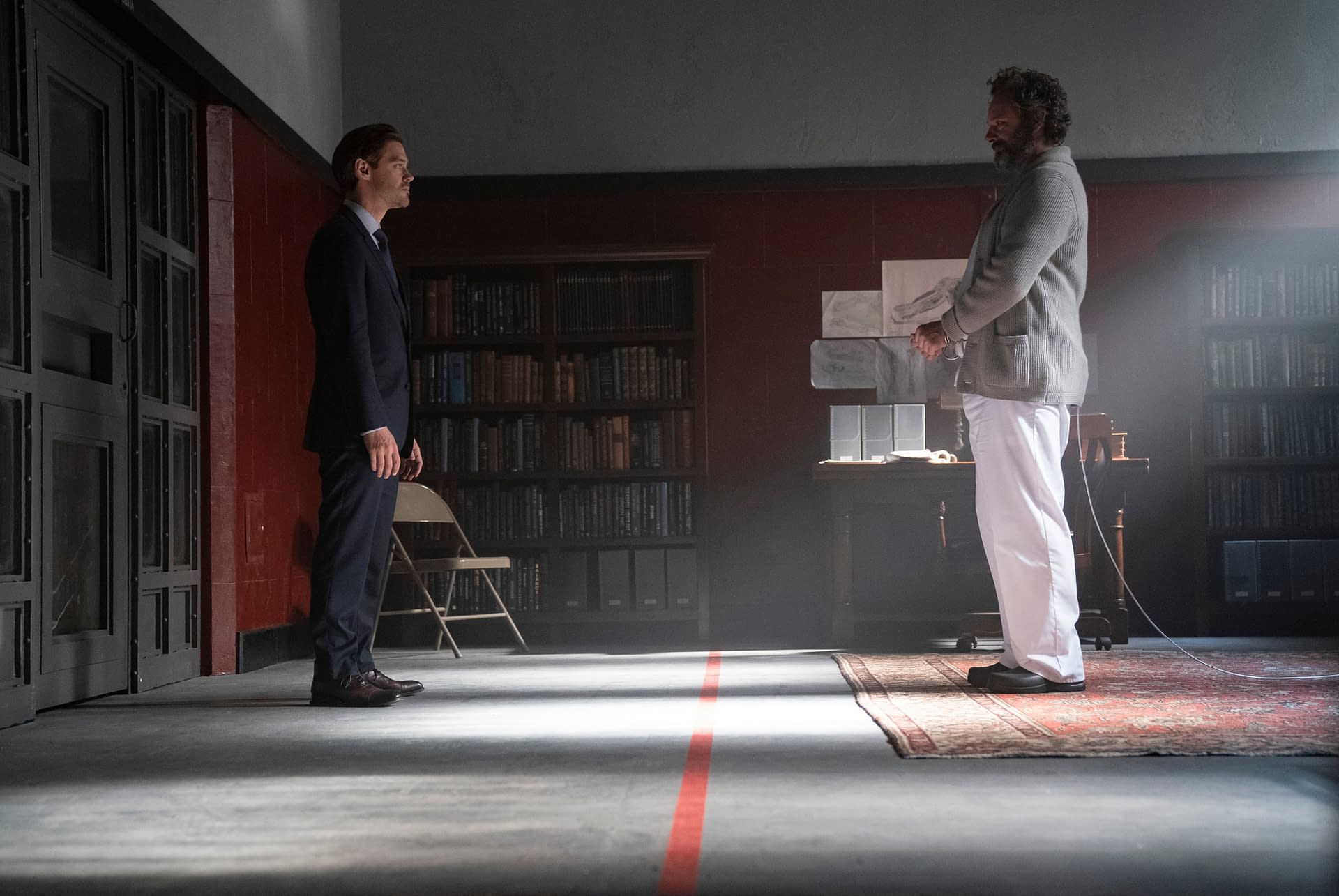 Why "Prodigal Son"?

Who wouldn't love a police procedural about a dysfunctional family, a serial killer for a father, and a Tom Payne who has to sleep in chains and a mouth guard – and no, not out some sexual preference? With each episode being dramatically unpredictable with its bizarre and bloody plot twists, "Prodigal Son" continues keeping viewers grasping for their security blanket.

Most notable is Payine's Bright, our protagonist and a rogue ex-FBI profiler who can't keep himself out of trouble, desperately trying to maintain his sanity and a sense of normalcy as he looks to define the dynamic between himself and his father, Dr. Whitly aka "The Surgeon" (Michael Sheen). Can never get enough of Dr. Whitly's psychotic, manipulative presence – and Sheen's Whitly and Payne's Bright feel like two animals respectfully stalking each other every time they share screen time.

Throw in a killer ensemble cast delivering A-level performances and an overall vibe that makes even the commercials feel creepy, and I have to ask:

Why not "Prodigal Son"?

– Margo Staten
"Fleabag" Series 2: Joyful, bleak, poignant and sucker-punch funny, the original cast is joined by a car-crash of new characters as we delve further into the world of Fleabag.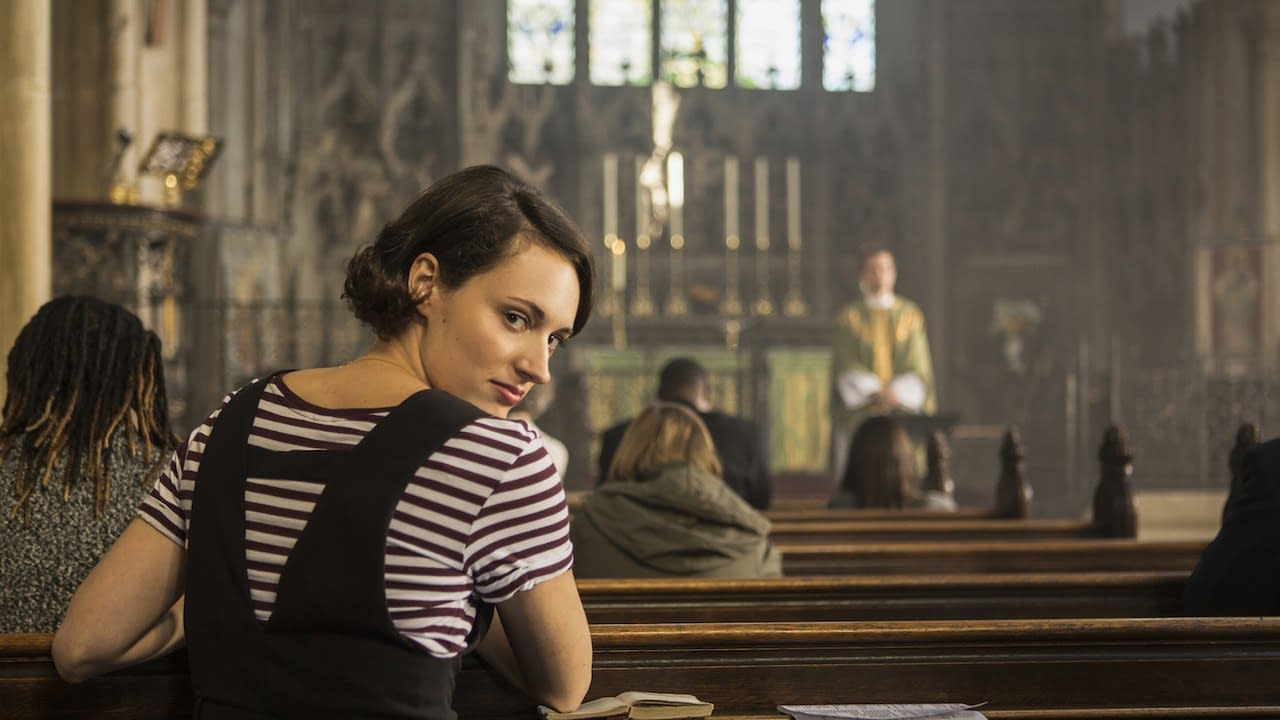 "I used to describe Fleabag to Americans as 'What if Girls was as good as The Wire' but in 2019 with its second but final series, Fleabag jumped that and became the best drama created for the television in the history of the medium. That it did so with the on-the-surface-unsympathetic unrelatable life of an upper middle-class over-privileged narcissist is remarkable.

Originating as theatre, performance creator/star Phoebe Waller-Bridge would return to for the last time earlier this year, the natural jump from stage to fourth wall breaking took on a new approach that played with the essence of the medium itself, turning her audience from friend/confident to enabler, to stranger, to stalker, to her own inner madness/perspective/neurodiversity with ridiculous skill and confidence.

And a place for Phoebe to place heartbreaking insights about pain, into the mouths of others and lines like 'get your hand off my miscarriage' that no one has dared to put on a T-shirt yet, is just a bonus.

It did have challenges.

Any other year, the likes of Gameface, The Virtues, The End Of The F***ing World, Chernobyl, Succession, Years And Years and even The Magnificent Mrs Maisel would have stood out, but in 2019, against Fleabag's second series they had no chance. Especially when the Americans got round to discovering just how good it was too…"

– Rich Johnston
After the stories of Jango and Boba Fett, another warrior emerges in the Star Wars universe. The Mandalorian is set after the fall of the Empire and before the emergence of the First Order. We follow the travails of a lone gunfighter in the outer reaches of the galaxy far from the authority of the New Republic…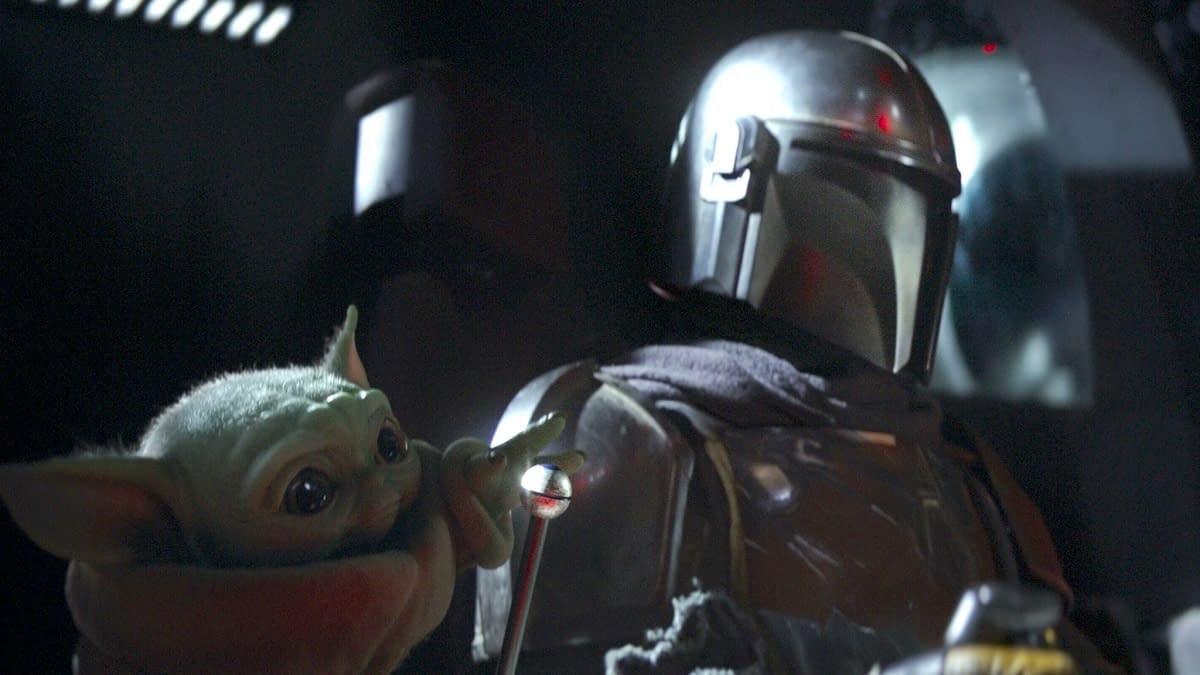 "When it comes to flagship series for streaming services, none made as profound impact as "The Mandalorian" for Disney+. The television series is able to unite the "Star Wars" fanbase unlike recent films. It follows the adventures of the unnamed Mandalorian (Pedro Pascal) who's on a journey in search of himself. What was supposed to be a routine job, turned into so much more as the bounty hunter's willing to go against his trade for what might be his salvation. A few twists, a few turns, lots of fighting, and a "Baby Yoda" later, and we have a series that warmly embraces its "Star Wars" lore while also being easily accessible to those new to the universe."

– Tom Chang
#5 "The Good Place" (NBC)
From creator Michael Schur comes a unique comedy about what makes a good person. The show follows Eleanor Shellstrop (Kristen Bell), an ordinary woman who enters the afterlife, and thanks to some kind of error, is sent to the Good Place instead of the Bad Place (which is definitely where she belongs). While hiding in plain sight from Good Place Architect Michael (Ted Danson), she's determined to shed her old way of living and earn her spot.

Over the course of season three, Michael and the team decided to try to fix the outdated points system after discovering that nobody has entered the Good Place for over 500 years. They convinced the Judge (guest star Maya Rudolph) on the idea of setting up a new neighborhood in the Medium place to see, once and for all, if humans can improve themselves. The plan is set in motion and four new test subjects, chosen by Shawn (guest star Marc Evan Jackson) and the demons, populate the area with Michael and the group overseeing the experiment. Unfortunately for Eleanor, she is forced to assume the role as Architect, following Michael's sudden breakdown, and must also deal with the repercussions following Chidi's (William Jackson Harper) decision to make the ultimate sacrifice and have his memory erased.

Also seeking redemption is elegant Pakistani-British socialite Tahani Al-Jamil (Jameela Jamil) and dance-obsessed Floridian Jason Mendoza (Manny Jacinto). They are aided by Janet (D'Arcy Carden), a human-esque repository for all the knowledge in the universe.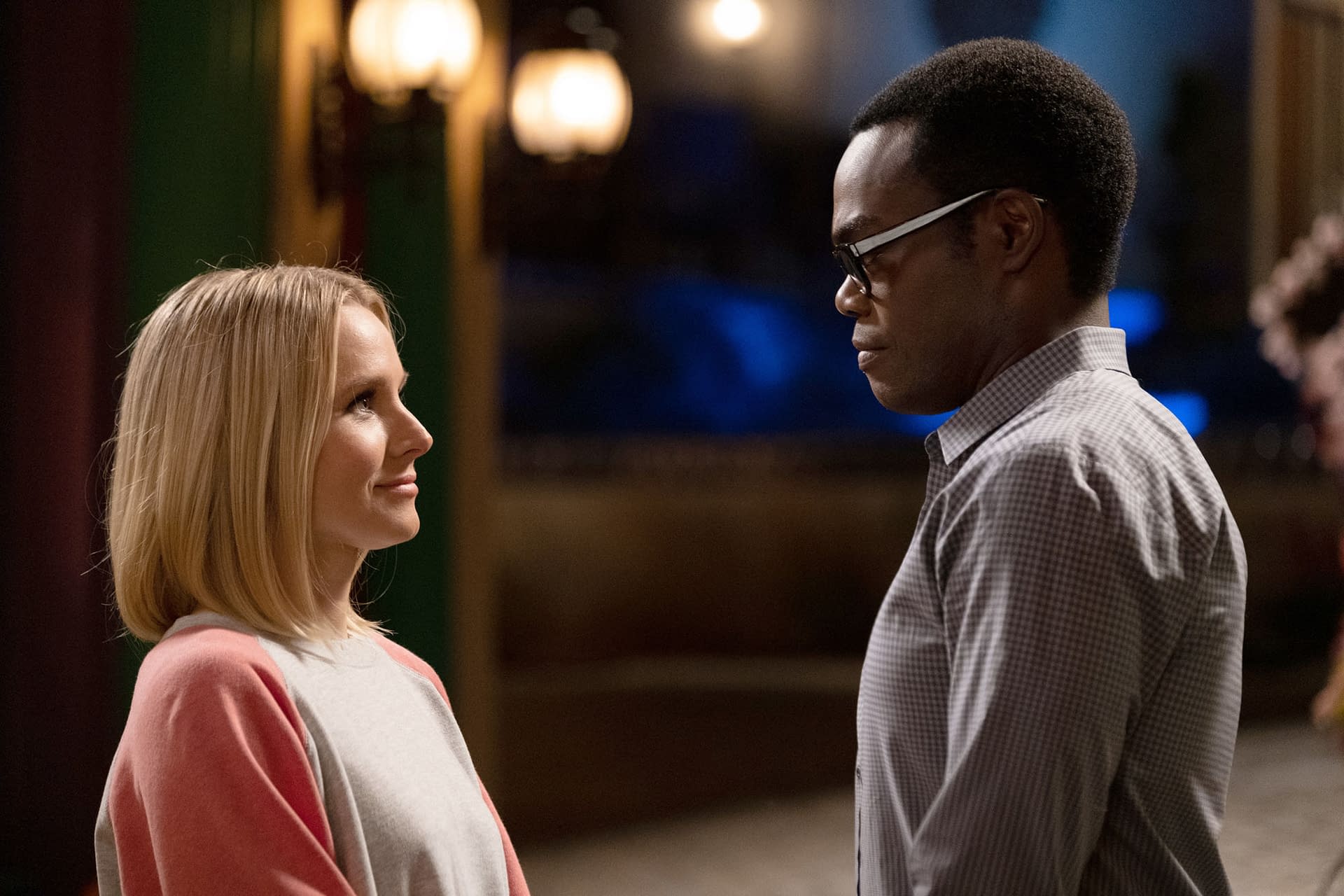 "The Good Place broke the top 5 of the year's best wrapup! Let us pause for a moment of celebration. Okay! Now let's pop that champagne and get crunk!

Why did a show in it's fourth season still make the list? I mean, maybe only a little because it's the final season, but mostly because of creator Mike Schur's commitment to the story and ending it at an appropriate and natural point. Which is now. Ending aside, it's always been a quirky show full of surprises and just the right amount of humor with a dark twist. So, go celebrate, benches!"

– Adriel
In a world where superheroes embrace the darker side of their massive celebrity and fame, THE BOYS centers on a group of vigilantes known informally as "The Boys," who set out to take down corrupt superheroes with no more than their blue-collar grit and a willingness to fight dirty.

THE BOYS is a fun and irreverent take on what happens when superheroes – who are as popular as celebrities, as influential as politicians and as revered as Gods – abuse their superpowers rather than use them for good. It's the powerless against the super powerful as The Boys embark on a heroic quest to expose the truth about "The Seven," and Vought – the multi-billion dollar conglomerate that manages these superheroes.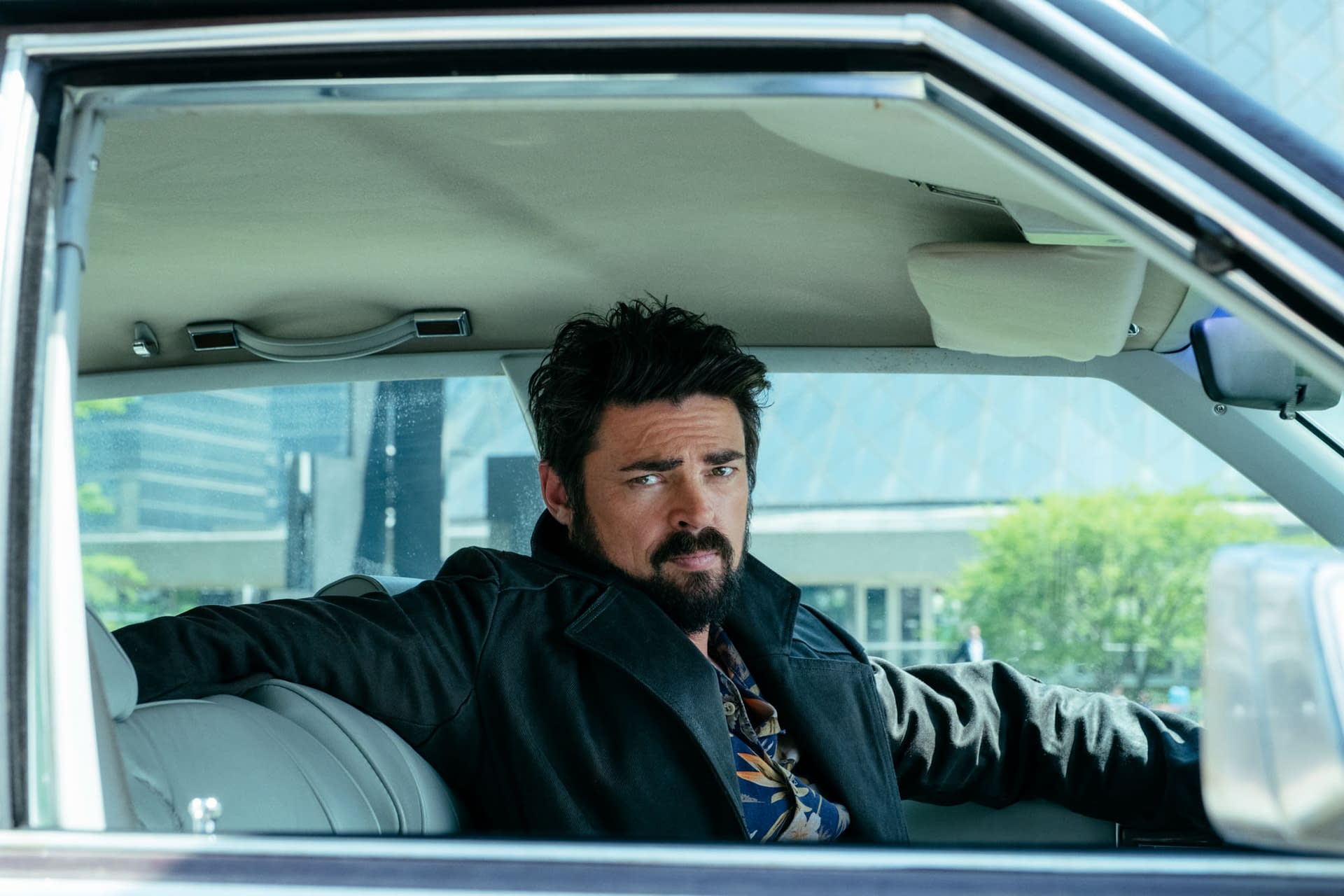 "Hands down, The Boys was my most eye-grabbing (gouging), senses (and kneecap)-shattering, attention-hoarding show of the year from the moment Hughie's A Train-tragedy splashed across all of our faces. From its ability to effectively weave storylines while maintaining character development to insanely choreographed action extravaganzas, the series was able to tell a complete story while still leaving just the right amount of questions still to be answered for the next season.

The dialogue always felt grounded and relatable to our own world. The characters were understandable, with motivations we could appreciate – even if despise then for who they are and what they do. Considering the number of "WTFs" we were left to consider at the end of the first act, I cannot wait to see what the second act has in-store for our "Boys", The Seven, Vought – and the world."

– Alejandra Bodden
#3 "Good Omens" (Amazon Prime)
https://youtu.be/hUJoR4vlIIs
The End of the World is coming, which means a fussy Angel and a loose-living Demon who've become overly fond of life on Earth are forced to form an unlikely alliance to stop Armageddon. But they have lost the Antichrist, an 11-year-old boy unaware he's meant to bring upon the end of days, forcing them to embark on an adventure to find him and save the world before it's too late.

With Armageddon just days away, the armies of Heaven and Hell are amassing and The Four Horsemen are ready to ride. Aziraphale, an angel, and Crowley, a demon, agree to join forces to find the missing Anti-Christ and to stop the war that will end everything. Based on the best-selling novel by Terry Pratchett and Neil Gaiman, Good Omens follows an unlikely duo and their quest to save the world.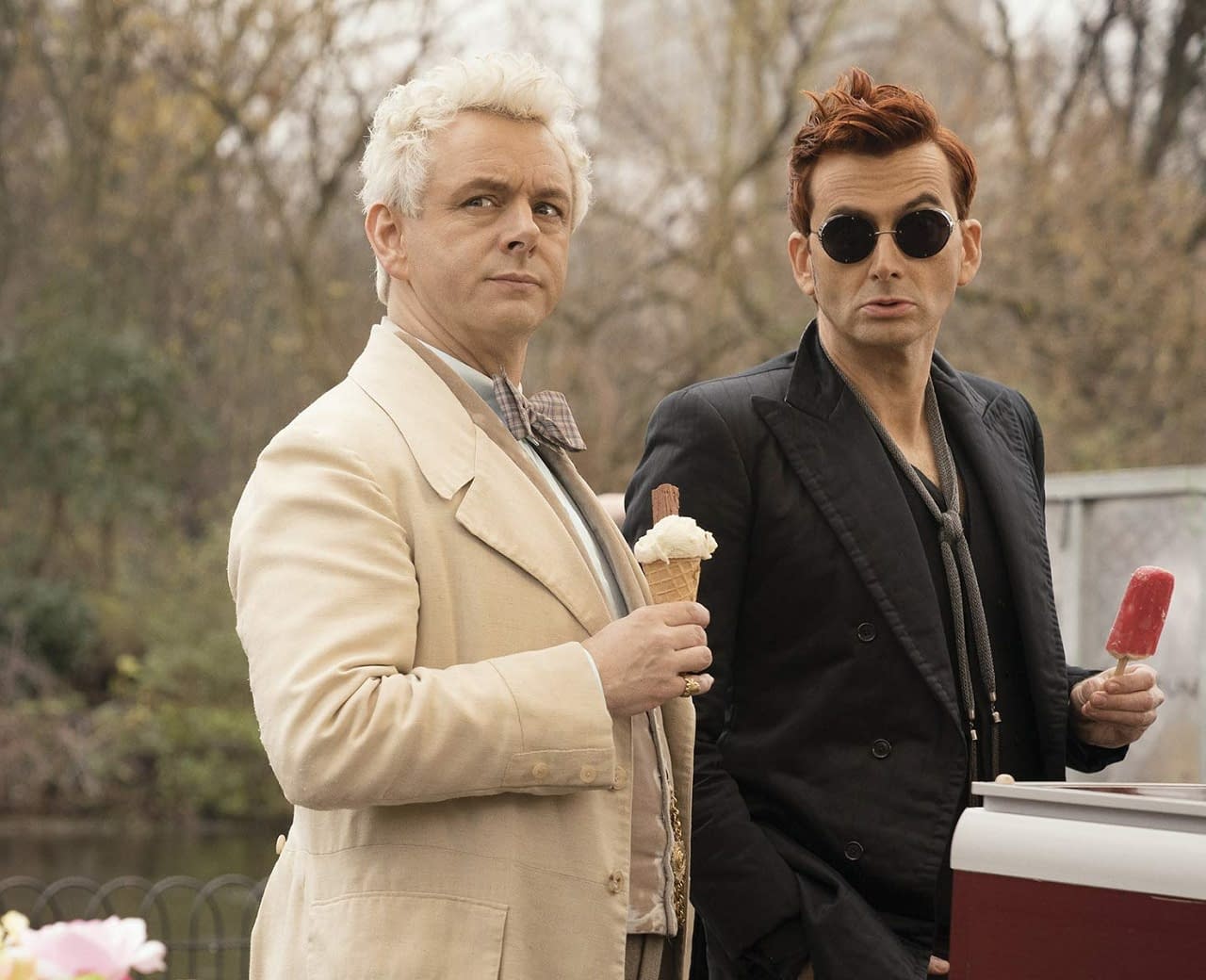 "That Good Omens became a TV miniseries is a miracle. After decades in failed attempts to turn it into a movie, Neil Gaiman got to be producer and showrunner. The results are an uncompromised and unfiltered presentation of Terry Pratchett and Neil Gaiman's combined sensibilities.

At once whimsical and gentle in its humour with a subtle undertone of rage, the show even expanded throwaway details and backstories into key moments in the show. Good Omens is a rare example of an adaptation that complements and expands on the original book to create a fuller experience. And so gleefully, casually atheist."

– Adi Tantimedh
#2 "Rick and Morty" (Adult Swim)
Buckle in for disappointment because there's no way these episodes will be good enough for how long you waited. But maybe they will be? It's season four! It's sexy and smooth. Buckle in! Did I already say that? Definitely stay buckled in.

Rick and Morty is the Emmy-award-winning half-hour animated hit comedy series on Adult Swim that follows a sociopathic genius scientist who drags his inherently timid grandson on insanely dangerous adventures across the universe. Rick Sanchez is living with his daughter Beth's family and constantly bringing her, his son-in-law Jerry, granddaughter Summer, and grandson Morty into intergalactic escapades.

Rick and Morty stars Justin Roiland (Adventure Time), Sarah Chalke (Scrubs), Chris Parnell (Saturday Night Live), and Spencer Grammer (Greek). The series is created by Dan Harmon (Community) and Roiland, who also serve as executive producers.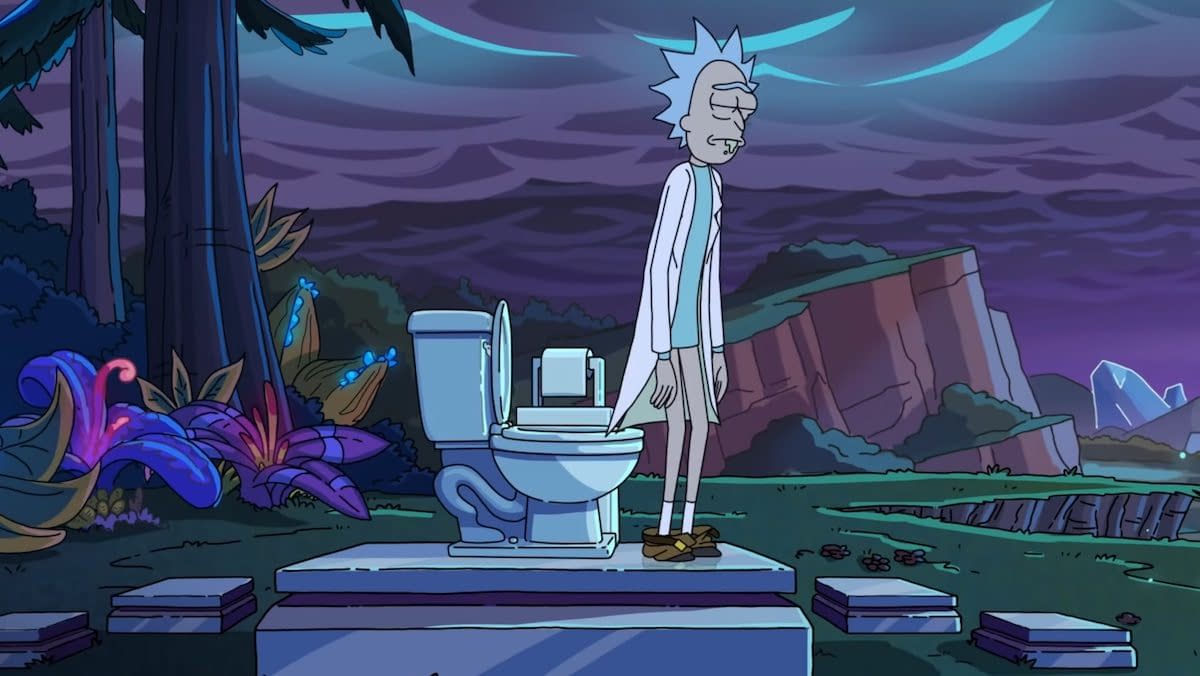 "What other show has the audacity to fly two giant middle fingers at the most toxic elements of its fanbase? In almost every episode this season, Rick is exasperated at having to deal with Nazis. From alternate universes to time-traveling snake Hitler, the show seems keenly aware of our political zeitgeist and yet makes it zany and hilarious. It will go down not only as one of the best shows of 2019, but also the postmodern version of Chaplin's The Great Dictator making fun of Hitler.

To be fair, you have to have a very high IQ to understand Rick and Morty. The humour is extremely subtle, and without a solid grasp of theoretical physics most of the jokes will go over a typical viewer's head. There's also Rick's nihilistic outlook, which is deftly woven into his characterisation- his personal philosophy draws heavily from Narodnaya Volya literature, for instance.

The fans understand this stuff; they have the intellectual capacity to truly appreciate the depths of these jokes, to realise that they're not just funny- they say something deep about LIFE. As a consequence people who dislike Rick & Morty truly ARE idiots- of course they wouldn't appreciate, for instance, the humour in Rick's existential catchphrase "Wubba Lubba Dub Dub," which itself is a cryptic reference to Turgenev's Russian epic Fathers and Sons. I'm smirking right now just imagining one of those addlepated simpletons scratching their heads in confusion as Dan Harmon's genius wit unfolds itself on their television screens. What fools.. how I pity them.

And yes, by the way, I DO have a Rick & Morty tattoo. And no, you cannot see it. It's for the ladies' eyes only- and even then they have to demonstrate that they're within 5 IQ points of my own (preferably lower) beforehand.

Nothin personnel kid"

– Andy Wilson
#1 "Watchmen" (HBO)
"Watchmen": From Damon Lindelof and set in an alternate history where masked vigilantes are treated as outlaws, this drama series embraces the nostalgia of the original groundbreaking graphic novel of the same name while attempting to break new ground of its own.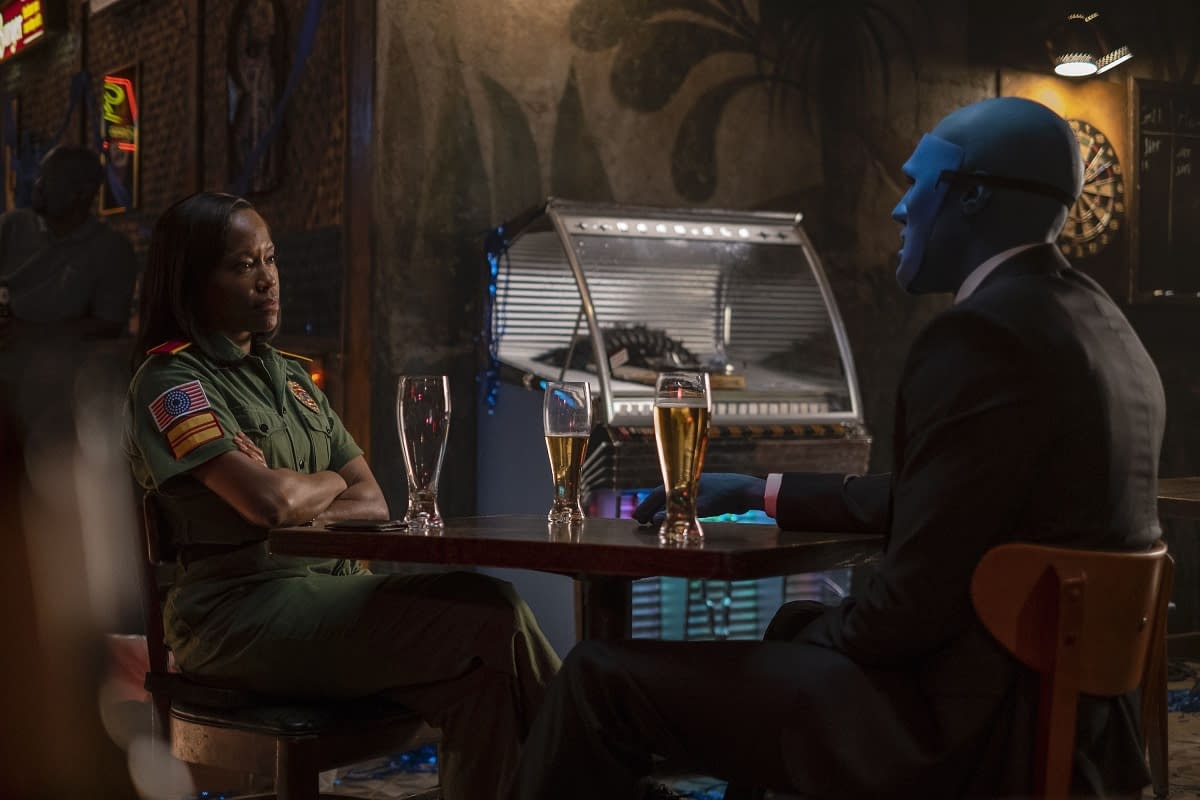 "When you're the most dangerous thing on television, there's no other place you deserve to be than riding high on top of every "Best TV of 2019" list. Lindelof's modern classic takes our top honor for a number of reasons (more than what was discussed in our reviews)… here are just a few:

● It pissed off the right people. Everyone.

For example…

If you're an Alan Moore sycophant, then the fact that not only did it not suck but was -in fact – nine episodes of excellence definitely pissed you off.

If you're a comics fan (or work for DC Comics), you're pissed that the Regina King-starrer made Doomsday Clock seem small – relegating Moore and Dave Gibbons' classic to the ranks of being just another cog in the continuing crossover machine.

If you loved it and want more, you're pissed because Lindelof saw the first season as a complete story and won't move forward on anything he doesn't believe in – so no guarantees.

If you loved it and want it to end there, you're pissed because Lindelof showed you what a hypocrite you are considering that was the the style of pushback he received when he announced he was moving forward with his "remix".

If you're a television critic who submitted their "Top 10" list for the year before the series wrapped, you're pissed because you should've felt the need to re-evaluate your list.

● It treated the Moore/Gibbons series as sacred. Except when it needed to fix a few things. Which it did. You're welcome.

I don't think that anyone can debate that Lindelof has a love and respect for Watchmen – the damn thing is the "Bible" for the series, not just "source material". But just like that "holy book", sometimes things need to be clarified, redefined, and… well… (get ready to clutch your pearls and grab your hand fans, Moore Folks) fixed.

Of course… Hooded Justice was a black man – and now, those pages of backstory from the comic book series seem fresh and new. Of course… Adrian (Jeremy Irons) recorded a video for President Redford (and future leaders) to see. A man with an ego so grandiose he would pattern himself after Alexander the Great isn't going to let his "great heroic act" be forgotten – or unappreciated. Best part? They become accessories to the crime once they see it – placed in the same kind of moral decision-making scenario that Dan, Laurie, and Rorschach faced on 11/2.

Clarified. Redefined. Fixed. With both Watchmen better for it.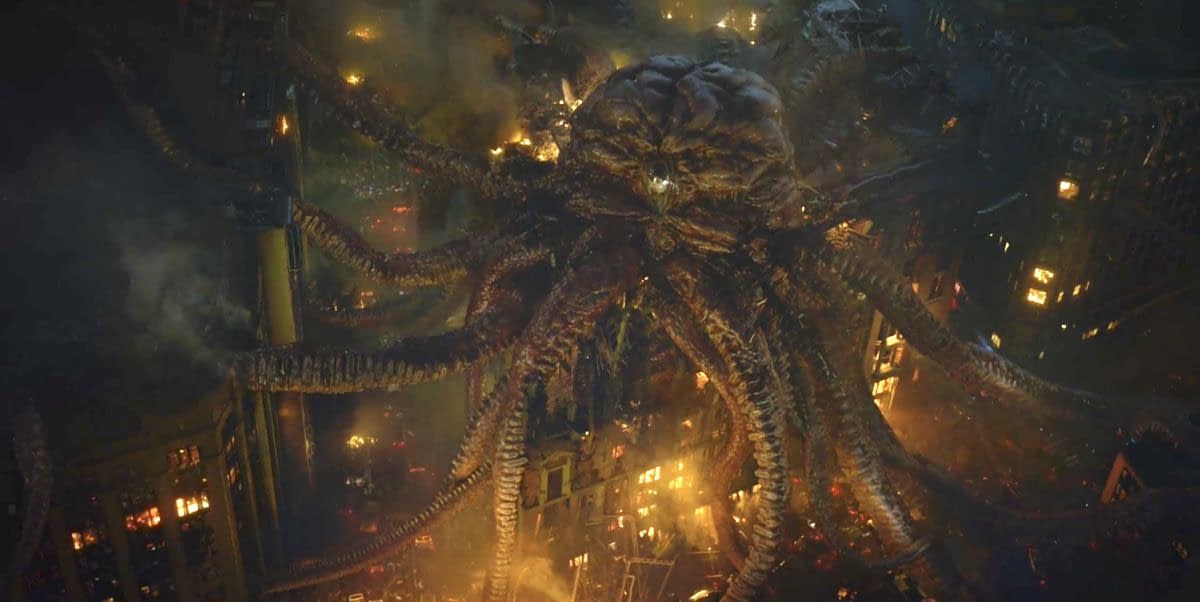 ● It punched Nazis. And shot them… stabbed them… blew them up… disintegrated them…

Yeha… yeah… if you're having "issue" with my lumping Nazis, the KKK, and white supremacists together then you probably weren't a big fan of this show to begin with. For everyone else, the message being sent through the Seventh Kavalry is clear: racism is this nation's historical "ultimate super villain", and it's not going to be defeated with a single punch or a random energy blast. It's the real world Hydra taken to a nightmarish degree. Only by dragging it into the daylight and exposing it for what it is can we even dare come close to anything resembling "truth, justice, and the American Way" we dream about.

● It introduced us to folks we could feel for and understand – even when we hated their guts.

It's a given that King deserved a wave of well-deserved love and nominations for her turn as Angela Abar – she is the true heart and soul of the series (and yes, we absolutely believe she went 30 Seconds to Mars at the end).

But look how impressive the rest of the bench was: Irons, Jean Smart as Agent Laurie Blake, Yahya Abdul-Mateen II as "Cal Abar", Hong Chau as Lady Trieu, Tim Blake Nelson as Det. Wade Tillman aka Looking Glass, Louis Gossett Jr. as Will Reeves, Don Johnson as Chief Judd Crawford, Frances Fisher as Jane Crawford, Tom Mison as Mr. Phillips, Sara Vickers as Ms. Crookshanks, James Wolk as Senator Keene, and Dustin Ingram as Agent Dale Petey.

Special props to the season's writer/director combos – especially to Nicole Kassell, whose opening episodes set the standard for the series.

● It gave us the Squid, people. The Squid.

Where even Zack Snyder feared to tread… and then almost as a way of "marking his territory," Lindelof slapped us in the face with it by giving us even more squids – lots of 'em!

So now that Watchmen has stuck a sweet superhero three-point landing, maybe it's time we stop telling Lindelof what he can't do?"

– Ray Flook
---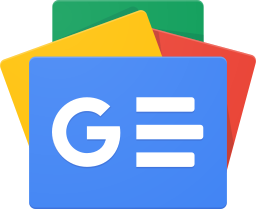 Stay up-to-date and support the site by following Bleeding Cool on Google News today!