According to a new rumor making its way around the pro wrestling dirt sheets, the reason Roman Reigns lost to Brock Lesnar at WrestleMania is because he wasn't able to get over with the smarky WrestleMania audience, so Vince McMahon switched plans mid-match to push Roman's coronation to the Saudia Arabian Greatest Royal Rumble event, working under the assumption that Saudi Arabian WWE fans are marks who will cheer Roman Reigns the way Vince wants them to.
Reigns has been rejected by fans at least the past three years as WWE has pushed him as the new "top guy," a replacement for John Cena that will rule WWE's main event and merchandise tables for the next decade. WWE fans already suffered through one decade of "Super Cena" burying all of his opponents and have no plans to quietly accept a new one. As a result, the crowd at WrestleMania last weekend crapped all over Reigns and Lesnar's Universal Title match, chanting "CM Punk," "Booooring," and "This is Awful."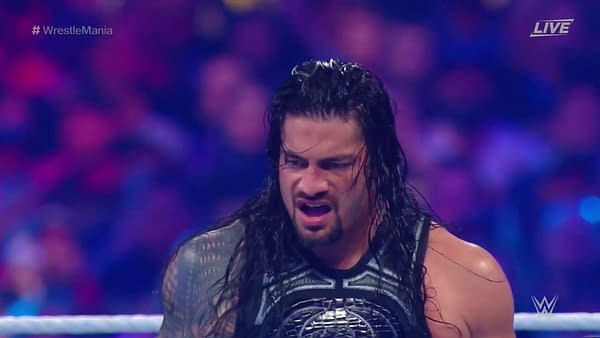 Most fans had resigned themselves to the fact that Reigns would defeat Lesnar and begin his reign of terror at WrestleMania, despite their wishes, as Lesnar rode off to the UFC for another fighting payday, but a strange thing happened. After a brutal match that consisted of roughly four moves performed sloppily over and over again, Lesnar defeated a bloody Reigns, walking out with the title. According to Bleacher Report's Jeremy Botter, that decision may have been made mid-match by Vince McMahon, realizing that the fans were not going to go along with his plans for Reigns' WrestleMania moment.
https://twitter.com/jeremybotter/status/983459073826881540?ref_src=twsrc%5Etfw
Botter claims that Lesnar's new contract is only for the match in Saudi Arabia and possibly for a television appearance to promote it, after which he'll go to UFC. However, other reports have said that Lesnar's deal is for multiple years and includes breaks for Lesnar to fight in UFC instead, so it's unclear what the whole story is. However, if the main part of Botter's rumor is true, that means that we could see Reigns crowned champion later this month, watching helplessly on the WWE Network as Saudi Arabian fans cheer for "The Big Dog."
Of course, that assumes that Vince McMahon is correct in his assumption that Saudi Arabian WWE fans are all marks who will cheer whoever WWE tells them to cheer. Is the proud country of Saudi Arabia going to stand for that?! Hopefully, Saudi Arabian fans hate Roman Reigns just as much as everyone else and will boo him mercilessly when he wins at Greatest Royal Rumble. We'll find out April 27th.
Enjoyed this article? Share it!