Star Trek: Picard Star Todd Stashwick on Shaw/Jean-Luc Mic Drop Moment
Todd Stashwick discussed his powerful scene opposite Sir Patrick Stewart & Ed Speleers on Star Trek: Picard and Shaw's past with the Borg.
---
Todd Stashwick is certainly no stranger to the Star Trek franchise, as a lifelong fan and his appearance in a 2004 episode of Enterprise as the Romulan Talok. The actor made his triumphant return as Captain Liam Shaw, the human captain of the U.S.S Titan-A in Picard season three. When we first meet him, we find he's pleased to receive his VIP guests Admiral Jean-Luc Picard (Patrick Stewart) and his former Enterprise-D first officer Captain William Riker (Jonathan Frakes). During the events of the fourth episode, "No Win Scenario," as the Titan was facing certain doom, Shaw interrupted Jean-Luc and Jack's (Ed Speleers) father-son time to share his own story, and Stashwick opened up about the experience to SlashFilm. The following does contain spoilers.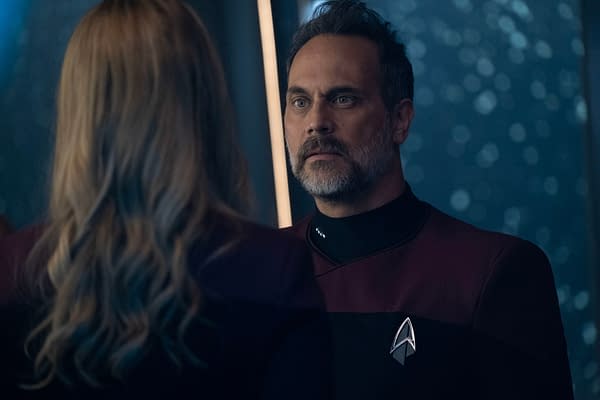 Star Trek: Picard: How Todd Stashwick's Liam Shaw Confronts Jean-Luc
To set this up, Shaw was already dining on his blue steak when the Titan's first officer Cmdr Seven (Jeri Ryan) – whom Shaw insists on deadnaming her human name Annika Hansen – introduces them; there was already a level of apprehension. It didn't help that Picard and Riker went under false pretenses to try to rescue Dr. Beverly Crusher (Gates McFadden) as they lied to try to get the Titan to divert course. After the ship's disastrous meeting with the Shrike at a nebula, the Titan further sank into the nebula's core closer to its doom. After Riker told his former captain to try to get to know his son, Jean-Luc set up the Holodeck to get some answers from Jack on why he never sought him out.
After we get to know the two, Shaw, who is walking with the assistance of a cane thanks to a previous scuffle with the Shrike that left him seriously injured (but not before he transferred command to Riker in a provisional status). As Shaw broke the ice with father and son, he shared the story about the first time they met…when Jean-Luc was kidnapped and assimilated by the Borg. "11,000 dead…Do you know where your old man was on that day? He was on that Borg cube, setting the world on fire! Forget about all that weird shit about the Stargazer, the real Borg is still out there, and they have a name for you: Locutus of Borg. The only Borg so deadly they gave him a goddamn name," Shaw spewed, riffed with survivor's guilt which drove Jean-Luc from the Holodeck.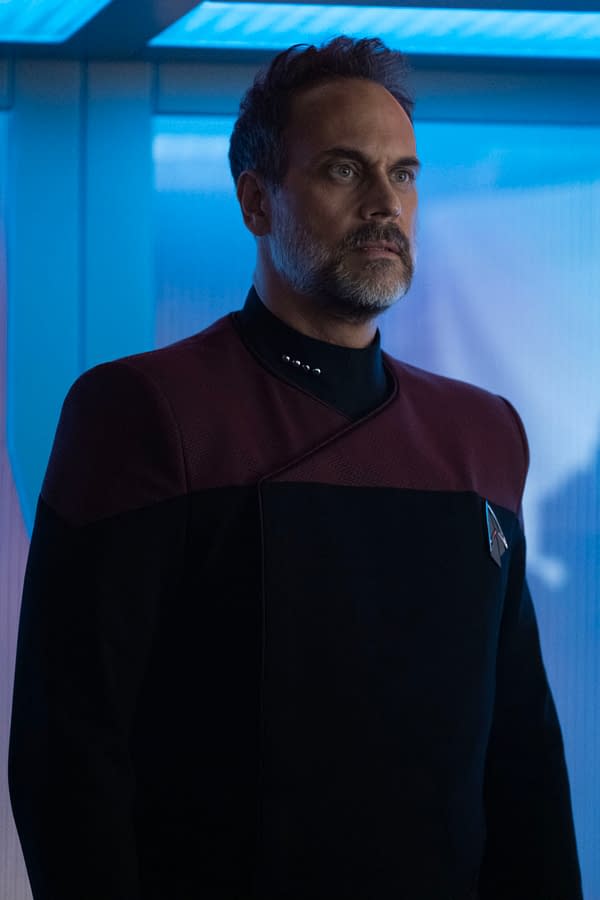 The events stemmed from the Next Generation season three cliffhanger "The Best of Both Worlds," which has been revisited in later canon, most notably in 1996's First Contact and the Deep Space Nine premiere episode "Emissary" as we find out Benjamin Sisko (Avery Brooks) also suffered at the hands of Locutus. "Those kinds of scenes and that kind of writing is a rare thing," Stashwick said. "We often, especially in television, it's just 'got to keep moving.' But because it's a 10-episode show, we get to let moments breathe. And that was a scene where they allow this character to peel back a curtain and reveal his pain in a big way. So it was humbling and an honor to get a scene like that in this franchise."
Directed by Frakes and written by showrunner Terry Matalas and Sean Tretta, the episode would later find Jean-Luc returning to ask a favor of the "dipshit grease monkey from Chicago," getting him to help manually open the vents for external access to the Titan's warp core to be able to channel the pulsating energy wave to ride the ship out of the nebula while also powering the ship in the process. Star Trek: Picard streams Thursdays on Paramount+.