Stephen Amell Tells Arrow Writers to Write Like There's No Tomorrow
Stephen Amell is on his summer break with his family and visiting Istanbul, but that doesn't mean the actor isn't willing to take a call and talk about the next season of Arrow. He chatted with the Australian website The Music last week and dropped some interesting comments about what we may see in season 7 and how the writers are approaching the story.
We already know there have been some big changes both story-wise and cast/crew-wise. Willa Holland and Paul Blackthorne have left, while Colton Haynes is returning as a series regular. Co-Showrunners Marc Guggenheim and Wendy Mericle have stepped aside, and Beth Schwartz is taking over. And in the story Oliver Queen has been impeached as mayor, outed as the Green Arrow, arrested by the FBI, and sent to a super-max prison, where he will stay for a least a portion of the season.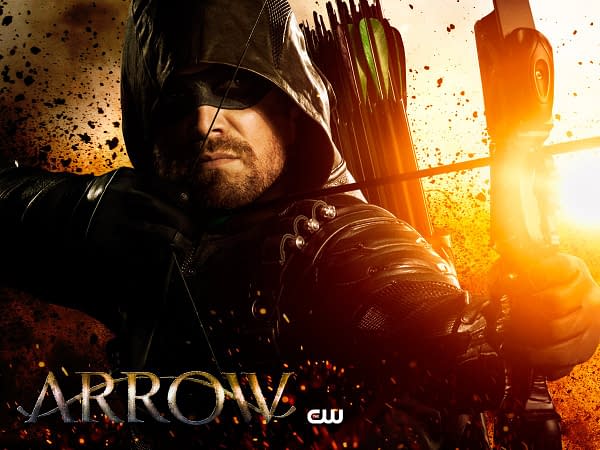 Amell talked about the change and how he asked the writers to look at the new season:
We have a new showrunner this year, Beth Schwartz, who's been with the show since season one. [The writers] have a very clear vision of what they want season seven to be, and what I asked them to do – and it's not up to me – but what I asked of them is to not just assume that we have an eighth season. I wanted them to write like, 'If you have a good idea, and you have something you've always wanted to do or see on the show, then just do it! Do it right now!' I think that's one of the things I'm getting out of what they've planned for season seven – we're not writing like we're guaranteed something beyond this, because we're not; nobody is. I want them to really push forward and take the fact we have a certain license and a certain respect from the fans to take some chances.
He went on to talk about wanting fans to react to what they are doing, even if it's out of anger:
Obviously, you want to lean into things that you think fans would want, right? Concurrently, I'm all for things that make fans mad, because mad is no different than happy. The only thing that I don't want is indifference. I always joke with fans about my alter-ego, Evil Story Steve. If you were to tell me, you know, that four people died in the season premiere of Arrow in season seven, I'd be very sad … but my alter-ego, Evil Story Steve, would be like, 'Oh – that's very exciting; why'd that happen?' So, I think that making fans happy, clearly, is what you wanna do when you're on a show in general because you want people to keep watching, as long as you're not afraid to lean into things that may make them go, 'But why would you do that? I hate that. That's awful,' because that's not actually what they mean. If someone screams out on Twitter, 'I'm gonna stop watching the show!' they're probably not gonna stop watching the show, you know what I mean?
As for some ideas of what we'll see in the new season and the potential legacy of the series:
I think that you will see some very, very new and exciting characters in season seven; characters that have a canon in DC. And I think that we will continue to do what we've always done on this show, which I'm very, very proud of, which is create some new characters. Hopefully, long after I'm done playing Arrow – whenever that may be – hopefully we'll carry on in the DC universe. One of the things that I'm most proud about is that, 25 years from now, if they made a Green Arrow film, they would have to make it with John Diggle and Felicity Smoak and Thea Queen and Sara Lance and a lot of the characters that we've brought in and have created as we've gone along. I hope that not only do those characters start to exist in the comic books if they haven't already – and some of them have – but I would hope that if you were looking at the blueprint of how to do a successful Arrow show, people would be like, 'Yeah, you have to have those characters – those characters are a part of it now.' And the fact that we created a bunch of them, or at least reconstituted some of them in some instances, that's the most impactful thing that we've done.
Arrow returns for season 7 this fall on a new night, Mondays at 9 p.m. ET following DC's Legends of Tomorrow.