Supergirl Season 3: Synopsis Released for 'Dark Side of the Moon'
The CW has released the synopsis for episode 20 of Supergirl season 3, called 'Dark Side of the Moon'. And while we established earlier in the season that Mon-El (Chris Wood) was using Bon Jovi songs to teach lessons to the Legion, I doubt that this episode will be about he and M'yrnn J'onzz (Carl Lumbly) will be sitting around listening to Pink Floyd for the first time.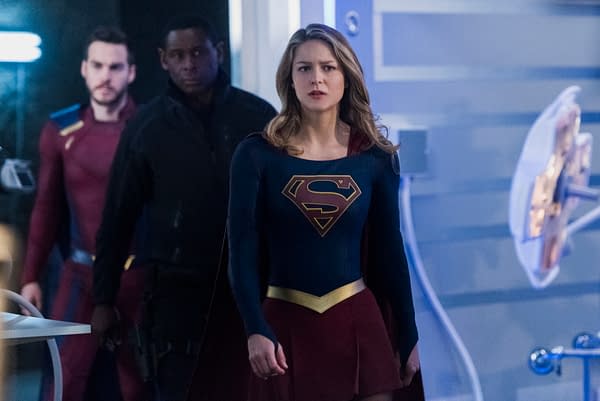 Here is the synopsis for 'Dark Side of the Moon':
SUPERGIRL LEARNS A STUNNING SECRET ABOUT KRYPTON – Supergirl (Melissa Benoist) is stunned to discover that a part of Krypton survived. Meanwhile, Alex (Chyler Leigh) is attacked while out with Ruby (guest star Emma Tremblay), and Lena (Katie McGrath) considers how far she will go to keep Reign contained. Hanelle Culpepper directed the episode written by Derek Simon & Katie Rose Rogers (#320). Original airdate 5/28/2018.
We've been hearing for a while that Supergirl (Melissa Benoist) was going to discover that Argo City survived and along with it, her mother Alura (Erica Durance). We'd gotten clues for this for a while, the big one being the recasting of Alura when we've only seen her in dreams and one hologram scene so far this season (besides her appearance as a living government agent at the end of episode 6, a flashback episode).
For those not familiar with Argo City, it's one of the three biggest cities on Krypton along with Kandor and Kryptonopolis. When Jor-El started telling everyone the planet was doomed, his brother Zor-El believed him and created a dome over the city that allowed them to survive. While in the Arrowverse Supergirl was launched at the same time as her cousin, at some points in the comics she was with her parents Zor-El and Alura and only is sent to Earth when their dome becomes compromised.
It will be interesting to see how Kara deals with seeing the city has survived and what it will mean for her to see her mother… and to find out if her father is alive. It could make for an interesting end to the season and may even lead to what we'll see in season 4.
Supergirl airs Mondays at 8 p.m. ET — 'Dark Side of the Moon' will air May 28th.