'Supergirl' Season 4, Episode 20 "Will the Real Miss Tessmacher Please Stand Up?": All Heart [SPOILER REVIEW]
An emotional powerhouse in our antepenultimate episode of the CW's Supergirl for the fourth season, as Kara (Melissa Benoist) and Lena (Katie McGrath) finally get to the bottom of Lex's plans for the Red Daughter, Ben Lockwood's (Sam Witwer) world starts to collapse around him, and Alex (Chyler Leigh) faces a life-altering choice.
As the title would suggest, Kara and Lena find Eve Tessmacher (Andrea Brooks) in the now abandoned Kasnian military base Lex has been using to train the Red Daughter. And, as also implied by the title, there's multiple of them. But what exactly is going on? (does it matter?) The episode sort of loses itself and its plot here, but the performances are what ultimately work. Eve (or whatever these facsimiles of her were) for some reason really does believe that Lex loves her.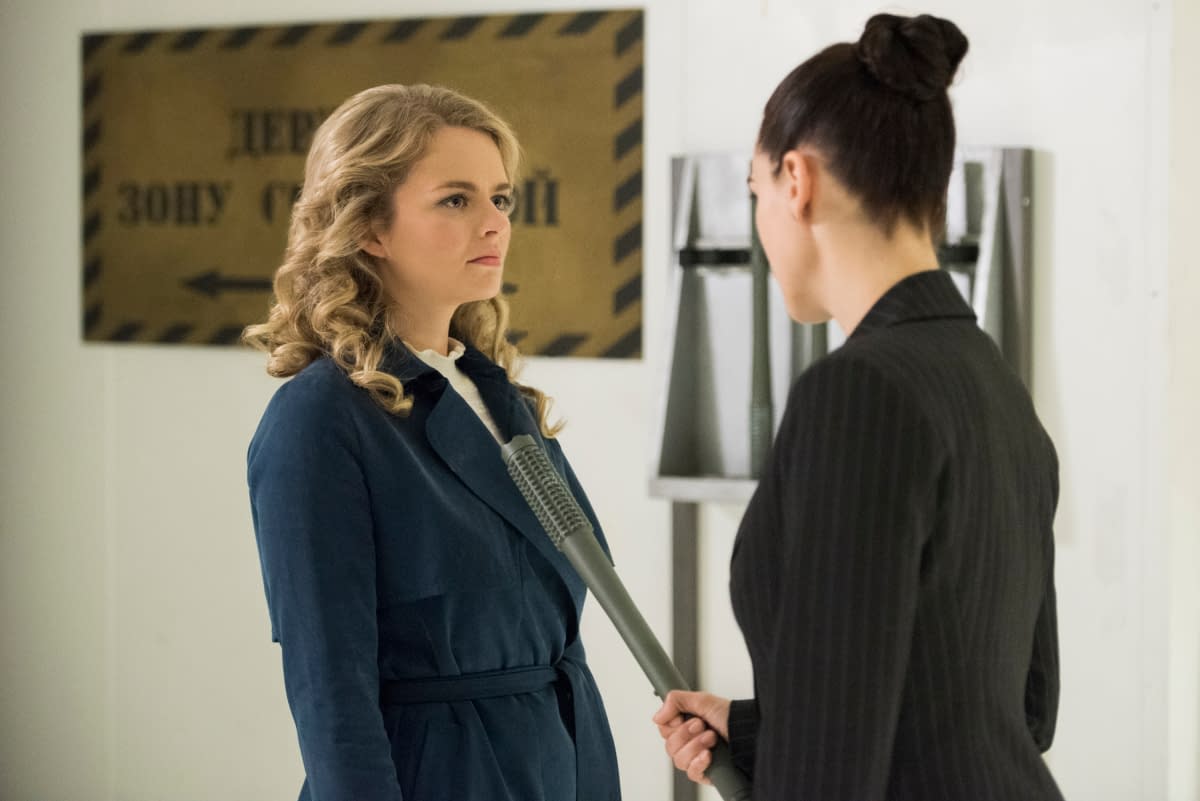 Wrapped up in that feeling of betrayal we get one of the most powerful scenes of the entire series where Kara is ready to reveal her identity as Supergirl to Lena and then doesn't because of how Lena is talking about her feelings of betrayal.
The action in this episode is pretty good. The acting and the relationships here are next level.
Speaking of these relationships, it's long been that Ben Lockwood's son George is sort of humanity's moral barometer dealing with his father's radicalization. It's George who goes from not really caring about aliens to suddenly calling them "roaches" like his racist grandpa does way back in the episode "Man of Steel." It's George who masterminds a social media strategy that lays the groundwork for his father's release from prison and public rehabilitation. It's George who is caught up in the trappings and grandeur of his dad's strongman position in the US government as Secretary of Alien Affairs.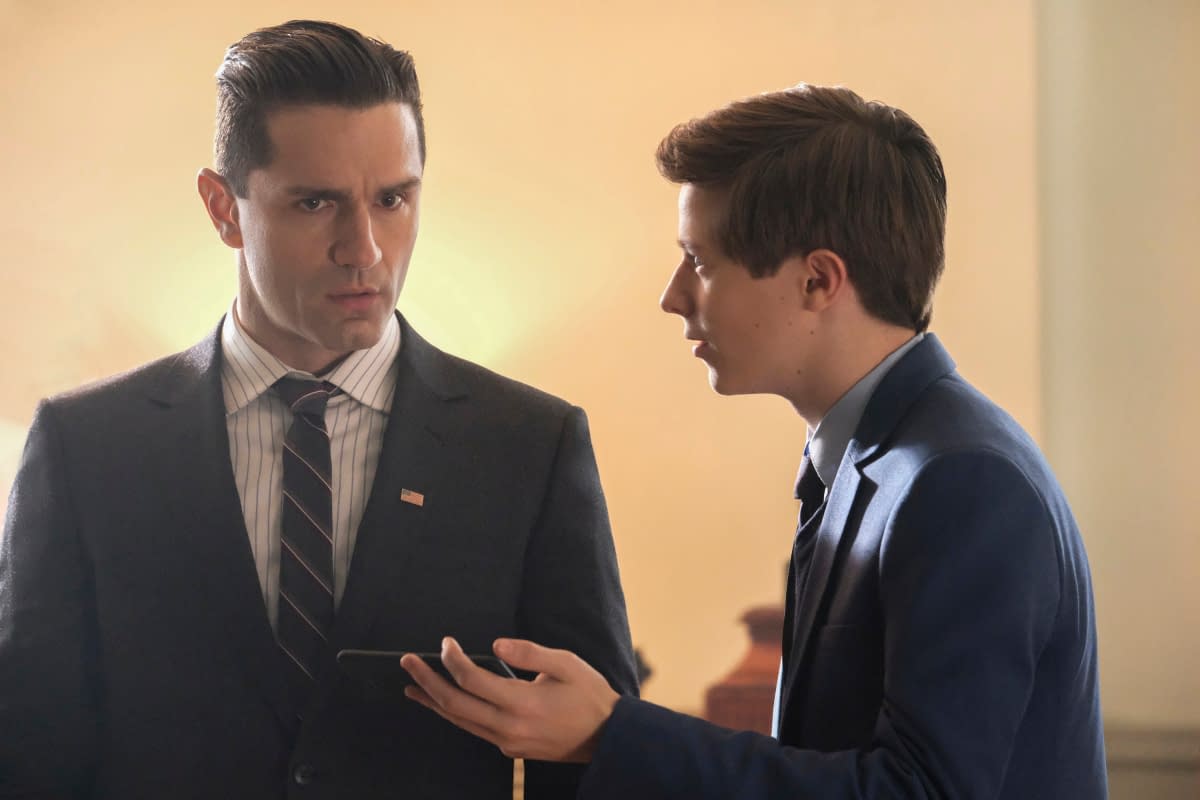 And it's George who, in this episode, is overcome by grief at the loss of his mother and who just needs his dad to be there emotionally and physically – but is then feeling betrayed when his dad goes on the warpath to "bring the alien to justice" who killed her. He – and we – see through it as mostly just a pretense for more generalized anti-alien violence.
This also results in him injecting himself with the raw Harun-El formula to give himself superpowers.
This culminates in a face-to-face battle with Guardian (Mehcad Brooks), Dreamer (Nicole Maines), and a there-in-the-nick-of-time Martian Manhunter (David Harewood) – but the heart of the battle actually ends up being a speech from Agent Dox/Brainy (Jesse Rath) asking the FBI and DEO Agents to put their morals above just simply following orders and not to fire on their fellow citizens.
While this is a pretty cool fight, it's the personal stakes and rousing speeches that make this actually worthwhile.
And then… it's been one of the weirdest loose threads of this Supergirl season that Alex decided she wanted to adopt a child. As if recognizing that, the episode straight up mentions that Alex did this months ago and never heard back. Yeah, us neither, Alex. So what ensues in a very weird b-storyline is Alex and Kelly Olsen (Azie Tesfai) waiting around and discussing whether or not Alex is ready to be a mom, and bonding over various heartaches.
I'd call this a throwaway storyline, except for an emotional final scene with the two of them where Kelly reveals a secret previous engagement she had. Yowza. This show really surprises you sometimes.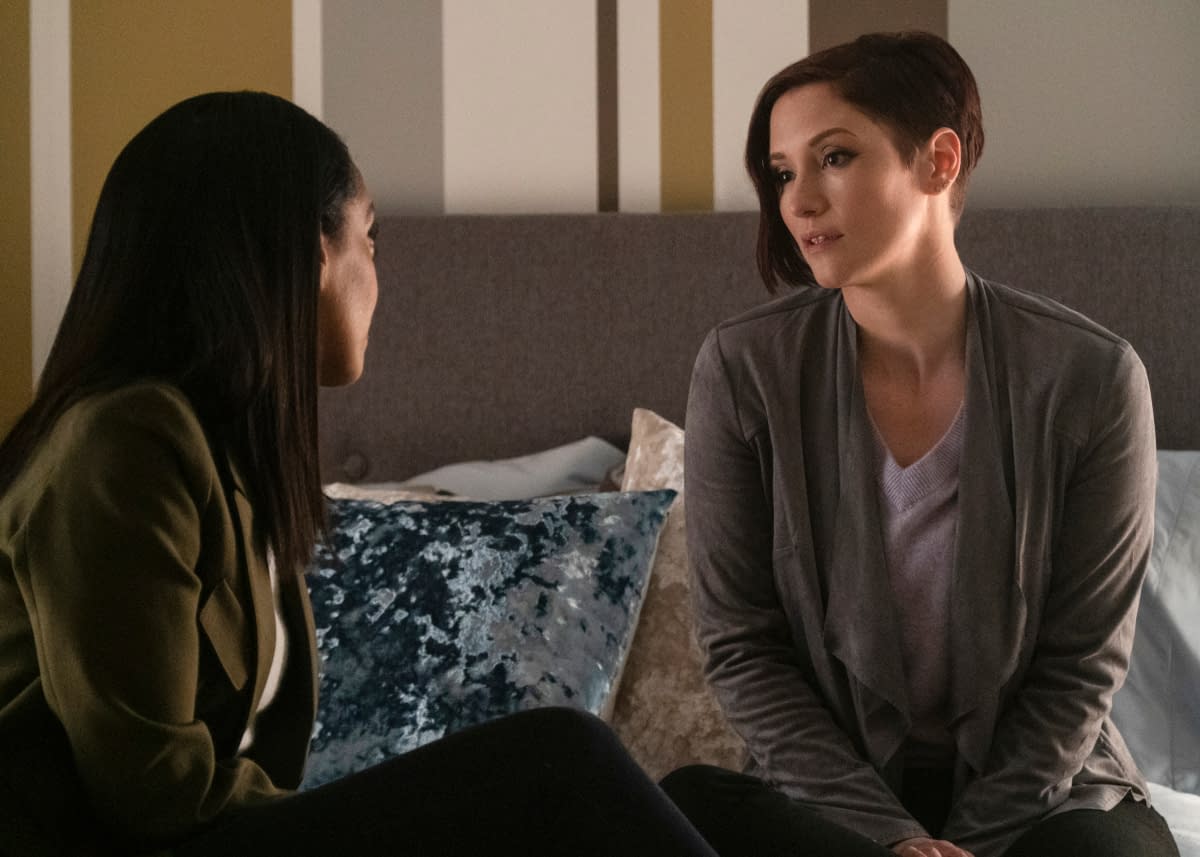 Speaking of surprises… the episode ends with Kara bringing evidence of Lex's plot to the President, and accuses his Chief of Staff with the oh-so-loaded word of "collusion" (love it – not-so-subtle, Supergirl writers, but you got this) – and then things take a turn for the weirder as we learn just how far this conspiracy goes.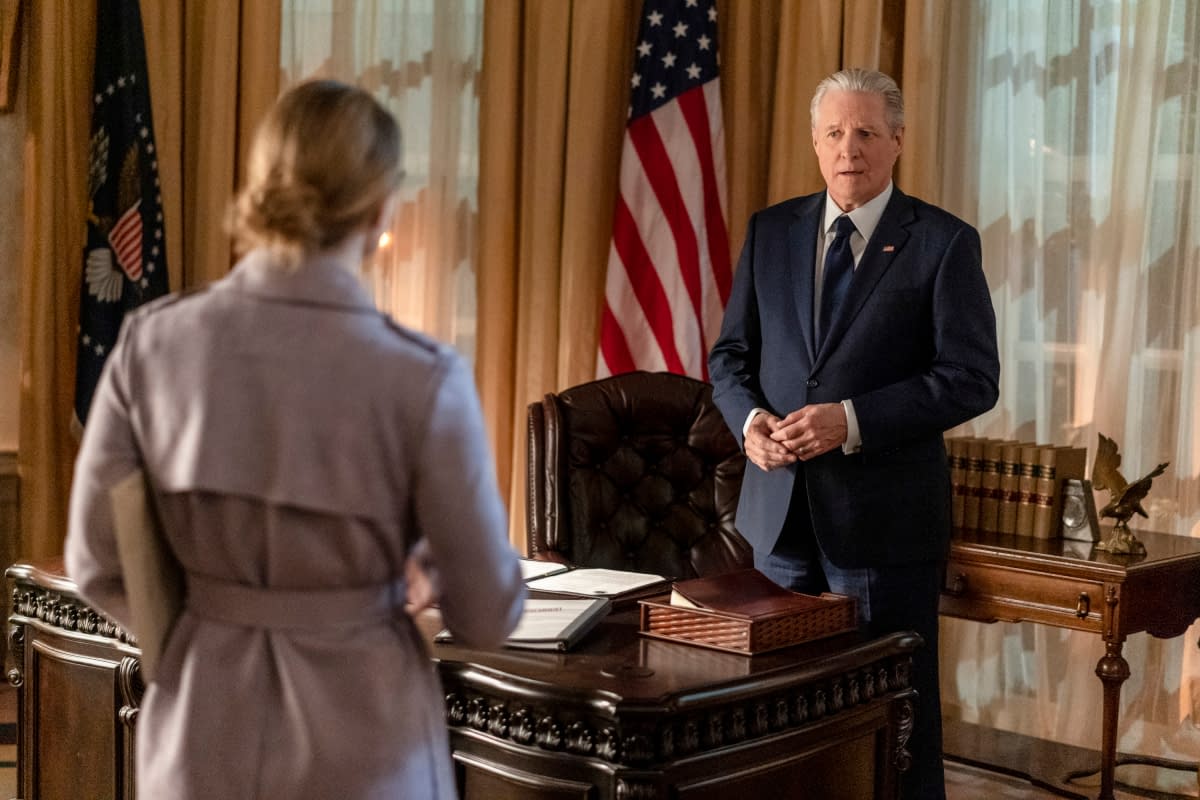 Who's hoping for a big reveal early next episode as Jon Cryer pops out from underneath a hidden door below the President's desk – or something at least that interesting? At least we know we're getting a major showdown between Supergirl and Red Daughter, which should be a lot of fun when "Red Dawn" airs Sunday, May 12, on the CW.
https://www.youtube.com/watch?v=8572oTnwRZw
Supergirl season 4, episode 21 "Red Dawn": SUPERGIRL BATTLES RED DAUGHTER — Kara (Melissa Benoist) comes face to face with Red Daughter and the two engage in an epic battle. Determined to find a way to extract the Harun-El, Lena (Katie McGrath) turns to an unlikely source for help — Lillian Luthor (guest star Brenda Strong). Meanwhile, Alex (Chyler Leigh) realizes she's missing parts of her memory, and Brainy (Jesse Rath), Nia (Nicole Maines) and J'onn (David Harewood) set out to track down aliens who have been abducted by Lex. Alexis Ostrander directed the episode with story by Lindsay Sturman and teleplay by Gabriel Llanas & Eric Carrasco