After the fallout from last week's confrontation with Lena, Supergirl (Melissa Benoist) has to head off two crises at once. . . and all that's before getting to our tease of "Crisis on Infinite Earths". Oh yes, there will be Luthors. Yup, plural. It's "Crisis" time. Buckle your seatbelts.
Our first plotline involves Lena's (Katie McGrath) plan to use the Myriad device she stole from the Fortress of Solitude in the last episode. In her attempt to reshape humanity, rid it of violent tendencies and evil, she has absconded to one of Lex's old mountain fortresses to link up to a satellite network, which Supergirl shows up to prevent. Of course, Lex's systems detecting the presence of a Kryptonian, the defense turrets ramp up to fire kryptonite at her, which Lena and Eve/Hope (Andrea Brooks) disable in the nick of time.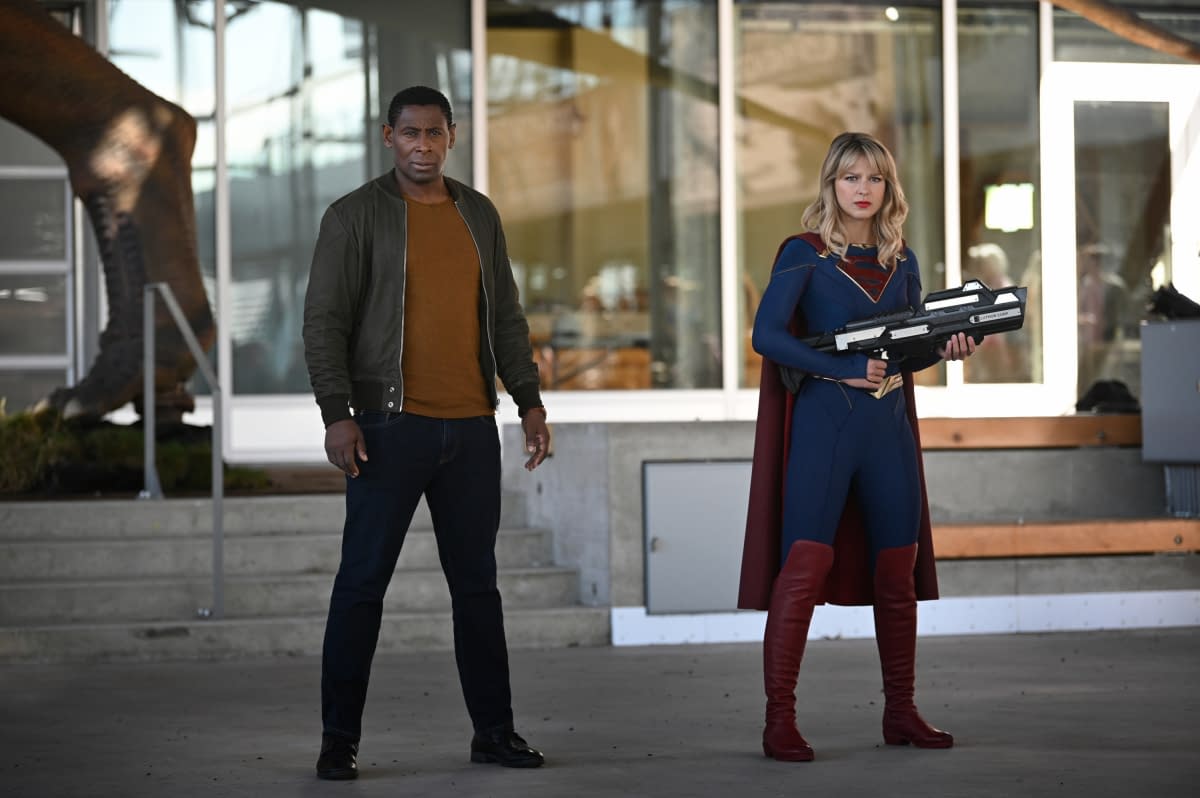 Supergirl then contacts them via hologram to try to talk them out of it, and there's some real pathos between our former best friends. The best thing about this–and in fact Lena's entire arc this season so far–is she's not really wrong. She feels (rightfully) betrayed and, not only that, Kara knows she has every reason to feel that way.
And, Lena's plan to improve humanity sort of puts her on the right side of a lot of humanitarians. If you could rid people of violent and selfish tendencies but otherwise keep their free will intact, would you? Other than the opening of some pretty epic dystopian fiction, it actually sounds like a good plan.
Of course Lena's plans are disrupted by an earthquake. Leviathan, led by Rama Khan (Mitch Pileggi), plan to open up a dormant supervolcano under Los Angeles's National City's tar pits. Rama Khan keeps trying to relive his glory days of opening up a volcano on Pompeii, but this is going to be ten times as big and wipe out most of humanity. To do it, he'll need Acrata's powers, so he kidnaps Andrea Rojas (Julie Gonzalo) and tries to force her to supercharge the quake.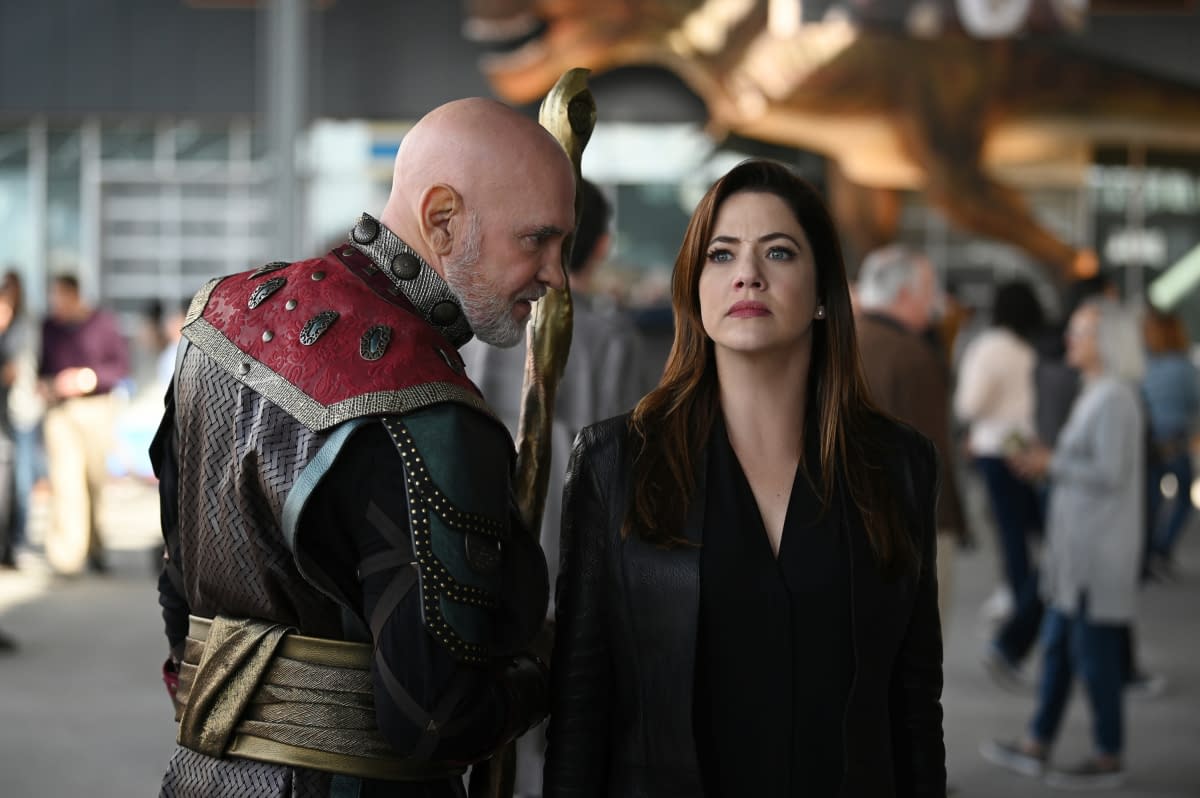 The best thing about this storyline is we get to see Andrea try to redeem herself here, which she does by alerting Supergirl and the DEO about the plan and helping them defuse it. A few good punches here and there and Leviathan is sent home licking their wounds, but the danger remains with Lena and Myriad.
Unbeknownst to Kara, Alex (Chyler Leigh) and Brainy (Jesse Rath) implanted a virus in the hologram message between Supergirl and Lena, which allows them access to the Luthor's systems. Really what this does is inject a lot of moral uncertainty into our characters. Kara finds herself feeling betrayed by her sister and defending Lena.
Eve/Hope demands to help manually realign the satellites despite it potentially being fatal to her and Lena won't let her because the potential sacrifice is too great. And then when they finally get the system running and are able to shut out the DEO, Alex has to choose whether to trust J'onn (David Harewood) and his formerly evil brother Malefic (Phil LaMarr) to use his mental powers to counteract Lena's technology which mimics his own brain waves.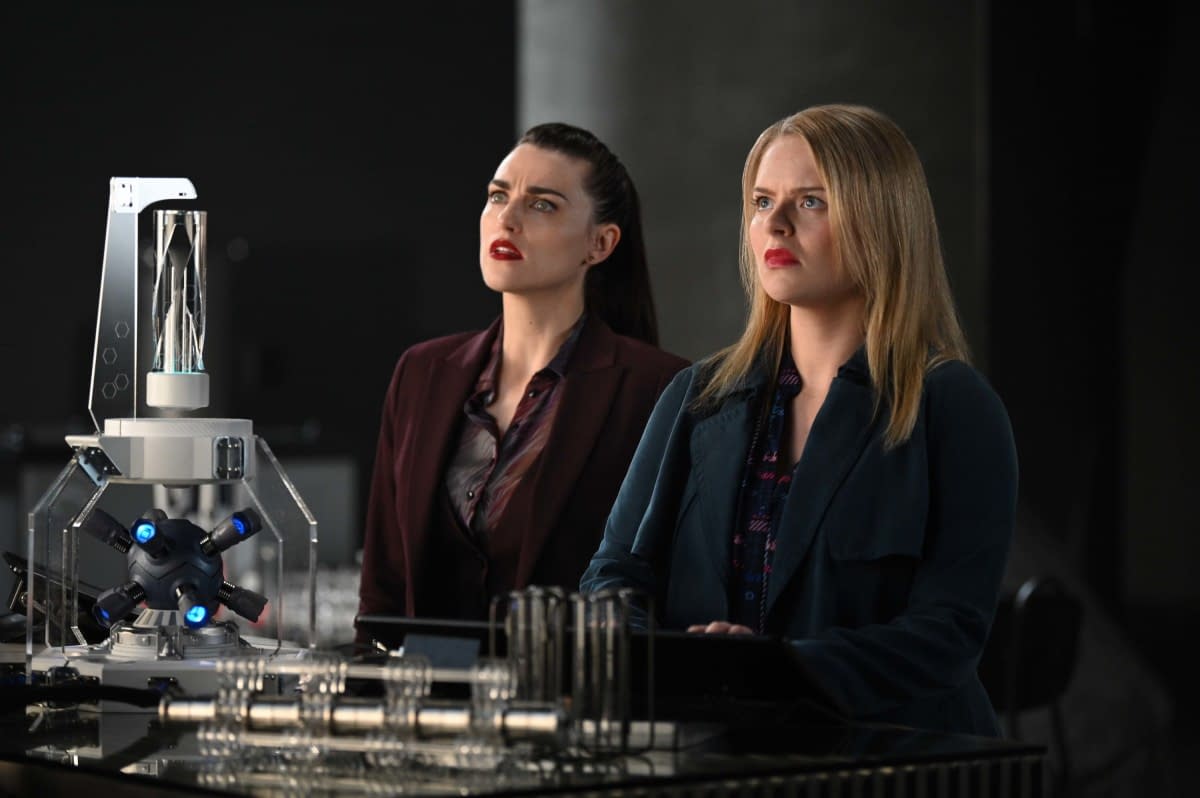 Enjoyed this article? Share it!