The critically acclaimed Syfy series The Expanse is kicking off it's 13-episode third season this April and the network has released the first trailer. Based on a series of novels of the same name by James S. A. Corey (a pen name for the writing team of Daniel Abraham and Ty Franck) is set in a future where humanity has colonized the Mars and the greatest commodity is water. The series follows three main characters: United Nations executive Chrisjen Avasarala (Shohreh Aghdashloo), police detective Josephus Miller (Thomas Jane), and ship's officer Jim Holden (Steven Strait) as they try to figure out the conspiracy the threatens to destroy all of mankind.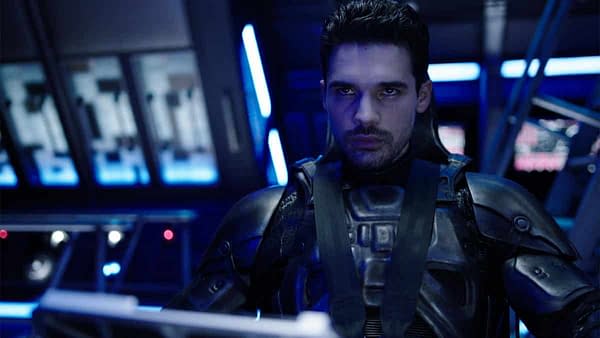 In The Expanse's epically-scaled world of political conflict, Earth is under the control of the United Nations, Mars is an independent military power, and planets in the Asteroid Belt (or just "The Belt") remain entrenched in a never-ending cycle of scarcity where water and air are precious and costly.
In addition to the current cast of Strait, Aghdashloo, Dominique Tipper, Cas Anvar, Wes Chatham and Frankie Adams, Season 3 of The Expanse brings in newcomers Elizabeth Mitchell and David Strathairn. It appears Thomas Jane's character will not be in the third season.
The Expanse returns for season 3 on April 11th to Syfy.
Enjoyed this article? Share it!