Hulu's presentation today at the TCA (Television Critics Association) Winter Press Tour finally included news of when Season 3 of Handmaid's Tale would finally surface. In typical fashion, they revealed the date with all the subtlety of a Gilead sermon, and the place of Handmaids in society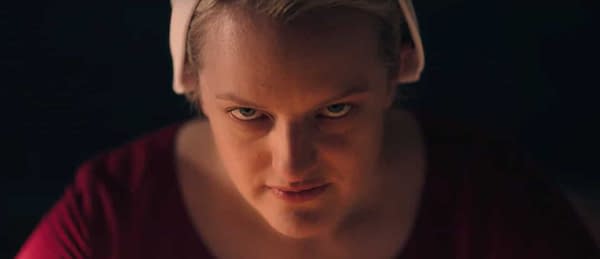 The Handmaid's Tale returns June 5. pic.twitter.com/M1cFN6zF4T

— Hulu (@hulu) February 11, 2019
June 5th it is- it's not a huge surprised that we found out fairly soon after the Super Bowl, since they had spent what probably amounted to the bulk of the show's annual marketing budget on a game-time ad teasing the tone of the latest installment of the series adapted from the original singular novel by Margaret Atwood.
https://www.youtube.com/watch?v=PuWg6AyzETg
The move does help push it out of the path of HBO's Game of Thrones final season, which will suck most of the air out of the room for any other series when it starts in mid-April.
However as THR noted, pushing The Handmaid's Tale release so far forward will put it out of consideration for the 2019 Emmys (which have a June 1st cutoff date). This will put Handmaid's so far back by the time the 2020 awards come around that it'll almost certainly be forgotten.
Of the new season, Hulu has the rallying cry and guiding prayer for the rebels: "blessed be the fight" . Hulu also promised "startling reunions" and betrayals in the upcoming season. So in short, the fight continues in Gilead.
The Handmaid's Tale stars Elisabeth Moss, Joseph Fiennes, Yvonne Strahovski, Alexis Bledel, Ann Dowd and Samira Wiley.
Enjoyed this article? Share it!