"The Mandalorian": Gina Carano Talks Cara Dune & (Naturally) Baby Yoda
Gina Carano is arguably the most successful former mixed martial arts athlete to transition to acting. The Mandalorian creator Jon Favreau only had Carano in mind when he conceived Cara Dune, the former Rebel shock trooper. She spoke to The Hollywood Reporter about her career and how she used her MMA experience into her roles.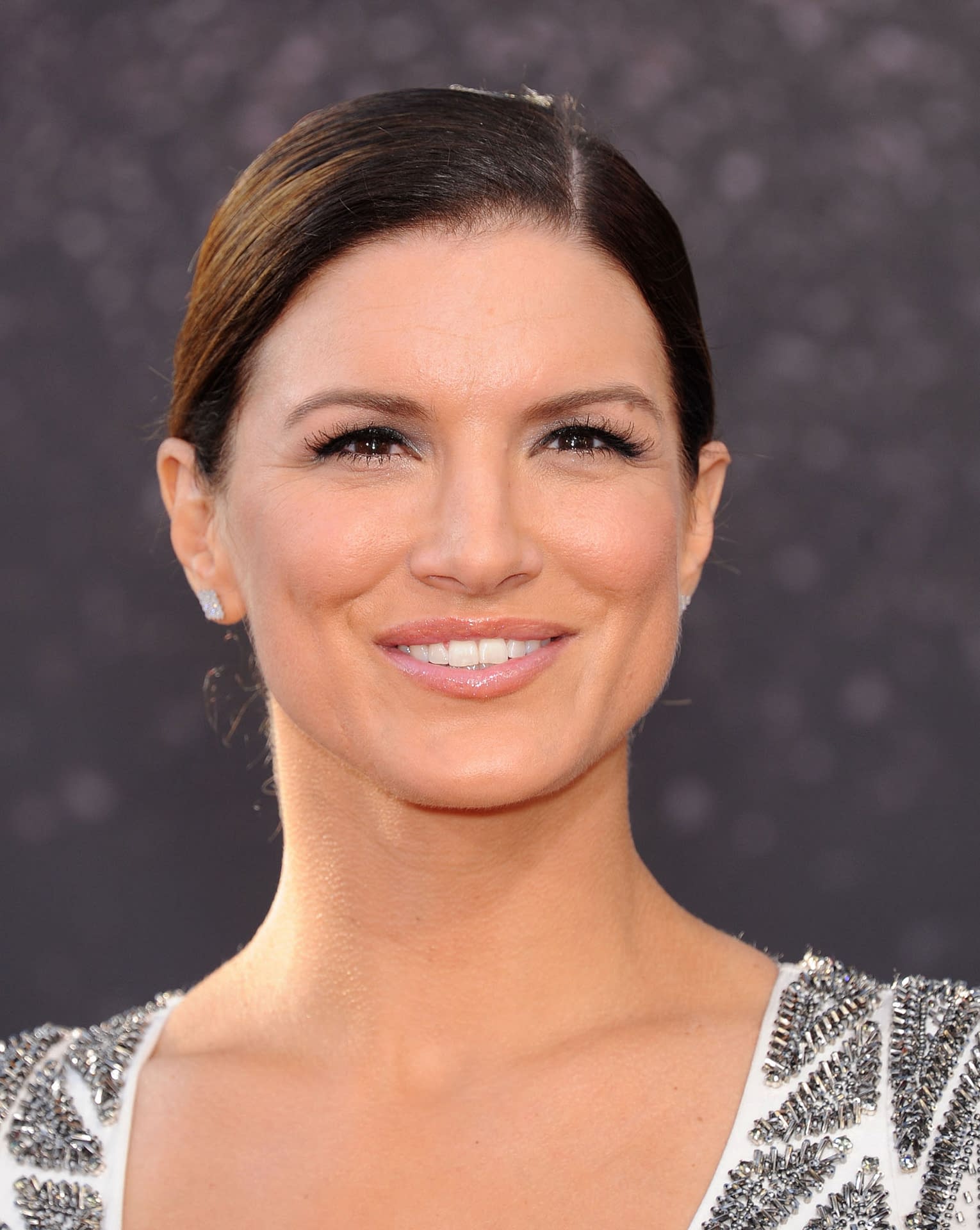 The Mandalorian introduced Cara in the Bryce Dallas Howard-directed episode "Sanctuary." After a sparring match with Mando (Pedro Pascal), she ends up helping him train and defend a village of fishermen/farmers from the repeated pillaging from the Klatooinians.
The first item of mention is a continuity error of how to pronounce Cara's name. Carano cleared up the confusion.
"It's Car-uh; it's definitely Car-uh. In the beginning, everybody on set asked me, 'How do you say your name?' and I would say 'Car-uh.' But, for some reason, it's natural for some people to say 'Care-uh.'"
Breaking in Cara Dune
Carano says the introductory scuffle was Howard and Favreau's idea of showing what a battle-hardened female soldier in the Star Wars universe can do.
"Originally, I feel like this all came from Jon and Bryce. I got together with the stunt guys, and we did some different types of choreography and previz. I've read a little bit online, and it feels mostly positive as I have so many people who are rooting for this strong female character. But, others are wondering how she did so well against the Mandalorian, who are the badasses of the galaxy.
On introducing a new type of character to the SW universe:
"I can tell you that the choreography was originally something else, and we made it to where she got the jump on him. It comes to a draw at the end of the fight so we both get our licks in. They're both battle-hardened warriors, and I feel like they both have an understanding of what they were dealing with. I definitely think Cara stands out in a way that's very different from someone like Leia, who's also very strong and independent.

I think that's exactly what Jon wanted to bring to the Star Wars universe as far as my character. He wanted my arms to show, and I'm like, 'Long sleeves!' (Laughs.) He wanted my character to be this new soldier of women, and he wanted her to have an impact. For me, it's been a way to embrace who I am, and if the biggest complaint is that I'm too strong, it's really a compliment to me. (Laughs.)"
Working with Bryce Dallas Howard
When filming, Carano credits Howard for her dedication, nurturing, impersonal and protective approach in her direction.
"She's got this fire in her eyes. She pays attention to everything, and she has complete 100 percent control of the set. She's focused, hungry and passionate. Other directors do different things, but Bryce would bring a little tiny apple box out with an iPad to watch the replays on. She would sit there with you and direct you. She'd have a conversation and talk it through with you based on how she's worked things out as an actress.

She'd listen to my thoughts and ideas. She was very motherly and protective of our performances. She's probably been in this business long enough to know that you don't always get a director who's going to protect you and give you the opportunity to express yourself and give you the chance to do it the way you want to do it. Bryce will try it this way and that way, and then she'll let you try how you like it. She's very protective over her actors and story. When she laughs, the entire building heard it. The one word I'd use to describe her is fiery."
The 37-year old actor described the authentic experience of a virtual reality set unique to The Mandalorian. The concept even drew the likes of some of the most creative minds in Hollywood including Steven Spielberg, the Coen brothers, and Seth Rogen.
Keeping Baby Yoda a Secret
Carano addressed the Baby Yoda phenomenon and complimented the dedication of its puppeteers.
"I learned about Baby Yoda when I read the script after getting the job. When doing promotion at Star Wars Celebration, D23 and the press junket, we were already getting such a great reception, and meanwhile, we were all giving interviews to excited people and thinking, 'You don't even know the best part of it!' (Laughs.) I think it was so smart of Jon and Kathleen Kennedy to keep it such a secret.

That was just genius to have people be surprised over something they were already excited about, and now everybody is absolutely in love with this little baby. When you're acting with it, you're just like, 'Oh, my gosh, it's insanely cute.' These puppeteers gave it its own personality; it's a little actor. Jon once belly-laughed and was like, 'No matter what, this little guy is going to steal the scene in every scene that he's in. Just know that you're all going to be number two to this.' (Laughs.) That's our little star of the show — 100 percent. There's no stealing a scene from Baby Yoda."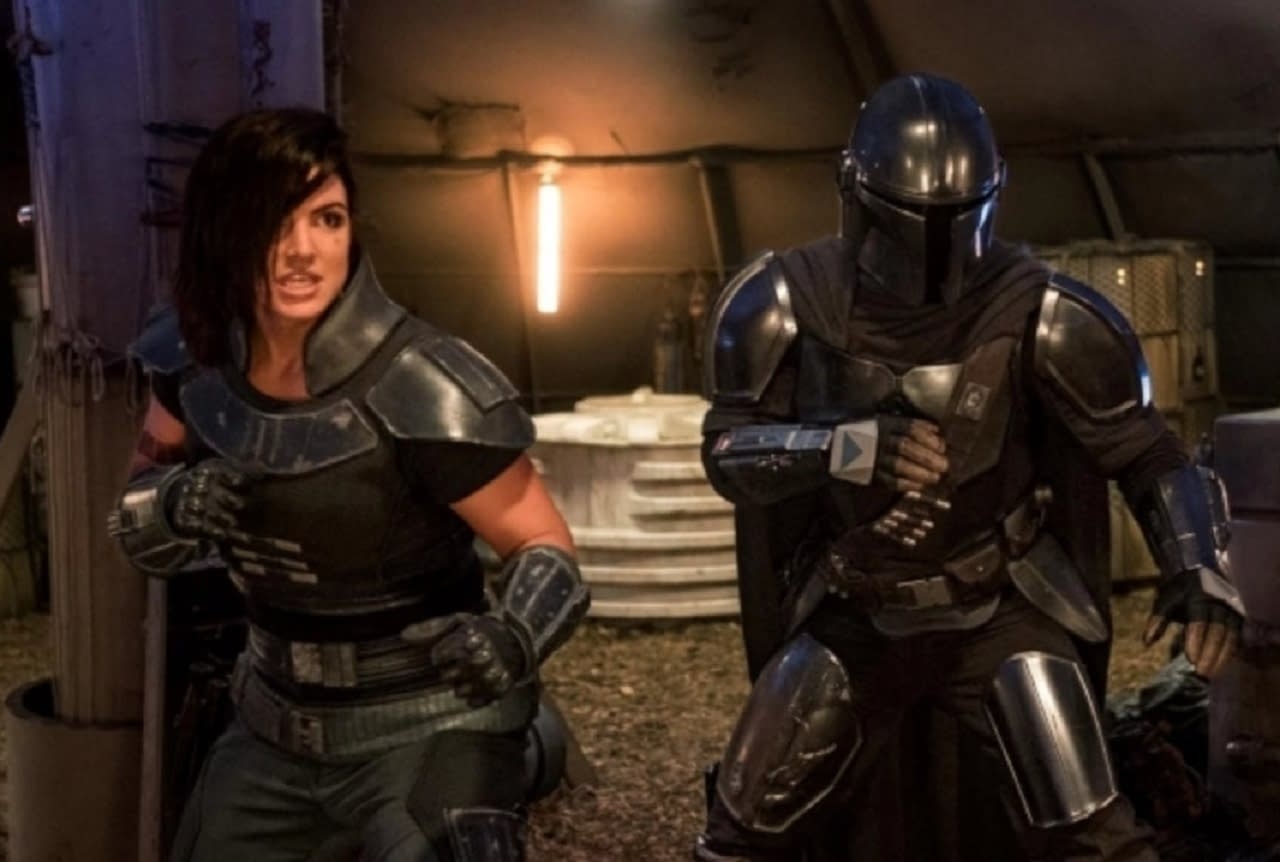 Getting into Character
Carano wasn't aware of Cara's background when Favreau cast her for The Mandalorian. Favreau and Dave Filoni gave her enough ideas to work off of.
"Yeah, I did. I knew it from conversations with Jon and Dave. They withhold little bits and pieces from me, and they'll come in and say, 'Oh, yeah, also this…' Before I did the introductory scene, Jon told me a secret about my character, and it added so much depth to what her life has been like. I think she's a really cool character, and I think the sky's the limit with telling her story. When I read the script, I just felt like Jon wrote a little diamond of a character. I've been waiting for something like this for so long, and I love putting on the armor and thinking about the possibilities."
Advice from One "Star Wars" Actor to Another
Carano recalled on the set of her 2011 breakout hit Haywire the acting advice her co-star Ewan McGregor gave her. McGregor took over the role of Obi-Wan Kenobi from Sir Alec Guinness in the Star Wars franchise since 1999's The Phantom Menace.
"I've had such an up-and-down career so far. When I worked with Ewan McGregor on Haywire, he said, "Make sure you love the script, get along with the director and respect the director." He told me that 10 years ago, and, of course, I felt like I had to put in my time and do my time on those independent movies. I really wish I would've listened to those words because he was telling me something from experience.

Now, after having this up-and-down career, that's going to stick with me moving forward. I am going to work with people I respect — on stories I'm passionate about. I'm going to be patient and wait for those to come through. After The Mandalorian season finale, I hope people have seen the growth in my work and the hard work I've put into acting. I always say this, but I still feel like I'm just getting started."
The Mandalorian is available to stream on Disney+.
For more information, you can read the entire interview at The Hollywood Reporter.