Tony Khan Expects Big Increases in AEW Rights Deals This Year
Tony Khan is hoping for more money from AEW's media rights negotiations later this year, and The Chadster is just so cheesed off about it!
---
A lot of people, The Chadster included, would say that Tony Khan already has enough money, but apparently for the billionaire AEW owner, he needs more. And so Khan is projecting "big increases" when AEW renegotiates its TV rights deals later this year. Khan was interviewed by Uproxx, a website clearly on his payroll, pushing the Khan anti-WWE agenda to its audience, where he addressed the upcoming negotiations.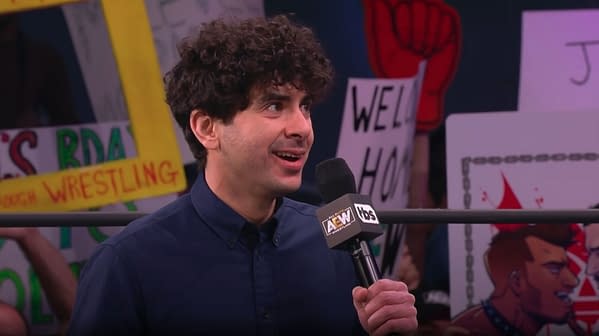 Here's what Tony Khan had to say about AEW's new TV rights deals:
I expect big increases in the rights for the AEW programs and we're on a good pace to make a very lucrative deal for the AEW media rights going forward.
Isn't that just so unfair?! Tony Khan knows that WWE is trying to sell themselves ahead of their own media rights negotiations later this year, and the last thing they need is competition muddying the waters and making it seem like WWE isn't the only legitimate wrestling company around. But Tony Khan, as The Chadster has been saying for years, has absolutely zero respect for the pro wrestling business and everything that Vince McMahon has done for it, so of course he's got to RUIN EVERYTHING by trying to get new deals for his own company at the same time WWE is working on their own.
But if that wasn't bad enough, Tony Khan also commented on a potential AEW Streaming service during the interview, which would compete with Peacock and the WWE network, which The Chadster finds to be just so disrespectful. Here's what he had to say:
We've done 174 episodes of Dynamite, 80 episodes of AEW Rampage, our 17th pay-per-view event will be March 5 in Revolution, so we've done hundreds and hundreds of hours of AEW content in our library. I also purchased Ring of Honor last year, which is a great promotion with over 20 years of history, thousands of hours of video in their library. So overall, AEW has access to so many great wrestling events, including some events that are widely considered to be some of the best wrestling events of all time. There's a lot of interest in this library as well as the new weekly content we continue to produce each week, and I do think there's a lot of demand for the library and it makes a lot of sense for us to try to make that AEW library available to fans all over the world on demand.
The Chadster is hoping that Tony Khan gets zero dollars for AEW going forward and the company is forced to close down, which would probably cure The Chadster of his longterm sexual impotence. But The Chadster isn't holding his breath because Tony Khan would probably continue to use his own money just to torment The Chadster by keeping AEW running. Auughh man! So unfair!