Netflix series The Toys That Made Us is back with a second season consisting of four episodes about some of our favorite collectables and their history. Season 1 told the tale of Star Wars, He-Man, Barbie, and G.I. Joe while reminding viewers what it is about possessing these items that impacts us emotionally.
Season 2 just hit the streaming service, and the first episode is all about Star Trek. I'm a huge Trek fan, and I was delighted to see Mr. Rod Roddenberry appear within the first three minutes of the episode to talk about his father.
Doug Drexler (special and visual effects artist) stops by to speak about how Trek was different from the get-go, not just sci-fi for kids.
Aluminum Model Toy company is mentioned who made the first deal to make toys for Trek. There was an agreement for AMT to make the Gallelo 7 shuttlecraft on the show for the rights to make additional toys.
Remco's Star Trek but not really Star Trek were repackaged as 'Astro' items instead of their military line.
When Paramount bought the rights to Star Trek from Desilu, the quality of toys went backwards, and the license for items went to the absurd.
The strangest toy they talk about were the damn siren helmets and how absolutely RIDICULOUS they still are.
Of course, MEGO is a HUGE part of the Trek toys — still is, really. Other than screen-used props, some of the most valuable pieces of trek memorabilia are the original Kirk, Spock, Bones, Scotty, and a Klingon. (Eventually they released an Uhura too for the first line).

The first round of MEGO trek figures (which didn't include Uhura til later)

Gamma VI play set based on the classic Star Trek episode "The Apple"

MEGO purchased the Star Trek toys license for a grand total of $5000. Seriously. Reportedly MEGO did something like $50 million in Trek business, so money well spent, obviously.
The episode also touches on the fact that MEGO did NOT purchase the Star Wars option, the arrest of MEGO CEO for various reasons, and the pushing out of Gene Roddenberry from Star Trek: The Wrath of Khan.
And then Next Gen happened, and with it the amazing new lines of figures with Playmates.
Art Asylum who became Diamond Select Toys picked up the license after Playmates, who released some pretty incredible pieces. Like TOS phaser that was used in an episode of Enterprise.
3231 windows on the Enterprise.
Todd McFarlane talks a bit about ensuring that McFarlane Toys has the perfection of every little detail in their release of Trek items. "Gene Roddenberry managed to accomplish what every other creator, every artist, has dreamed about," McFarlane says.
Rod tells a story about building one of the Enterprise AMT model kits sitting around the Roddenberry house, spray painting it silver and presenting it to his dad. Turns out it was one of the statues in Picard's readyroom on TNG.
The episode ends with a mention the "infinite diversity in infinite combinations" ongoing theme of Star Trek is completely represented in the decades of toys.
My favorite Trek action figure I've ever owned? The Deanna Troi from Star Trek: First Contact that came with a shot glass, because I won her for answering a trivia question when I was a kid.
The Toys That Made Us is currently on Netflix. Keep an eye out for our pieces about the other three topics in this season: Transformers, Hello Kitty, and LEGO.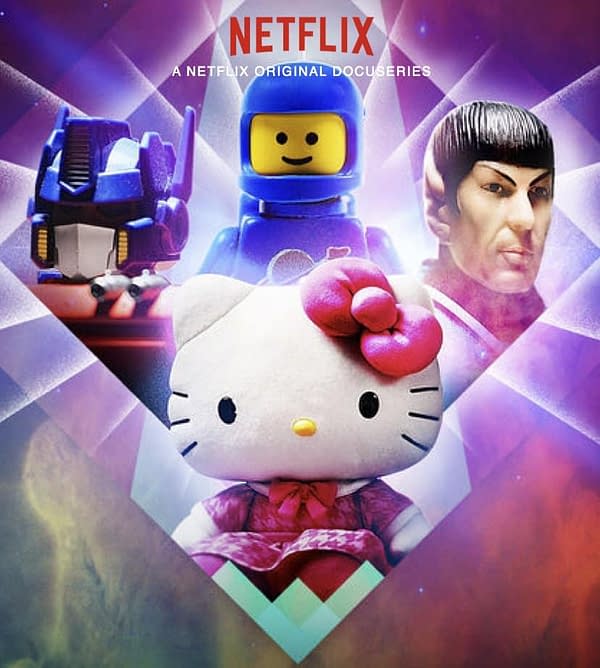 Enjoyed this article? Share it!