Triple H Puts WWE Fans In Their Place, Denies Crowd Noise Editing
WWE executive "The Game" Triple H made a bold claim during an interview on the Inside the Ropes podcast. The Cerebral Assassin said that WWE never manipulates crowd noise, a practice a large portion of disgruntled fans vehemently believe they engage in whenever the crowd goes against WWE's booking plans. The revelation that WWE does not, in fact, edit crowd noise as definitively proven by Triple H saying so should really put those fans in their place once and for all.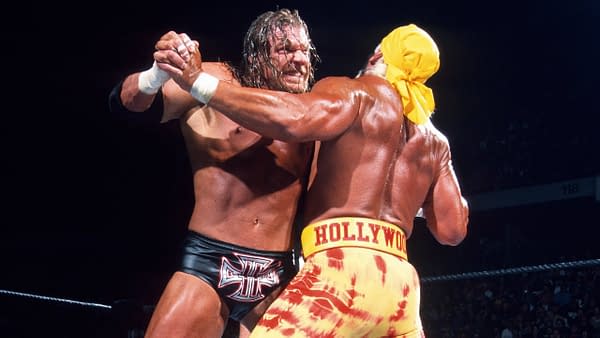 411 Wrestling transcribed the relevant parts of the interview, which also included the Gilligan to Triple H's Skipper, "The Heartbreak Kid" Shawn Michaels. "The world now, and I think this is like social media, it's okay to express what you want to express. Like to me, if you go back to like the 80s, like it's almost kind of if you were a WWF fan then like you didn't want to say, 'look, I don't like Hogan,' but you don't want to say too loud because everybody else liked Hogan and you didn't want to be the one guy that didn't," said Triple H, poiting out rightly how WWE fans are followers who just try to do whatever is cool. "Or maybe you did, but you were in this little vocal minority over here that was doing the thing. Now, I think it's just that everybody has an opinion. Everybody."
Triple H specifically called out fans who have spent the last several years trying to ruin WWE's push of "The Big Dog" Roman Reigns, an incredible wrestler who is destined to be The Guy in WWE, but whom fans dislike out of spite against Vince McMahon. Fans boo Roman when he is supposed to be cheered, completely ruining the mood of the shows. It's one of the main reasons why I prefer wrestling during the Pandemic Era, where there are no crowds to lower my enjoyment of the product.
"No matter what you say, it's wrong to somebody, no matter what you do, it's wrong to somebody," Haitch correctly pointed out. "Everybody has an opinion. You can't dictate now. So, like, you're going to create a character that everybody is supposed to dislike. But there's a large portion of them who are going to like that. Then, when you make somebody that they're supposed to like, there's a large portion of them dislike that. If you tried hard to flip them, and I know everyone will make the Roman thing on this, but like, there's something to all that. You know, you talk about the Ciampa thing. It's unique, but it's a cool thing and for whatever reason, it's happened, it just is. But it's a more difficult thing probably now, I think than it's ever been in this business to come up with a universal one or the other."
HBK also inserted himself into the conversation with Triple H. Michaels called out the fickle nature of WWE Fans, generously attributing it to the passion of sports fans. "That's what's so great about this. We love it, but it's still a fact," The Show Stopper revealed. "I mean, fans of anything, not just WWE fans, fans of anything are, you know, again if you're winning, they're for you. If you're losing…I mean you look, you guys are like that with your soccer. I would imagine go to a soccer game, and a big fight breaks out…sometimes it happens because the emotions or whatever, I mean. Sports fans are passionate about what they do and it causes them to do whatever."
It was at that point that Triple H dropped the biggest bombshell of all. While fans believe they're getting to WWE with their childish behavior in arenas, in fact, WWE loves it when fans do that. And why wouldn't they? That's why the notion that WWE manipulates crowd noise is so ridiculous.
"The one that I love about, you know, what we do is the passion of the fan base," he said. "I think sometimes fans think it's something that we hate or something. It's funny. Sometimes I see the Internet talk about us manipulating crowd noises. We don't manipulate the crowd noises, you know, stuff where they think like, 'oh, and then they turn down the volume because this guy was getting booed.' No we didn't. That's just what's happening. It just is. But they're so passionate about it. But we love the fact that they can express their opinion, we love the fact that they can go out there and say, this is great, this isn't great. This guy's a good guy. That person is a bad guy, whatever that is. Also if they tell us they dislike something, if we're smart, we listen to that. It might take a while, but we can fix it."
Kudos to Triple H for standing up for WWE against the wrestling business's worst enemies: the fans.