Dexter Plays It Safe, Big Poppa Trump, 'Dead' Endings, and More! [The Weekly Static s01e36] Even when the dark comes crashing through…when you need a friend to carry you…when you're broken on the ground…you will be found. So let the sun come streaming in 'cause you'll reach up and you'll rise again. If you only look around…you will be found. And when our children tell their story, they'll tell the story of…The Weekly Static!
With proper respect to Lin-Manuel Miranda and Ben Platt, a little reminder that before there was Ryan Murphy's American Horror Story there was this week's edition of… The Weekly Static is our look at the past week in the land of the networks, cable, streaming, smoke signals, cloud formations, and shadow puppets from an interesting and entertaining perspective. So The Weekly Static's "League of Moderately Evil Exes" (myself, Rocky, Trejo, Bat-Murr and Margo Staten) makes you these three promises… because we can:
● Offer blunt, honest perspectives on five TV topics from the past week covered by Bleeding Cool's team of news-thirsty writers. Just to be clear? My views are my views and don't reflect on the writers. We own what we say 110%.
● Spotlight a news item that we missed when it first hit, but we're pretty sure you'll want to know about.
● Feed my insatiable-yet-fragile ego with buckets of praise, adulation, social media shares, pizza, Superman Funkos, Eisner Awards, write-in votes for the 2020 U.S. Presidential Election… and a talking penguin, chicken and pig to go on zany adventures with.
'Dead' Man Blogging: Bleeding Cool's The Walking Dead Finale/Fear the Walking Dead Premiere Live-Blog!
Night Court's Harry Anderson Dead at the Age of 65
Claire Danes Says Homeland Will End After Season 8
Impact Wrestling Star Scott Steiner Wonders Who Will Cut Grass if Trump Deports Mexicans
Dexter's Michael C. Hall Isn't Playing It 'Safe' in Netflix's Mystery-Drama Series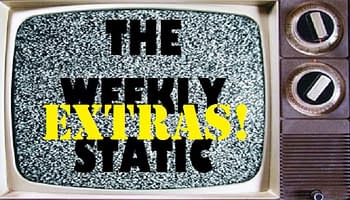 'Mr. Mercedes' Cast & EP Talk Complexity Of Characters, Reveal Season 2 Premiere Date – The Contenders Emmys
"EXCLUSIVE: Stephen King adaptation Mr. Mercedes will be back for a ten-episode second season on August 22, AT&T Audience Network told Deadline during the show's panel at The Contenders Emmys. Director Jack Bender joined stars Brendan Gleeson, Harry Treadaway, Kelly Lynch and Holland Taylor to discuss the series' first run.

Speaking with Deadline's Joe Utichi, Bender offered his first impressions of Mr. Mercedes. 'When Stephen first sent me the galleys, I was thrilled,' the director said. 'He had never written a detective novel, and I found it fascinating that Stephen was writing this time about the monsters inside the people, as opposed to the monsters outside the people.'"