Why is WWE Pulling a Reverse Poochie on Roman Reigns?
There's been another development in the saga of WWE forbidding Roman Reigns from being mentioned on WWE television. In addition to the edict reportedly given to announcers and superstars that nobody mention The Big Dog's name on TV, it seems that Reigns is now being edited out of clips of past matches as well. This marks a stark reversal from WWE's previous position on Roman Reigns, which had up to that point been akin to, "One, Roman needs to be louder, angrier, and have access to a time machine. Two, whenever Roman's not onscreen, all the other characters should be asking 'Where's Roman?'"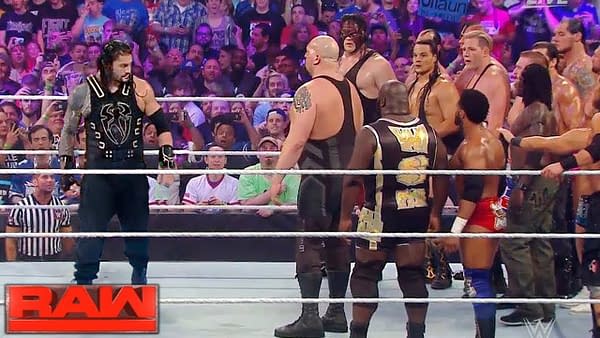 However, a user on Twitter points out that WWE made sure that the clip of Seth Rollins cashing in his Money in the Bank contract on Brock Lesnar excluded Roman Reigns from the video, even though it was Reigns who took Lesnar to the limit right before Rollins cashed in.
The question is, why is WWE so intent on making everyone forget about The Big Dog? Reigns declined to participate in WrestleMania 36 due to concerns over safety amidst the coronavirus pandemic. As a Leukemia survivor, Reigns is at an elevated risk to the virus, so it makes sense that he would want to obey quarantine rules. Instead of a planned match against Goldberg for the Universal Championship with Reigns would almost certainly have won, Braun Strowman was given the match and the belt instead.
Is WWE upset that Reigns ruined their WrestleMania plans? In other words, is Roman Reigns in the Big Doghouse? That would contradict statements from the company that there would be no repercussions for anyone who doesn't want to work due to the pandemic. Still, after years of pushing Roman hard even as fans rejected that push, it seems very strange that WWE would suddenly want fans to forget all about him. Another possibility is that WWE, which believes its fans have the memories of goldfish, are hoping they will be even more excited when Reigns does finally make his return.