It's a big night for WWE Raw tonight. Five championships will be defended, Ric Flair will declare Randy Orton the Greatest Wrestler Ever, and Edge will update us on his future, and Rey Mysterio will return to confront Seth Rollins. Plus, WWE will try to make it through the night without any more wrestlers being accused of sexual misconduct. It's time for Monday Night Raw! Three hours of your life you can never get back. Let's dive right in!
Raw opens with a video package talking about the above. The performance center crowd is hyped for Raw. And they'd better be, if they know what's good for them! These people have been standing for something like eighteen straight hours by this point in WWE's taping schedule, and if they're lucky, they got to eat a peanut butter sandwich in a tent outside. Drew McIntyre comes out to kick off Raw.
Drew must think he's on the WWE commentary team, because he recaps what happened last week when he and R-Truth defended his championship against Bobby Lashley and MVP. Drew says it's time to look to the future, so perennial disappointment Dolph Ziggler heads to the ring.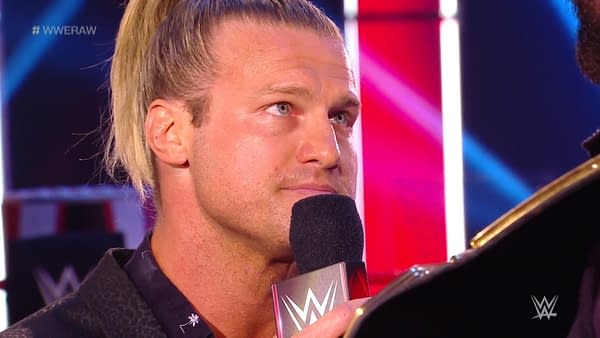 Dolph says he was traded to Raw from Smackdown in exchange for AJ Styles. Robert Roode too, but he's not here right now. Dolph takes credit for Drew's WWE resurgence after Drew was fired from WWE back in the day. He says Drew is the champion now because of Dolph. Dolph demands a WWE title match from Drew. The crowd boos like they're being paid to do so.
Drew takes issue with Dolph's assessment. He says Dolph hasn't been doing so hot since he and "Big Daddy Claymore" stopped teaming together. He says Dolph is an entitled jackass who thinks the world owes him something. However, Drew does need someone to job to him at Extreme Rules, and that's pretty much Dolph's whole gig. Drew makes the match official. That'll put butts in the seats! Well, not really. The performance center crowd isn't allowed to sit down.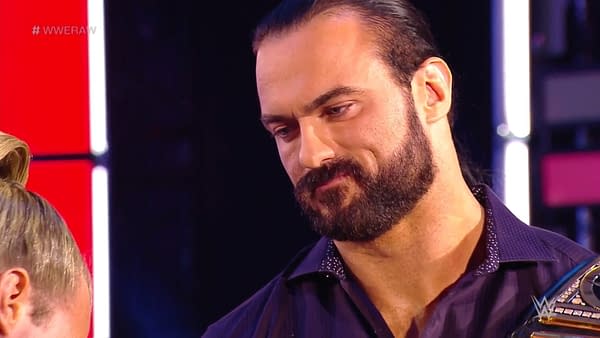 Byron Saxton, Tom Phillips, and Samoa Joe sell the PPV, as well as the Women's Championship match for later tonight. But first, Nia Jax heads to the ring. She brings a chair in there with her, sets it up, and sits down in the middle of the ring. Nia Jax is tormenting the performance center crowd by sitting as Raw heads to its first set of commercials.
Back from break, Nia is still sitting. She complains about Charlotte Flair getting a title match against Asuka tonight when Nia was cheated at Backlash and last week on Raw. R-Truth comes out enthusiastically singing the 5,693,248th rendition of his theme song. Truth puts every entitled rock group that gets sick of playing their hits to shame.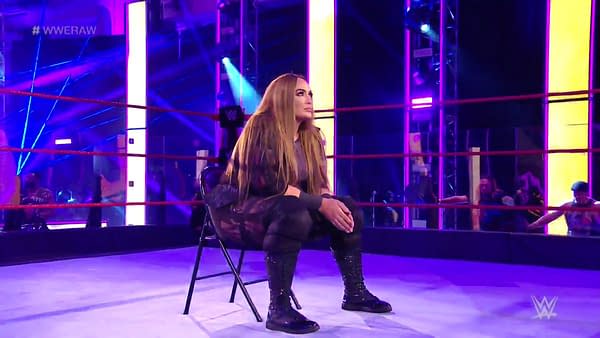 Truth says he's supposed to wrestle Akira Tozawa and his ninjas for the 24/7 title right now, so he doesn't know why Nia is here. Truth wonders if Nia is actually Akira Tozawa because ninjas are masters of surprise. But no, Akira Tozara appears near the commentary table and Truth is besieged by ninjas. They chase Truth from the arena, and Charlotte Flair's music hits.
Charlotte says Nia squandered her last two title matches and has no right to throw a fit. Nia says Charlotte gets her opportunities because he dad is Ric Flair. Charlotte points out it wasn't her dad who beat Asuka in the past. Nia says she dominated Charlotte the last time they faced and Charlotte has been avoiding Nia. Maybe Charlotte just doesn't want to get injured?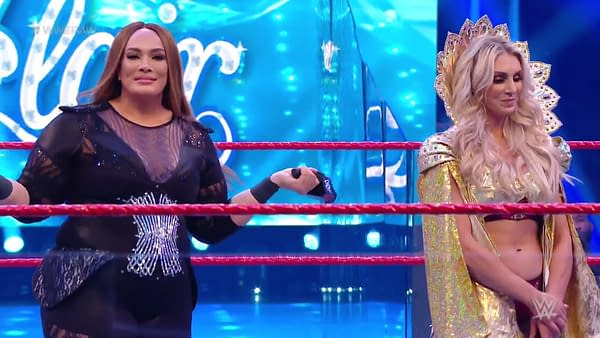 Charlotte attacks Nia. Nia is getting the better of her when referees come in to break it up, and then Charlotte hits a kick to the face that drops Nia before the refs break it up. But the commentators claim that Charlotte appears to have injured her arm in the scuffle (dammit, Nia!) so she will have a good excuse to lose to Asuka later.
Now we see a recap of the nonsense between The Street Profits and The Viking Raiders. I fast forward my DVR. The Street Profits cut a promo backstage about their championship match with The Viking Raiders. The Profits promise that their friendship will last forever, but when the bell rings tonight, they'll do whatever it takes to win the match. The Raiders say they'll do the same. After the promo, Zelina Vega walks past the camera and looks like she's plotting something. Whatever it is, hopefully it doesn't cause this stupid feud to drag out any longer. Raw heads to commercials.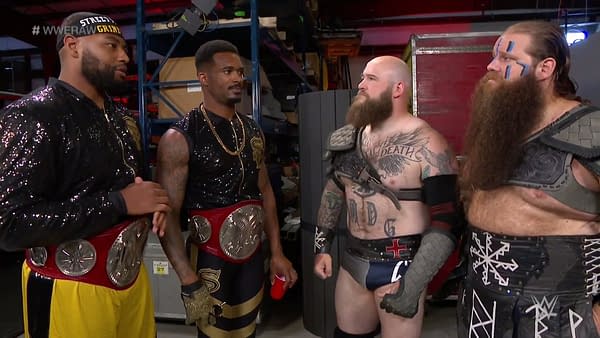 The Street Raiders head to the ring for their match as the crowd chants that they want the smoke, by which presumably they mean medical marijuana to help with the foot, knee, and lower back pain from standing up for hours in a row at WWE's marathon tapings. Well, and there's the emotional pain of watching so much WWE as well. You know what, can I get some of that? In any case, the match begins with both teams showing they meant what they said earlier about going all out to win the titles, and then Raw quickly goes to commercial again.
After the break, it's more of the same. Both teams look good. Both teams are faces, and now friends, and they're fighting fairly. They hit each other's finishing moves. It's actually a pretty good match, reminding us that these guys are all actually pretty good in the ring, which then makes one wonder why they've spent so many weeks doing dumb and repetitive skits instead of actually wrestling. The Street Profits win, retaining their championships. Montez Ford got the pin with a frogsplash. After the match, everyone is still friends. So is this feud, or whatever it is, over now?
Looks like it, as Andrade and Angel Garza attack the Profits after the Raiders head to the back. The Raiders head back out, but too late to stop their friends from getting a beatdown. Backstage, Seth Rollins talks to his lackeys, Austin Theory and Buddy Murphy. Rollins has a message for Rey Mysterio: soon, all will be revealed. But first, some commercials.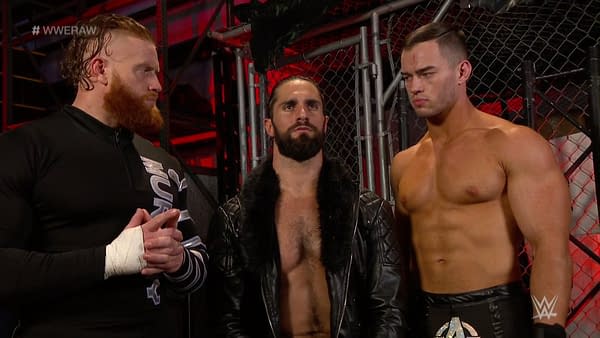 After the commercials, Tom Phillips queues up a video of last week's Seth Rollins segment, when Dominic Mysterio attacked Rollins from behind and got away with it. Rey is here this week! Seth Rollins is backstage again, this time alone. He spouts a bunch of nonsense about being the Monday Night Messiah and the Greater Good and all that, all to basically say that Rey is going to be sorry for whatever Rollins does to Rey and Dominic tonight.
Now Phillips plays a recap of the Nia Jax segment from — *checks watch* — less than an hour ago on Raw. Backstage, Charly Caruso asks Charlotte about her arm. Charlotte says it will be just fine and walks away. Charly sees Zelina Vega and her crew celebrating backstage, so she asks them why they attacked the Street Profits. Angel Garza, not reading the room of the past week, starts talking about how it's just like making love to a woman. This is a workplace, Angel, and that kind of talk isn't appropriate. The point is, Zelina interrupts, now her team is united in one purpose: winning the tag team championships. Asuka heads out to the ring to get ready for the next set of commercials.
After the break, Charlotte Flair comes out, but to find out what happened, you'll have to read part two of our WWE Raw report. Well, or just look at WWE's Twitter. They post spoilers pretty much live during the entire show.
Enjoyed this article? Share it!