In part one of our WWE Raw report, Dolph Ziggler returned to Raw and challenged Drew McIntyre to a match, Nia Jax tussled with Charlotte Flair and injured her arm before Charlotte's title match tonight, The Street Profits finally fought The Viking Raiders, Zelina Vega found a way to get Angel Garza and Andrade to stop bickering, and Seth Rollins rambled on about nonsense. Read all that here, but now it's time for the Women's Championship match as we kick off the second hour of Monday Night Raw, which, God help us all, isn't even halfway over yet.
It's Charlotte Flair vs. Asuka for Asuka's Raw Women's Championship. The announcers play up Charlotte's arm injury right away to make sure it's absolutely clear that even if Charlotte does lose tonight, it isn't a clean win. Her arm is taped up, and Asuka is laser-focused on it throughout the match. Charlotte still gets plenty of offense in though, more than Asuka in fact, and the match is as hard-hitting as you'd expect from these two. The match runs through one commercial break, and Nia Jax watches it from backstage. Flair does a great job of selling the arm, even avoiding using it during pin attempts. And holy crap, Charlotte taps out to the Asuka Lock!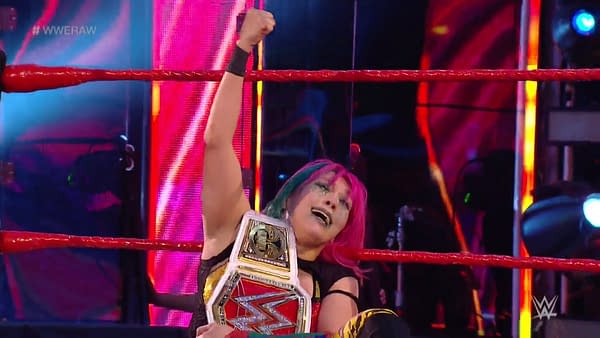 You know, I was giving her shit about it earlier, but Charlotte really did put over Asuka here. Backstage, Charly Caruso asks Nia Jax if her fight with Charlotte had anything to do with her loss tonight. Jax says it would be a real shame for someone to kick The Queen while she's down. Byron Saxton promotes Ric Flair showing up to put over Randy Orton later, and Tom Phillips tells us Edge will provide an update on his future after the commercial break.
Tom was just setting up one of his recaps though, queuing up a video package of Edge and Orton's feud after Raw comes back from commercial break. After that, Edge cuts a promo from a darkened WWE ring elsewhere in the Performance Center. Edge says Orton may have won, but he didn't live up to his claim of being the better natural wrestler since he won by kicking Edge in the balls. Edge is disappointed that he didn't see the low blow coming or do it first, but that's not gonna happen again. Edge says Randy, by injuring his tricep, showed Edge that he needs to wake up a side of him that's been asleep. Edge is especially pissed off that Randy attacked Christian last week even though Randy knows Christian wasn't medically cleared to wrestle. Edge said he's gonna make Randy wish Cowboy Bob was firing blanks when Randy was conceived. Like their match at WrestleMania earlier this year, this promo goes on way longer than it needed to and long after we got the point. Edge is really mad now and he's gonna make Randy pay. Randy woke up the Rated R Superstar. Of course, all of this is going to have to wait for at least 6-8 months while Edge recovers.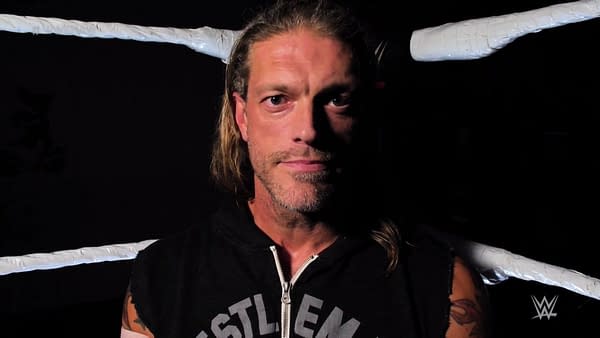 Backstage, Charly interviews Randy Orton. Orton says that when a snake feels threatened, it strikes, sometimes wildly or blindly.  Orton says he was backed into a corner by Edge and Christian trying to have their comebacks on Orton. Orton says he did what he had to do to survive and it's just nature. He hopes Edge and Christian recover and live happy, healthy, long lives, as long as they stay away from Randy Orton. Orton heads to the ring for his segment with Ric Flair and Raw heads to commercials.
After the break, Charly interviews Charlotte Flair backstage near a Performance Center training ring. Flair says she's not happy with losing to Asuka but gives her credit. Nia Jax attacks Charlotte backstage and hurts her arm even more. Nia Jax just can't stop injuring people! She's a menace!
Akira Tozawa is in the ring with his Ninjas and R-Truth comes out and, for the second time tonight, performs his theme song. The crowd is appropriately enthusiastic about it for people who are getting paid to be here. Well, if anyone can make this ninja nonsense entertaining, it's R-Truth. Truth is supposed to be defending his 24/7 Championship against Tozawa, but Bobby Lashley and R-Truth interrupt and take out the ninjas instead. Truth tries to run, but Lashley puts him in the Full Nelson and shakes him unconscious. MVP and Lashley leave, and Tozawa crawls out from under the ring and pins Truth. Akira Tozawa is the new 24/7 Champion. You know what, where the hell was Drew McIntyre? He owes Truth after Truth saved Drew's WWE Championship last week!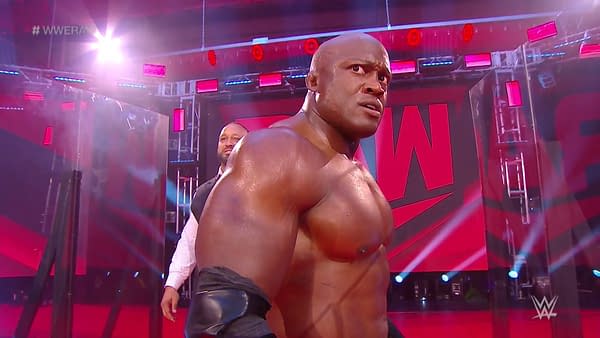 Backstage, Sarah Schreiber is looking for information on Charlotte Flair at the trainer when Natalya interrupts. Natalya claims she's the locker room leader and Sarah should have interviewed her instead. But now it's too late because Natalya is heading to the ring for a match. But first, some commercials.
Natalya is fighting Liv Morgan. Lana comes to the ring with Natalya for some reason. Natalya and Liv put on a five-star classic. Just kidding. But at least it was short. Natalya wins with the Sharpshooter off of a distraction by Lana. Natalya is very unsportsmanlike after the match.
Charly interviews Big Show backstage. She asks what Big Show thinks of all this ninja nonsense. Big Show says he just came to Raw to say hi to some old friends, but it was his pleasure to help the Viking Profits beat up ninjas. Big Show's career is mostly focused on his Netflix sitcom, but he's here tonight because behind his fun exterior is a heartless, angry giant and that heartless, angry giant is headed to the ring right now to get involved in the next segment with Ric Flair and Randy Orton because Big Show isn't pleased with what Orton did to Edge and Christian. That will happen after Raw goes to commercials.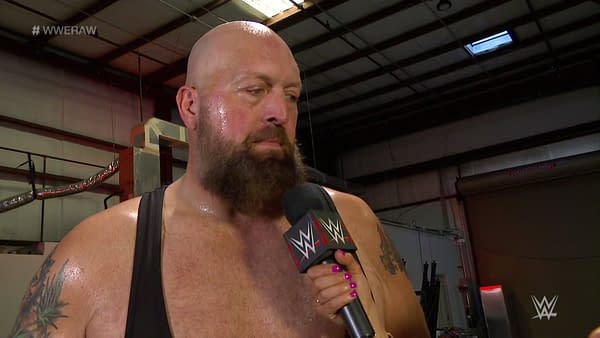 And also after Tom Phillips queues up a recap of the Drew McIntyre and Dolph Ziggler segment from earlier. If Raw cut out all these recaps, the show would be less than two hours long. Ric Flair is in the ring, and before he gets to kissing Randy Orton's ass, he stops to kiss his daughter's ass first. Ric says that when Charlotte heals up, Nia Jax will be in a lot of trouble. But Ric is really here to talk about Randy Orton. Ric says a lot of people are always asking Ric who the best wrestler working in the business today is, which must be in the same way Donald Trump says that a lot of people say things, which is to say no one says it. But in any case, Ric believes Randy is the best right now. He calls Randy out to the ring.
Randy Orton comes out. Naitch says he's been dying for this moment. Hopefully, WWE is up on their coronavirus tests this week, or Ric really could be dying for it. Ric says Randy is the best performer in the history of WWE. He shakes Randy's hand and then quickly sticks his hand back in his pocket, where hopefully he has a bottle of hand sanitizer.
Randy says it was nostalgic for Ric to punch Christian in the balls last week, it was nostalgic for Randy to punt him in the head, and it was nostalgic for Randy to end Edge's career at Backlash. But Orton says his revitalized Legend Killer gimmick isn't nostalgic. Randy loves being the Legend Killer again.
The Big Show has heard enough. He comes to the ring to give Randy a piece of his mind. Show says Edge and Christian are his friends and Randy is going to pay for what he did to him. Show has always known Randy is a narcissistic parasite, and currently, he's feeding off someone Show used to respect: Ric Flair. Show says Randy's competitors, like Edge, make Randy better because Randy lacks the motivation to make himself better. Show says Edge will be back and he'll get revenge on Randy, but Show is gonna break every bone in Randy's body first.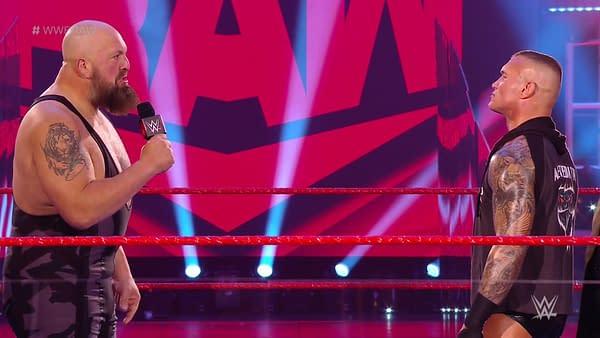 Randy says that Show better not touch Ric Flair because Ric paved the way for everyone, and he's not gonna hurt Randy either because Show and Randy are friends who came up together and Randy respects Show. Randy says Show is a future hall of famer, and, some might even say, a legend. Randy says it would be a shame for Show to suffer the same fate as Edge and Christian. Show wants to fight, but Randy leaves the ring. Randy says Show knows what Randy is capable of and now he's focused on Show. What happens next is on him. Randy and Ric leave. Orton is the most interesting he's been in years, and it's always nice to see Ric Flair and even Big Show is a novelty at this point. I liked this segment.
Raw goes to commercials before it's time for the Women's Tag Team Championship match. And we're into hour three of Raw now, so I'll see you in part three of this Raw report.
Enjoyed this article? Share it!