WWE Still Hasn't Canceled SummerSlam at the TD Garden in Boston
Plans for WWE SummerSlam are still going forward, according to TD Garden, the Boston arena where the event is scheduled to take place this August. A fan asked the arena about the event and received a response, posting it to Twitter. The number of coronavirus cases in Massachusettes has decreased to just over 1500 as of the most recent report.
As of today, we have not received any updates from WWE regarding changes to SummerSlam, so it is still scheduled as planned. Any updates regarding the event will be posted to our website here: https://www.tdgarden.com/events/detail/wwe-summerslam-2020. We also suggest checking WWE's website and social channels for the most up-to-date information.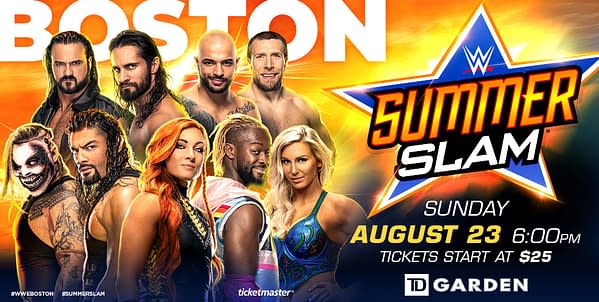 Of course, just because WWE hasn't canceled the event yet doesn't mean they won't. WWE also waited as long as possible to cancel WrestleMania 36 despite holding the massive public gathering being impossible. While it made sense to cancel the event, WWE was likely hoping the city of Tampa would be the ones to shut it down so they could collect on insurance and avoid taking too much of a loss. WrestleMania 36 eventually took place as a two-night event of taped matches, and the Money in the Bank PPV next month is also going to be pre-taped. It seems likely that WWE may end up doing the same with all events for the near future.
Despite continuing to produce weekly shows with no audience, if the risk of infection doesn't considerably lessen by August, it seems unlikely WWE will go through with the event, especially after the wave of bad publicity they've received recently. The company laid off dozens of workers last week as a cost-cutting measure despite boasting of $500 million in reserves and despite announcing dividends for shareholders the following day totaling $9.4 million, enough to keep everyone employed into 2021. This followed WWE obtaining a special exemption from Florida's stay-at-home order to continue operating as an "essential" business. The exemption granted the same day a Republican Super PAC headed up by Linda McMahon pledged to spend $18.5 million in the state this year to ensure WWE Hall-of-Famer Donald Trump wins his reelection effort.