CW Cooke writes for Bleeding Cool: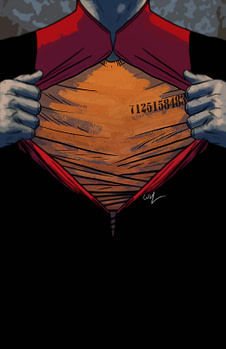 What if Superman was on the Green Mile? When a hero is wrongly executed on death row, he awakens to find that he may just be immortal. Orange is the New Cape, and the series will explore what it means to be a superhuman behind bars.
Hello! My name is CW Cooke and I'm a comic book writer that has been working in and around independent comics since 2007. I've worked for a number of companies and worked on a number of different properties.
Solitary is my baby. This has been the comic I've been working on in one form or another since I was a kid. Once I started reading comics, I never wanted to stop. I wanted to read more and more and create my own. So I did.
The first were pretty much just fan fiction versions of X-men or Superman or Spider-man comics. Then it was creating my own characters to fit in and join with these characters and then, as I grew up and realized I couldn't draw (and especially couldn't draw with colored pencils and markers if I wanted to make comics), I started writing long-form stories. Screenplays, pitches, comic book scripts, anything and everything I could think to write.
And one story stuck with me the whole way.
Solitary.
It's been through at least six title changes. A number of different artists. A number of different pitches. And seven years of trying. Hearing no from a large number of people and getting a couple different maybes.
A maybe then turned into the newest version of the book and turned into the final pitch that was received and picked up. And it will be published, in November, by Devil's Due.
You might be wondering, I already saw this on Bleeding Cool, didn't I? Well, yes you did (http://www.bleedingcool.com/2014/06/24/349804/ ).
But here's the thing: I'm doing the Kickstarter to pay my art team. My interior artist, Nando Souzamotta, is doing killer work. And this is his first book! My cover artist, Carl Yonder, is amazing and you've seen his work on Pirate Noir from Action Lab and will see more of him soon (including in the pages of Solitary and on all the covers, for as long as I can keep him). Alex Schumacher, our logo designer and additional production designer, has done books for Arcana and is working on numerous other wonderful things (expect to hear LOTS more about him too). Greg & Fake do UNBELIEVABLE color work on this book and a bunch of others and they are amazing to work with.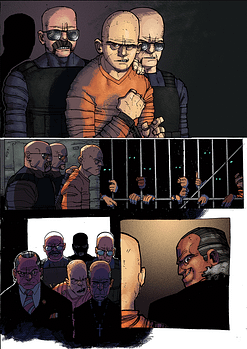 So that's the gist. That's why I need help. I've paid some out of pocket but I'm not worried about it. I'm worried about making sure all of the other incredible people helping me are taken care of. I'm doing this Kickstarter to make sure that they are compensated for all of their hard work and for making my dreams come true.
Okay, that's the long and short of it. This is my baby, it's my dream to make this comic for the rest of my life, and I hope you can make that happen. Anything we can do to push this comic into the stratosphere and get more eyes on it, more donations to it, and to spread it like wildfire will help in ways you could never imagine.
Here's the link to the Kickstarter:
https://www.kickstarter.com/projects/1016350946/solitary-a-superhero-prison-drama/messages/7262449
And here's something for ALL OF YOU! For being such wonderful people, a new BLEEDING COOL SPECIAL REWARD/PLEDGE has been unlocked.
THE BLEEDING COOL LAST MEAL: Because of all of you wonderful people, this incredibly awesome deal is now available. Pledge $75 to the Kickstarter and receive BOTH shirt designs (sized S through XXL in female or male sizes) and all THREE covers (The Comic Bundle Holy Trinity: Kickstarter Exclusive, Standard Edition, and Black and White Line-Art Edition), all signed by the writer, CW Cooke.
This special reward will only be unlocked because of this Bleeding Cool post and only because of wonderful people like you. It's the only place you can get ALL of these things together, all at once, for one low price too.
And now I feel like a used car salesman. Last thing, you can find me on Facebook under CW Cooke or on the Kickstarter page if you have any questions, and you can always follow me on Twitter as @Robocop_Murphy.
Thanks again and remember:
Stay Off Death Row!