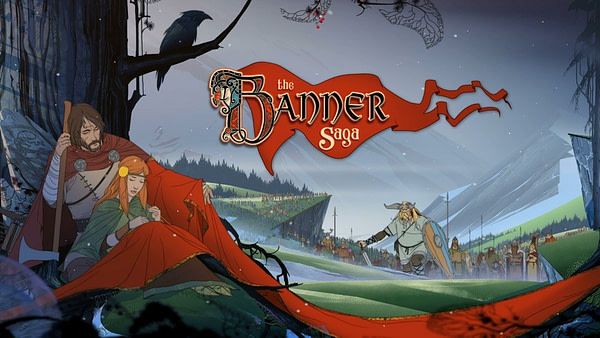 Stoic, in partnership with Versus Evil, have opened up the Banner Saga 3 PledgeManager site where fans can continue to back development of the game and also pick up pre-order only game branded items, chat with the community and the developers, and learn more about Banner Saga 3. Kickstarter backers can also fill out their Pledge Manager order and Add-On or Upgrade their pledges to add newly announced Banner Saga swag, including items such as t-shirts, mugs, posters, pins and more. It's a pretty nice way to keep involvement with backers, and get new ones, after the end of a Kickstarter campaign.
That Banner Saga is the one to open it isn't much of a surprise. The game series is a huge cult hit and keeping backers involved in development is a pretty great decision on Stoic's part. They've got a devoted fan base, and the best way to utilize that is to keep in contact.
In Banner Saga 3, players embark on the final journey beyond the wall of Darkness to traverse a world unlike anything encountered in previous sagas. The beautifully hand drawn Viking role-playing adventure will once again test resolve through epic tactical battles against deadly adversaries where each choice directly affects the player's personal journey.
The Banner Saga launched to critical acclaim in 2014 and has received several awards and nominations, including winner of the 2014 Geekie Awards for "Best Video Game", winner of 2014 Game Developers Choice: "Best Debut" award, finalist placement for "Excellence in Visual Arts" category at the Independent Game Festival, three BAFTA Award Nominations, and was the winner of Pocket Gamer's 2015 Best Adventure/RPG Game and Best Android Game of the Year. The sequel, Banner Saga 2 has also received several nominations and award wins, including a Pocketgamer Gold Award, a nomination for Best Strategy Game at the 2016 Video Game Awards, and has been selected as a finalist for the 20th Annual D.I.C.E. Awards in the Strategy/Simulation Game of the Year category. Banner Saga 2 was also a runner up for Best Strategy Game in RPG Fans best Strategy Game and Hardcore Gamers Best of 2016 Awards and is available now for PC, Xbox One, PS4, Android and iOS.
After they finalize Banner Saga 3, Stoic Studios is looking forward to working on other projects though their work on Banner Saga is far from over.