We have a new writer's commentary from Dynamite Entertainment. This one features Amy Chu talking about Red Sonja #9. This issue includes covers by Mike McKone, Charles Wilson III and a cosplay cover with interiors by Carlos Gomez.
* * * * *
Friday, Sept. 29th was National Coffee Day. If you don't have a cup o' joe already handy, go grab one (or any beverage if you don't partake) and toast with me the many comics which have been fueled by coffee over the decades.
At the recent Baltimore Comic Con, Sean Von Gorman and I brought back the popular Coffee & Comics panel where we shared what we were working on, with guests Terry Moore, Bryan Stelfreeze and Laura Martin. If you weren't there, I said a few things about Red Sonja, which I'll try to cover here, too!
COVER:
I don't feel I've said enough about covers – I love, love the idea of the cosplay covers. So brilliant! I would love to see a Max cosplay one, or Kulan Gath too! There are 8 covers this month, including ones by my pals Charles Wilson III and Mike McKone. If you happen to be at New York Comic Con, get your issues signed by them. They might even have an original cover to show you! Now, in case you were wondering, I see the covers about the same time as you, usually in Diamond Previews. Occasionally if I know the artist I might see them before, but really I'm focused on fleshing out the meat and potatoes of the script.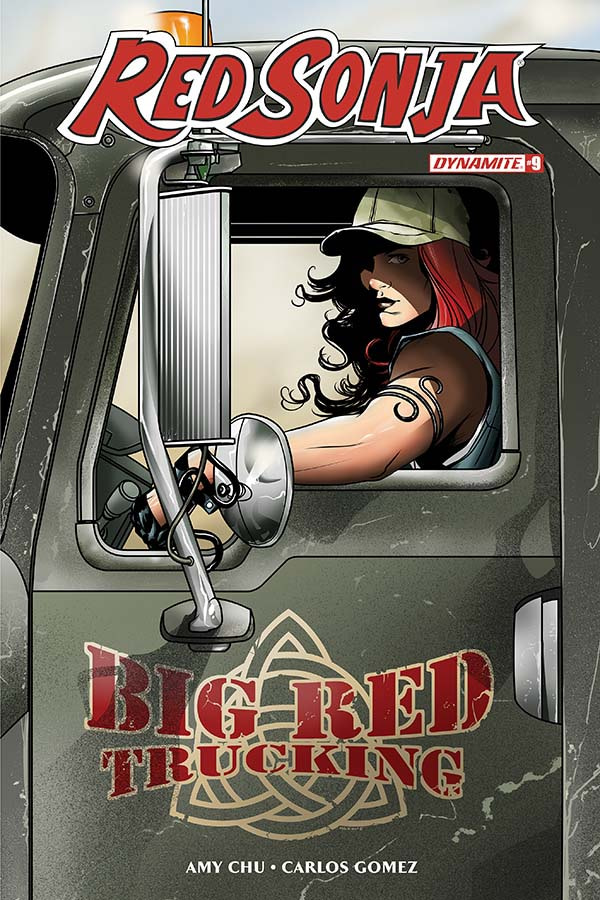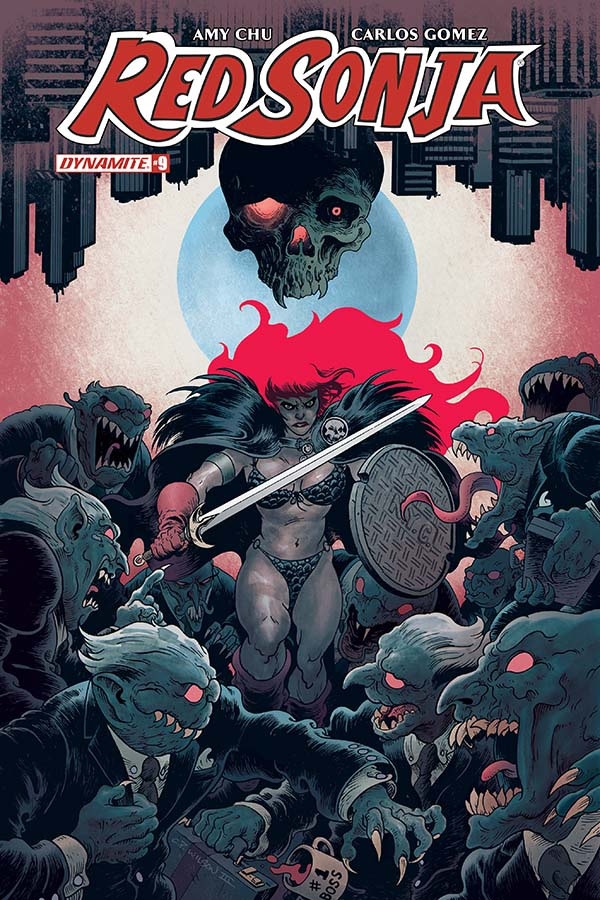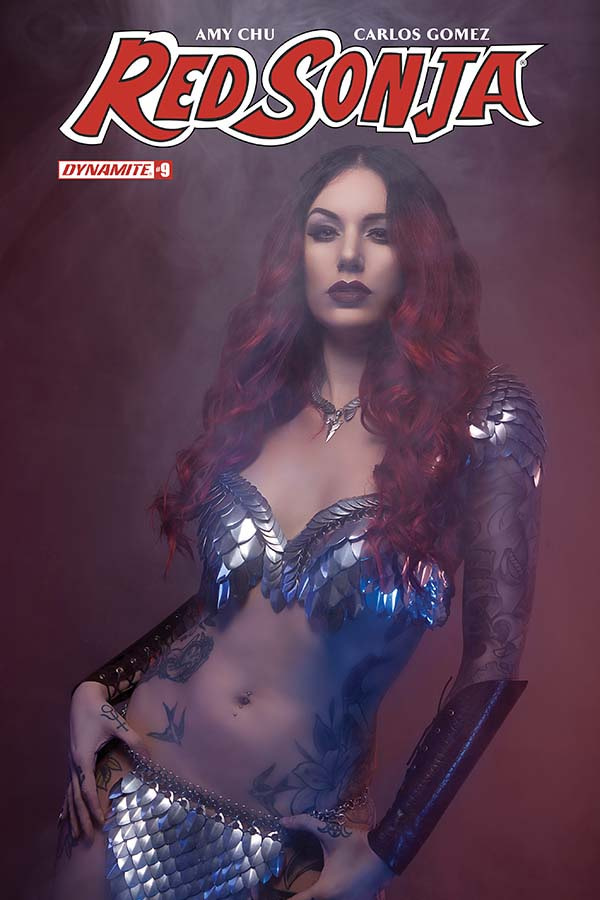 Page 1:
Back in Hyrkania, dark stuff is happening…
Part of the juggling act for me as the writer is making sure there's plenty of action happening both in present day and Hyborian age. Storylines running parallel are kind of a challenge. It's going to get more complicated as we go along and stuff starts converging…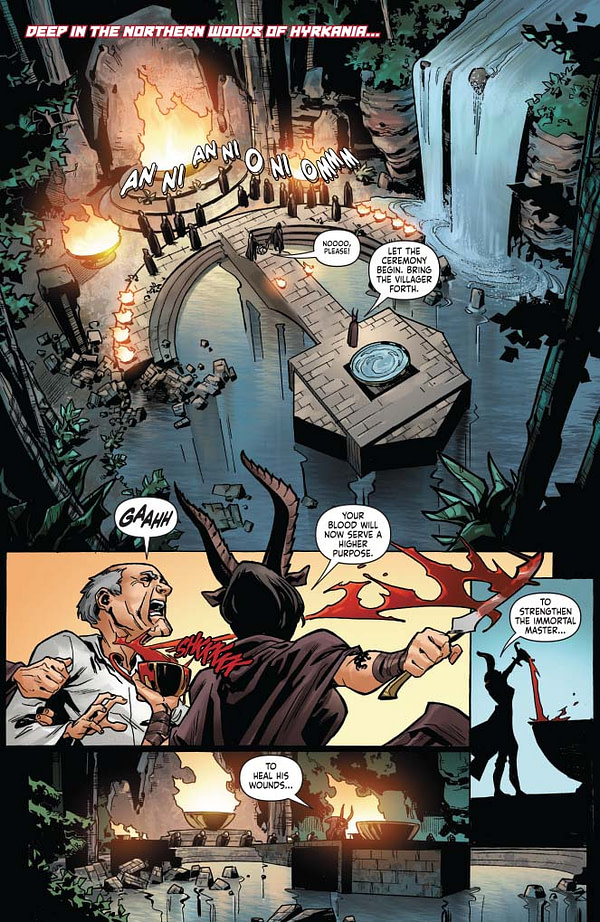 Page 2:
Well, well, you didn't think we would forget about this guy, did you?
And he's got kind of a beef about his neck scar…
I can't remember if I ever said so before, but it's worth reiterating, one of my favorite activities in making comics is revising the script when the artwork is in and I get to see the whole story visually. For me, it's a like a silent movie playing out, and I get add the soundtrack (well, actually that's Tom Napolitano, the letterer, but I get to write the WORDS). Carlos's pages are a joy to work with, and when I got these first few pages it was pure CINEMA in my head.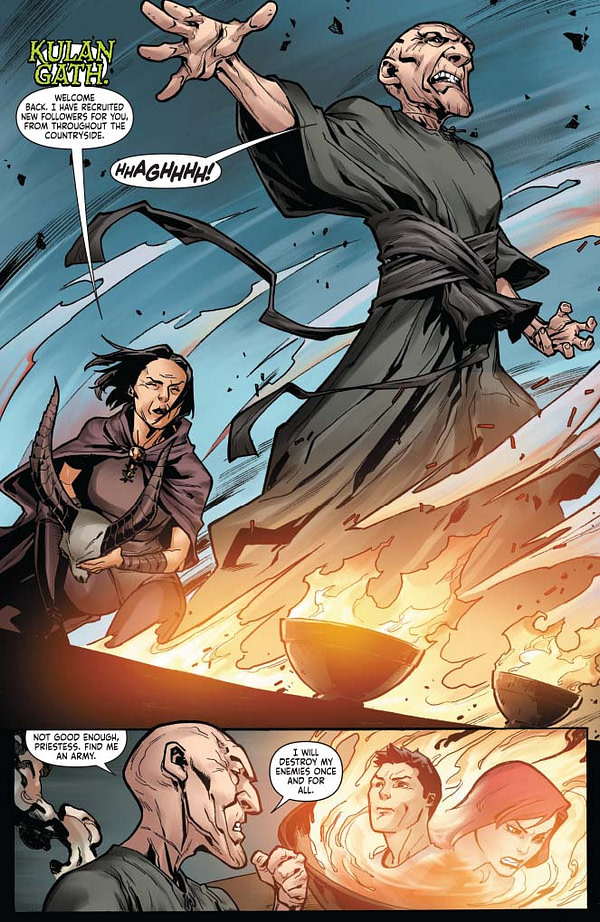 Page 3:
As previously teased on twitter a few weeks back, here they are – Max, Lera and Taya taking on a big ol' troll. As usual, I gave zero art direction on this — Carlos just made up this big ugly guy himself! I had a lot of fun writing this scene, and the letterer Tom Napolitano really gave it that extra oomph!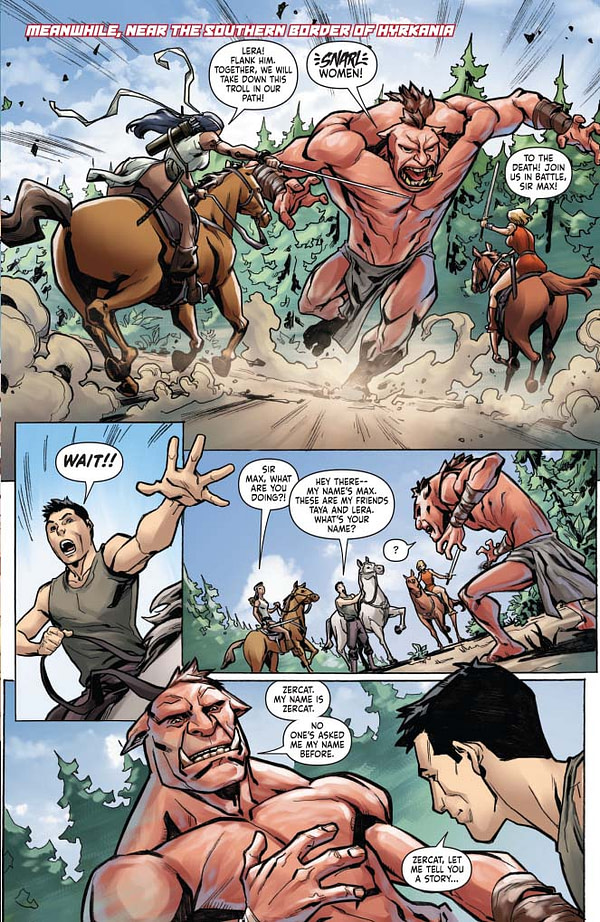 Page 4:
Flashback scene — we had a few email exchanges about this — I'm glad Carlos decided to try something new with style and composition. The juxtaposition of adult Max narrating next to his gigantic younger self. Again, this is all Carlos. Note that when you talk about what the writer and artist bring to a comic, you really can't tell unless you have access to the script.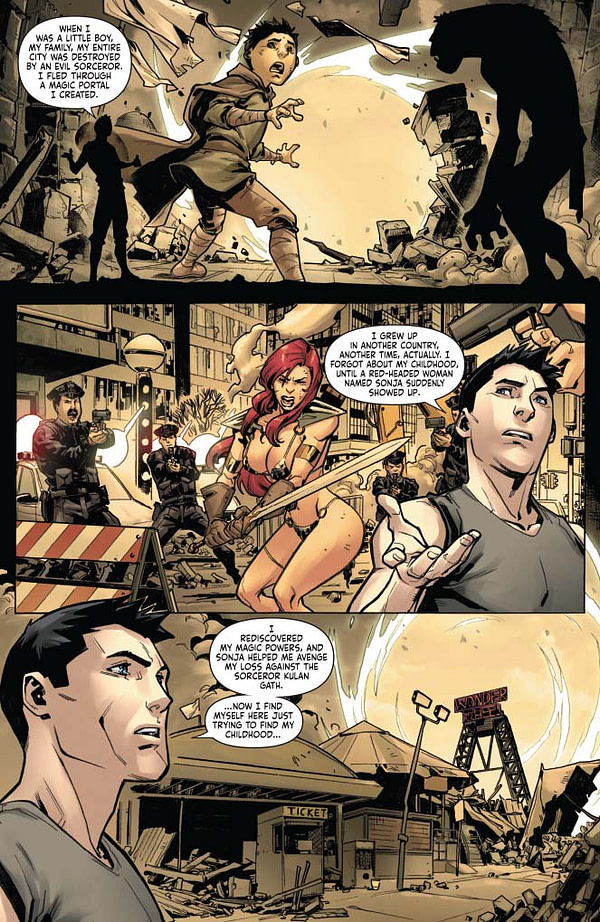 Page 5:
Max is in officer training de-escalation mode again. I met officers Mike and Tony at Baltimore Comic Con (funny thing at conventions — you always need to take a second look to make sure they're legit and not cosplayers). I gave them the Comics 101 and they vetted some of my police action scenes. De-escalation is a big part of their training these days so I'm glad to hear it. They did point out that we had left out the body cams! Note to self: include the body cam in photo refs to Carlos…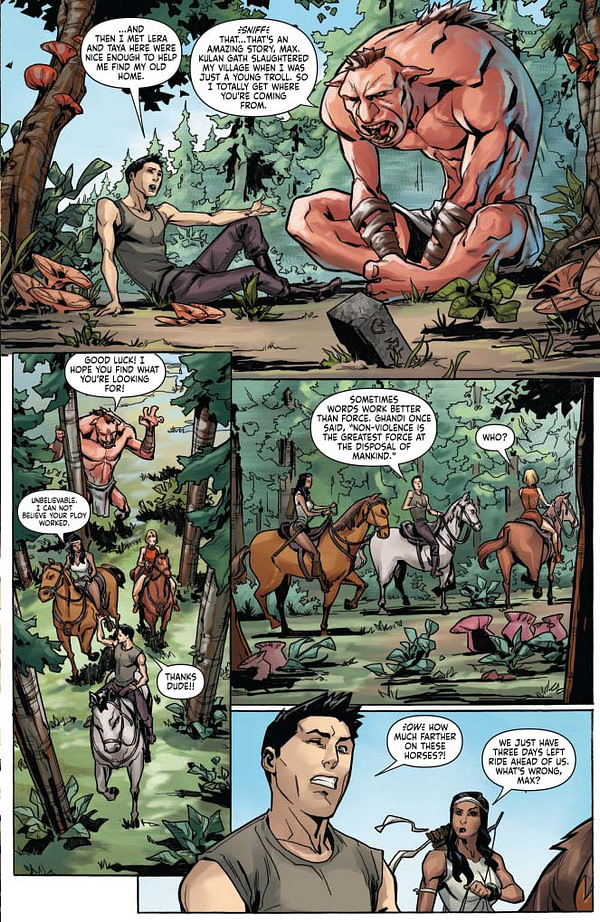 Page 6:
The Lambo is back! I get the sense Carlos enjoys drawing this car…
Page 7:
Flashback — okay, I'm not really into a lot of flashbacks, but it's handy for recap and better than exposition.
Oh hey, there's a mysterious stranger!
Page 8:
And there's that mysterious FBI agent imposter again. What's he up to?!
Page 9:
You didn't think they would have that car forever, did you? The beauty of comics is the limitless special effects budget. This page came out completely different from what I expected, but it was even funnier that I scripted. The armadillo definitely takes on a bigger role here.
Oh hey, that crossbow is going to come in handy soon…
Page 10:
…I mean Sonja doesn't really need it, but she bought it, might as well use it… And it's America. She can always return it within 60 days.
Page 11:
Okay, there's the twist – remember that guy who torched Spike's uncle's car in the previous issue?
Page 12:
Don't mess with the She-Devil. I've been reading and rereading the Red Sonja series from the '70s and trying to get this vibe down.
Page 13:
You really didn't think they would wait by the car, did you? Spike is really taking a shine to Sonja's sword.
Page 14:
Now I know you all hate it when a cover has nothing to do with the interior. So here comes the truck!
Page 15:
Back to my earlier comment about revising the script to the artwork. See what I mean like it's a movie?
Page 16:
I know I have a few splash pages in here already, but I thought this needed one too.
As a writer, besides coming up with the storyline, I'm also largely responsible for the pacing of the book and working out scene transitions. I take page turns very seriously. Splash page reveals should happen on the left hand page. Sometimes when the story gets reprinted in trade editions unfortunately this pagination doesn't always remain. If you're reading this digitally you wouldn't notice, as I suppose every screen is a reveal…
Page 17:
Oh nooo….
Will Agent Choi ever get there in time? Stay tuned…
And who is this mysterious stranger?!
Page 18:
Meanwhile, back at the ranch… Yes, I know you're here for the swords and sorcery, but I wanted to bring in a bit of a Western feel here.
Page 19:
This is literally what I had in the script 19.1 "They enter a small crappy town." and Carlos drew this!
Page 20:
We've been working up to this moment for a while now. It's based a small part on my own experience of revisiting places from my childhood and finding things entirely gone, erased, or just not what I remembered. When your expectations are high, the experience can range from being disappointed, to being gutted. Like going to IHOP and wondering what happened to all the syrup flavors. Is that just me? Oh well.
Anyway, thank you for reading, and stay tuned for the next issue. We're getting close to the end of the arc and some big answers and reveals are coming! You will not be disappointed. If you pay attention to the Diamond solicitations, you know you're in for a treat!
And again, thanks again for supporting this run with me and Carlos. It means a lot, especially those of you who are picking Red Sonja up for the first time or after a long absence. I will also be at New York Comic Con in Artist Alley B20 and signing at the Dynamite booth Saturday and Sunday so definitely stop by and say 'hi' any of those days. Cheers!
"I never stab a man when he's down." – Red Sonja