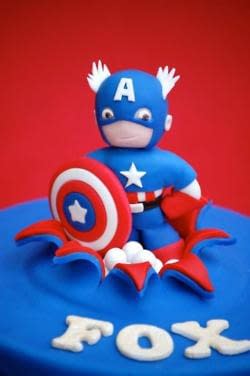 From Cake Wrecks
This was the week in which DC Comics finally got round to mentioning that they were running all Zero issues in September. After a number of their creators had inadvertently blurted it out at a number of conventions of course, necessitating a special letter being sent round asking them to shut the fuck up. Not those words exactly, of course. And along with the third mini-wave of new DC titles, naturally I've started to hear about the fourth wave. More on that to come.
So what stories were you reading this week?
Top Twenty By Traffic
1. Jim Lee To Leave Justice League – Position Available?
2. First Full Trailer For Django Unchained – IT'S HERE
3. DC Confirms Zero Issues For September, Launches Talon, Amethyst, Team Seven And Phantom Stranger Series
4. "Neil Gaiman Gloating Over Stealing From Todd McFarlane"
5. Another New Image Of Karl Urban As Judge Dredd – Full Length
6. Say Goodbye To DC's Lucifer
7. More DC Issue Zero Third Wave News Spills Out For Talon
8. No Rob Liefeld Title Cancelled For The Third Wave
9. Could "Bullet Training" Be The New "Fridging?"
10. Daniel Araya's Justice League
11. How Kieron Gillen Made A Little More Sense Of Avengers Vs X-Men
12. The First Five Pages Of Before Watchmen By Darwyn Cooke
13. Amanda Conner On Power Girl, Wonder Woman, Silk Spectre And Boobs
14. Damon Lindelof Shows Us The One Man Who Beat Batman
15. Red Lanterns #10 – The Return Of One Punch!
16. No, This Is Not A Continuity Flub In Before Watchmen: Minutemen
17. Ten Thoughts About Before Watchmen: Minutemen #1
18. The Green Lantern Gay Marriage Proposal
19. X-Men Sequel Headed Towards Days Of Future Past?
20. Scenes From Dark Knight Rises: The Kids Version
And Ten You Might Prefer
1. MTV Interviews Before Watchmen Creators About Alan Moore – With A Few Bleeding Cool Retorts
2. When Bleeding Cool Met David Cronenberg And That Broody Pattinson Kid
3. Powers: FBI Becomes Powers: Bureau
4. Images From Michel Gondry's Mood Indigo
5. Orbital Comics Hires Gay Club For Astonishing X-Men #51 Party
6. John K Puts The Violence Back Into Cartoons
7. Womanthology's Renae De Liz Needs Your Help
8. The Red Tails Movie That Never Was, And What George W Bush Will Do For The One That Is
9. Say Goodbye To DC's Lucifer
10. Judge Dredd Movie Shoot Out
Thanks to Adi Tantimedh, Aaron Haafeld, Nerdy Show, Grace Randolph, Peter G, Jesse James, Ande Parks, Chris VB, Cameron Hatheway, Matthew Funk, Adam Messinger.
Enjoyed this article? Share it!