This article contains spoilers for the Marvel's Luke Cage season two episode – The Basement.
.
.
.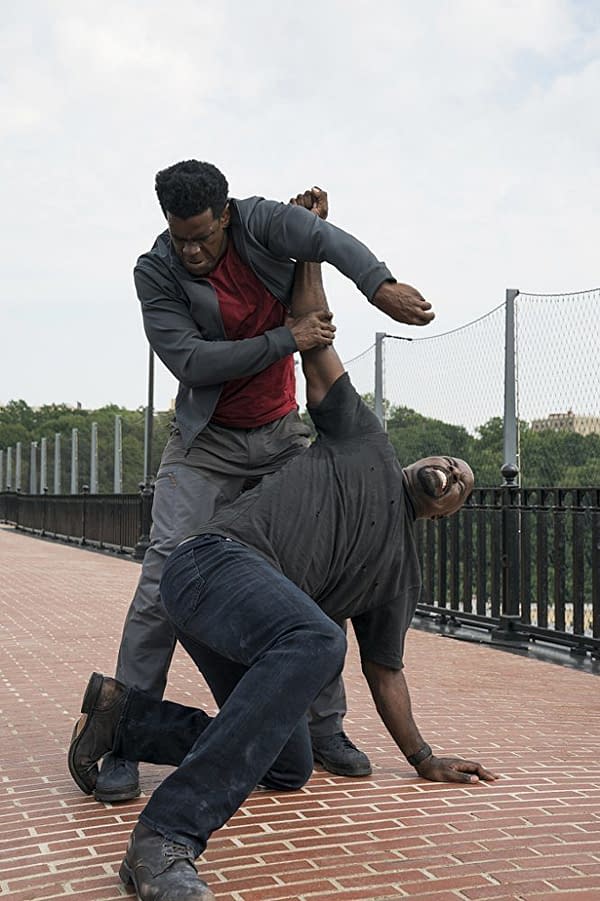 The episode starts with Luke Cage (Mike Colter) trying to protect Piranha Jones (Chas Lamar Shepherd) from the Stylers. They get up on the roof, but are followed, so Luke throws Piranha up onto a taller building, fights off a few thugs then jumps after him. John "Bushmaster" McIver (Mustafa Shakir) is at Gwen's when a report comes on about the severed heads at the family center and the shoot out at the part, those around call it savage, not powerful which seems to upset Bushmaster. He then gets a call from his man telling him Piranha is gone and Luke helped him get away. Bushmaster wants every cab out looking for them. We get a quick Connie (Jade Wu) sighting and then we see Luke tucking into an abandoned theater. Luke tell Piranha to spill it all or he's gone. Hernan "Shades" Alvarez (Theo Rossi) set his men up at the club, what few he has. Comanche (Thomas Q. Jones) tries to convince him just to bail, it's not their fight. When Shades refuses, Comanche tells him he's being too emotional. Shades says he's right and walks off and gets the weapons. He figures they need to get Piranha to save their money since its all liquid. So he wants to go small, just Shades and Comanche like old times. Mariah Dillard (Alfre Woodard) is at the station and Misty Knight (Simone Missick) wants to question her, but Captain Ridenhour (Peter Jay Fernandez) benches her because she went into Cockroach's house without probable cause. She gets mad and hits a metal shelf with her new arm and bends the shelf all to hell.
Ridenhour questions Mariah, they have a past, but it gets him nothing. Piranha explains the inside information he gave to Mariah. Luke figures out that Piranha controls all of Mariah's money, which is why he is valuable to Bushmaster. Luke plans to keep him safe over night then get him to the cops in the morning. Shades and Comanche set up at the barbershop, sitting back-to-back, waiting for Luke to return. Misty goes gets dinner with Dr. Gabe Kresner (John Scurti), the police shrink she talked to after Scarfe's death, except Kresner no longer consults for the cops so it's all confidential. She tells him about almost planting evidence and he doesn't sugar coat anything, tells her that she needs to figure out who she is, not who everyone thinks she should be. Bushmaster talks to his uncle, who tells him what he is doing is terrorism. Tells him to kill Mariah already and be done with it. The past needs to be the past and he needs to find peach in his heart. But acting like a savage makes all Jamaicans look bad. Back with Shades, Comanche wants to know what Mariah is in charge. Shades tells him about how Cottonmouth unraveled when Luke Cage showed up and how he was going to go kill Cottonmouth when he saw Mariah push him out the window and finish him with a mic stand. Shades tells Comanche that Mariah has ice water in her veins and will not hesitate when it comes time to kill the Stylers. Shades tells him that he wants to be more than a gangster, he wants to live a life where he's not looking over his shoulder all the time. They go back and forth and we see that Shades has changed from when he was inside by Comanche hasn't. Finally Comanche gets tire of "wasting time" and Shades says "Not time is every wasted. Time reveals all."
Mariah is back at the club, drunk and talking to her assistant. She says everyone she's ever loved has betrayed her and the only reason everything she has isn't gone is because Luke Cage, her sworn enemy, is protecting Piranha. At the Theater, Piranha is talking about his father then asks about Luke's. He ends up giving Luke the exact same advice that Claire had…. to go see his dad. Luke calls Misty, catches her up and lets her know that the gypsy cabs are out looking for him. She sees one outside the precinct but it takes off when she gets close. The Stylers find them and grab Piranha. Luke starts fighting back. He takes out their men two at a time. Eventually freeing Piranha and getting him out of there. Back at the club, Mariah is losing it, but Shades calms her down, gets her back on track and lets her know where Bushmaster has family. She asks Shades who else knew that Cottonmouth threw Tone off the roof. He says only the two of them, Cottonmouth and Turk Barrett. But Captain Ridenhour mentioned Cottonmouth throwing someone off the roof. Misty realizes that the path she's going she's either going to never change anything on the streets or turn into Scarfe, instead she turns in her badge and gun. Luke take Piranha to Reverend Lucas' church. The Reverend (Reg E. Cathey) agrees to watch Piranha while Luke has a showdown with Bushmaster. They fight on Hyde Bridge and it's a good one. Luke is definitely a brawler while Bushmaster uses a form of Capoeira and they're pretty evenly matched, but Luke is stronger and maybe Bushmaster's powers ebb and flow based on the last time he used the herbs. Luke gets the upper hand and looks to have Bushmaster beat until he cheats. Hits Luke with some paralytic dust and then kicks him off the bridge into the water far below.
Piranha is annoying. He's supposed to be, and he is. Misty quitting the force seemed to be a matter of time. The split between Mariah and Shades seems to be growing, especially now that she suspects him of talking to the cops. And Comanche knows Mariah killed Cottonmouth. Luke had to go to his father because he has no one left besides Misty. Luke really needs to learn to fight better. I like they keep bringing back characters from season one like Dr. Kresner. Now where is Turk?
Enjoyed this article? Share it!