Posted in: Movies, Netflix, Review, TV | Tagged: Alfre Woodard, entertainment, Marvel's Luke Cage, Mike Colter, netflix, television, Theo Rossi
---
Marvel's Luke Cage Season 2, Episode 8 Recap: If It Ain't Rough, It Ain't Right
This articles contains spoilers for the Marvel's Luke Cage season two episode – If It Ain't Rough, It Ain't Right.
.
.
.
.
.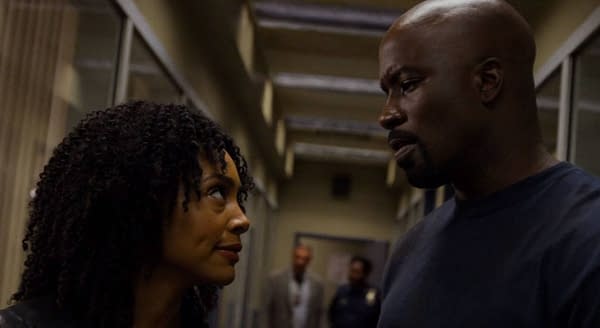 The episode starts with Hernan "Shades" Alvarez (Theo Rossi) on the roof, burning his clothes and trying to deal with having had to kill his friend Comanche (Thomas Q. Jones) for being a snitch. Mariah Dillard (Alfre Woodard) and her daughter Tilda (Gabrielle Dennis) are at the police station after being saved from their burning brownstone by Luke Cage (Mike Colter). Tilda is shaking but Mariah is remarkably calm beause, "People always come after us for who we are." She tells Tilda to say nothing to the cops, this is something they have to deal with themselves. She then goes to talk to Luke, wants to know why he saved her. Luke tells Mariah it was so he could find out why John "Bushmaster" McIver (Mustafa Shakir) hates her as much as he does. She won't say, but she really wants Luke to protect Tilda. The cops return and Misty goes off on Mariah, wants her in an interrogation room. Mariah claims to be the victim, so Misty tells her she's free to go… but of course Mariah doesn't leave because they have no where safe to go. She asks what about her daughter, Luke says he has her covered. Misty gets upset and storms out. Luke follows and finds out that Ridenhour is dead and Misty believes that Mariah was cleaning house like she did with Candace.
Shades goes to visit Comanche's mother, the two grew up together as boys. He promises to take care of her and gives her some money. She says no, but they both know she needs it. He gets a call from Sugar and leaves. Luke tries to get Tilda to tell him what she knows about Bushmaster, but she won't talk, especially in the police station. Turns out Ridenhour never turned in Misty's paperwork and there are no available captains, so Misty is in charge and Nandi Tyler (Antonique Smith) encourages her to do it. Luke names Comanche as Darius Jones and talks about he and Shades were buddies and put the beat down on him at Seagate. Misty realizes that no brass in the building means everyone is staying clear afraid for a repeat of what happened with Scarfe. She asks for Luke help to try and connect thing to Bushmaster. He agrees because he can do it his way. At Harlem's Paradise, Bushmaster is settling in, proud of what he's done until one of his men comes in and tells him that Mariah and Tilda are alive, that Luke Cage saved them. Out of anger he tears apart the chair and hurts his hand in the process. Mariah is trying to sell the story that it was a home invasion. Misty calls BS, tells her to come clean before more people get killed. Mariah demand Ridenhour come in but Misty shows her the photos of his corpse. She is genuinely shocked, but gets her composure back and isn't phased when she sees Comanche's body. Meanwhile Luke has gotten Tilda to tell him what really happened and about how the Stokes killed Bushmaster's parents over rum.
Shades and the lawyer arrive to get Mariah out, but the take Shades as a person of interest as his vehicle was spotted near Ridenhour's shooting. Tilda was telling Luke about the herbs when Mariah comes in and spars a bit with Luke, saying they'll leave when Shades is done. Luke asks where they going to go that's safe. Misty walks through the shootout as she does and explains how it went. The lawyer calls it fiction and that she has nothing on Shades. He then gets a text and announces he's not representing Mr. Alvarez anymore and leaves. Shades is shaken. Cut to Bushmaster whose hand is still hurting. His uncle tells him that the nightshade, which works like a steroid, is killing him. He doesn't need any more, he's already won. But Bushmaster won't be satisfied until Mariah burns. Luke is going to keep Mariah safe until Bushmaster is out of Harlem, but when they walked outside, a drive by opens fire. Sugar gets the down while Luke takes out the car and the shooter. Sugar takes off with the girls. Luke finds out there's a bounty on Mariah, Tilda, Luke and anyone Luke is close to. Luke tells Tyler what happens then takes off to protect his own and find Mariah.
Misty continues trying to break Shades. Here's the story of how he got his name and how Comanche was involved. He's on the edge but he won't break and it turns out they have no evidence to hold him. She tells him he's free to go, but asks why would Mariah pull her lawyer from him? Trying to plan the seed of doubt. Luke goes to protect his father, Reverend Lucas (Reg E. Cathey), but the reverend won't leave, telling Luke he'll have to protect him there at the church, then gives Luke papers to pass out. Mariah goes back to the brownstone and is broken up to see it destroyed. Shades shows up and they argue, and blame each other until he gets Mariah to come around and see that she's a gangster from the moment she put Cottonmouth through the window. He tells her they need to strike back. Go after what Bushmaster loves, go at him they way he came at them. Shades gets Mariah back on track. The cops search Harlem's Paradise and find nothing. Bushmaster denies putting a bounty on Mariah's head. He's also hired Mariah's attorney who sends the cops off with nothing. But when they leave we see that Bushmaster is really hurting.
Mariah finds Tilda at her shop packing things up. Mariah tells her the truth about how she was in labor 22 hours and it almost killed her, but Mama Mabel to her away almost immediately and sent to live with the Johnsons. Meanwhile Bushmaster wants his strength and is out of the herbs. His uncle warns him again about using it and that he can't use substitute herbs. His uncle won't help any more and leaves. Shades is outside and follows him. We hear the reverend doing a baptism while Bushmaster tries to mix up the herbs to regain his strength. Gun men come in to get the reverend. Luke takes care of a couple, but Reverend Lucas beats the hell out of one of them himself. Luke and his father get away safely. Tilda shows Mariah about the nightshade Bushmaster uses. Misty and Nandi rush in to the shop to protect them from the Stylers. A gunfight ensues, Misty takes out one, Nandi another and Luke arrives to take out the last two. Outside they're joined by Reverend Lucas and try to figure out a safe place. Luke turns to Misty and tells her to call Danny Rand, they need a favor from him.
The tables have really turned at this point as Mariah needs Luke's help. Shades is being a bit emotional. Luke has to protect his father. And finally Luke has to call Danny for help. Overall a pretty amazing performance from Alfre Woodard and Theo Rossi here. Both make you feel for them even though you know they're bad people. Now that Luke has talked to Tilda about how Bushmaster's powers work, that may turn the tables. And having Misty go from riding the desk, to off the force to running the shop is a pretty big swing, but it works. I remember seeing in one of the interview for the series, I think Cheo Hodari Coker said that this season was more of an ensemble and you really see that in the last few episodes. Luke hasn't been center stage in some of them. Which is interesting since, as he said a few episodes back, "It's my show."
---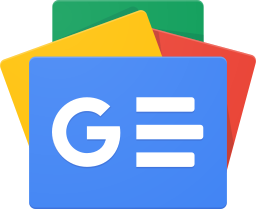 Stay up-to-date and support the site by following Bleeding Cool on Google News today!