Hello, loyal readers, it is with a heavy and awed heart that I bring to you my review of the infamously-muddled monster manual known as Fire on the Velvet Horizon by Patrick Stuart (not to be confused with Patrick Stewart, who plays Jean-Luc Picard from Star Trek: The Next Generation, and Picard, obviously). No, this Patrick Stuart is someone far more insane, but only ever in the best ways I can imagine. The book is published by False Machine Publishing.
Like I said, I'm in awe, and so all of you can be in awe as well, consider this your disclaimer: This is not a normal monster manual. It's tricky, dark, and at times gruesome. This is your warning!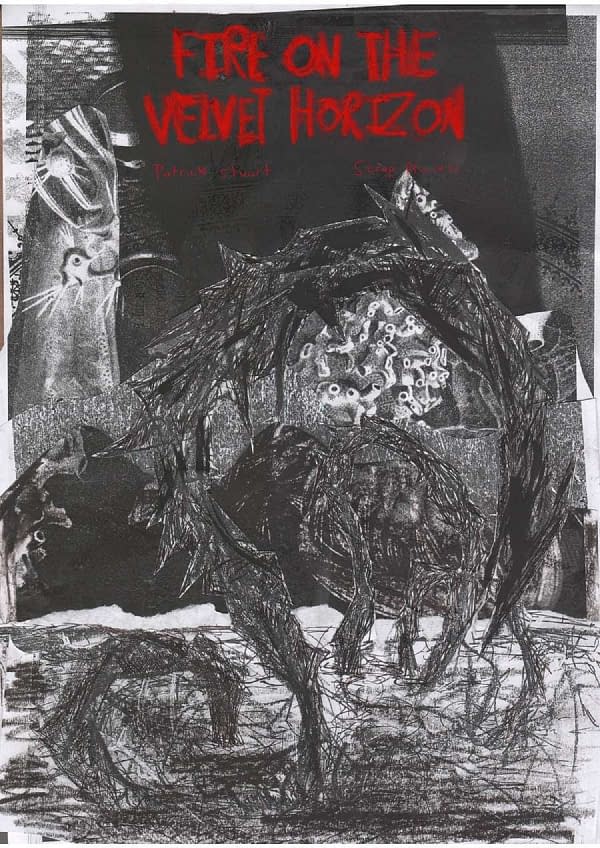 What is this. No, I mean it.  What the heck is this book. Period. It's so incoherent in its execution but so, so, so maddeningly exquisite in its concept that the execution gets a pass of approval. I am going through it rather slowly so as to take in the glory that is each and every one of the 100 ridiculously vivid-yet-ephemeral monstrosities in this book.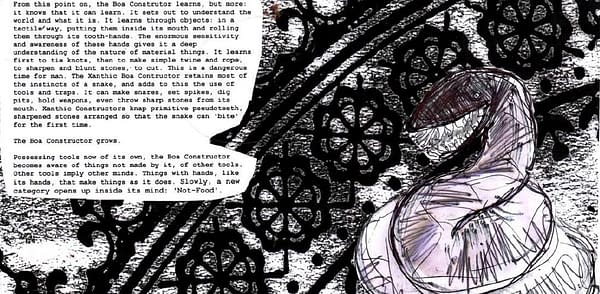 Take, for example, the Boa Constructor, the monster depicted in the image above. It's a magnificently-large snake with to-scale human arms (complete with hands, fingers, and nails) in place of its teeth and fangs. The scariest part of the Boa Constructor, to me, however, is not any of that, but its propensity to learn and absorb information to the same level as an average (or smarter!) human. Its personal goal is mainly to create structures to inhabit, tools with which to create said structures, and then, ultimately, a palace for itself, from which nothing ever has been known to leave. What goes in does not even not necessarily come out; they just plain don't leave. That fear of the unknown is part of the genius of Patrick Stuart's insanely genius book of monsters.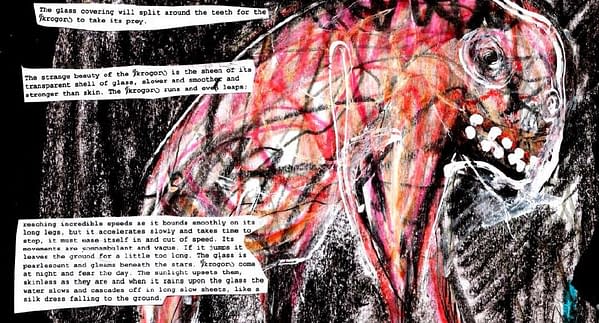 And then as a second example take the Krogor. This is an apelike being that also happens to have a skin made of pliable glass. It eats people. That's simple enough, but the horror of the Krogor is seeing what is under its skin. Maybe it's not even the unknown that Stuart uses to terrify, but also the balance between not knowing enough and knowing a little too much.
I'll be honest, when I acquired this book, it felt like a gift from dark parts of the web. The illustrations are visceral but at the same time look almost as though they could have been drawn by a seven-year-old with a dark imagination. And, heck, I could be right, but the writings belie that by miles.
Fire on the Velvet Horizon can be found on DriveThruRPG, and retails around $40.
What do you think of Fire on the Velvet Horizon? Do you have a copy? Is it too dark for you? Is it just dark enough? Let us know your thoughts!
Enjoyed this article? Share it!