Supergirl Season 3, Episode 23 Recap: Battles Lost and Won
This article contains spoilers for the Supergirl season three finale – Battles Lost and Won.
.
.
.
.
.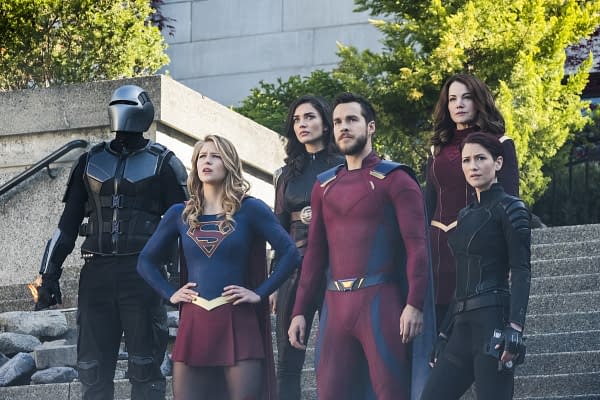 And here we are, the finale of season three and it feels like an attempt to tie up loose ends. But lets get into what happened. It starts with the terraforming attempt by Reign (Odette Annable) that is causing titanic earthquakes in both National City and Madagascar. We see the heroes hitting the streets trying to save people. Supergirl (Melissa Benoist) working with her mom Alura (Erica Durance), Mon-El (Chris Wood) Alex (Chyler Leigh) and Guardian (Mehcad Brooks) doing what they can and Saturn Girl (Amy Jackson) and Brainiac-5 (Jesse Rath) showing up just in time to stop a tidal wave. We get both a name drop of Superman and a Star Wars reference in the scene. Meanwhile J'onn (David Harewood) and M'yrnn (Carl Lumbly) go to the epicenter of the attack. M'yrnn gives J'onn the most important memory and then says goodbye an merges with the Earth, stopping Reign and trapping her for a while.
With the attack stopped, there is a moment of downtime and Mon-El has a moment with Imra where she tells him that they heard the beacon and she apologized for not telling him about the original reason to come back for Pestilence. But there's more to it and Brainiac tells him and Winn (Jeremy Jordan) that by stopping Pestilence it saved the evil Brainiac who has created a virus to kill all AI. Brainiac-5 can't go back to the future, but they need both Mon-El and Winn. Brainiac shows Winn an artifact, which is the drawing of Winn's design for his force field, it's the building block of much of the safety tech of the future. Winn, still stunned, talks to James about it. James tells him that he took his mask off during the quakes to help calm a woman down, and he's even more sure he wants to unmask. We see Alex and Lena (Katie McGrath) watching over Sam who has gone into the Valley of Juru. Then we go inside and see that Sam is looking for the fountain and her mother (Betty Buckley) appears and tries to guide her, but Sam sees it as a trap.
Back with the Kryptonian witches as they find a way to free Reign. But Thomas Coville (Chad Lowe) seems to have a change of heart and sets off the distress signal on J'onn's ship before appearing to die. At the DEO, they all gather around to make a plan. Supergirl is adamant that she won't kill Reign, but Alura convinces her that sometimes you have to do the last thing you want to to protect those you love. They all head to the source of the signal. Inside the Valley of Juru, Sam finds the well and is about to drink when her mother convinces her that she is at the wrong side. Sam finally believes her and drinks. Sam wakes and is super-powered, races after the others. Supergirl and the others rush in and attack. Mon-El, Alura and J'onn take out the witches rather easily while Supergirl and Reign fight, which takes them up into the air and crashing through the Legion's ship. Reign gets the upper hand and has Supergirl in a choke hold when Sam arrives and runs her through with the sword, then Supergirl tosses her into they pyre. It triggers her powers and she sends out eye blasts that kill Sam, Alura and Mon-El before she dies.
Supergirl is devastated by this. J'onn tries to console her, but she grabs Mon-El's Legion ring and calls for Winn to find her a breach. She then uses the ring and flies in to turn back time a few minutes to just before Sam arrives. She tells Sam no to striking Reign, and flips her over, then has Mon-El toss her the Harunel / Black Kryptonite and uses it to force her, Reign and Sam into the Valley of Juru where Sam forces Reign to drink from the weak side of the fountain and then she is attacked by the ghost/spirits and becomes part of the well. Supergirl and Reign come out and we get to see the fallout. Alex goes to tell J'onn she's quitting the DEO, but instead he quits and makes her the Director. This will keep her out of the field so she can start a family while he wants to live among the people, something his father suggested he do as is the Martian way. Alura is heading back to Argo with the Kryptonian witches. Mon-El and Winn are going with Imra to the future while Brainiac-5 is staying with the DEO. And James comes out as the Guardian. We end with Alex and Kara sitting on the couch in her apartment. Alex asks if they're going to be okay, Kara says yes. We cut to Lena working on a piece of black kryptonite. Then we cut to Siberia where we see guards racing over to see a woman walking towards them. Then it's revealed that it's Kara… or a version of kara… in nothing but a blanket.
I'm not exactly sure how I feel about this finale. I want to like it. But there are so many problems with it. The use of time travel to go back 5 minutes. The whole traveling to the Valley of Juru, Sam's mom being there. How easily the three witches were beaten. The fact that Coville suddenly turned sides without a word. We got the great fight between Supergirl and Reign at the mid-season finale, but the two times they've fought since haven't been anywhere near that good. Rather disappointing really. This season had to deal with the firing of Andrew Kreisberg, who had been the driving force behind the show since it debuted. Since his departure, it's felt a bit rudderless even with the 9-week hiatus. The Morgan Edge story line disappeared suddenly, the introduction and the death of the other two Worldkillers seemed rushed and the Guardian unmasking story seemed to be wedged in like they had to change direction on everything and were scrambling to make sense of what had already happened.
If you're trying to keep score. The DEO now consists of Alex, Supergirl and Brainia-5… and going to use non-lethal weapons. Mon-El, Imra and Win are headed to the future. Alura is back in Argo City. J'onn has gone walkabout and James has been unmasked as Guardian. Jeremy Jordan has shifted down to recurring while Jesse Rath is now a series regular. Chris Wood was always set to be a two-year character but might come back in the future. No word if David Harewood's status has changed.
Supergirl returns in the fall on Sundays at 8 PM on the CW.