Assassin's Creed Origins Bayek Lives with New Damtoys Figure
Coming right out of the Ubisoft hit game Assassin's Creed Origins, Bayek as arrived as the next figure coming out of Damtoys. We have seen a couple of other assassins come out of the Damtoys figure line as were quite impressive. This time we are going back to ancient Egypt to watch the origin story of the assassins with Bayek. The figure is highly detailed, sculpted to perfection, and has a hyper realistic head mold. If the details of Assassin's Creed protagonist Bayek were not enough, he is pack with a huge variety of accessories. He will come with a bow and three arrows, khopesh, quiver, and shield. Each weapon is nicely crafted from the video game and with his articulation, he will be able to pose nicely with them.
This is a figure that brings the Assassin's Creed video game to life and would help entertain any collectors' collections. From the sculpt, fabric clothes, weapons, and articulation thesis one assassin that feels like he was pulled right out of your screen. Damtoys did not give release dates or pieces just yet but you will be able to find them located here when they finally go live. Don't forget to check out the other Assassin's Creed figures also announced by Damtoys like Assassin's Creed II Ezio Auditore.
Damtoys–Assassin's Creed Origins–1/6th scale Bayek Collectible Figure
Specifications:
Special features of the 1/6th scale Bayek Collectible Figure:
Highly detailed head sculpture
DAM muscle action body-Eleven (8) pieces of interchangeable hands including:
One (1) left hand for holding bow/shield
One (1) left open hand
One (1) right hand for holding arrow
One (1) right hand for holding Sickle sword
One (1) pair of fists
One (1) pair of relaxed hands
Assassin's Creed Bayek Costumes:
One (1) beige cloth-like scarf with hood
One (1) dark brown and gold colored breastplate
One (1) dark brown colored leather-like waist belt
One (1) orange-colored long shawl
One (1) beige apron
One (1) left bracer
One (1) right bracer
One (1) dark brown colored poison knife pouch
One (1) dark brown colored smoke bomb pouch
One (1) red belt sash
One (1) pair of brown colored shorts
One (1) pair of dark brown colored boots
One (1) eagle skull necklace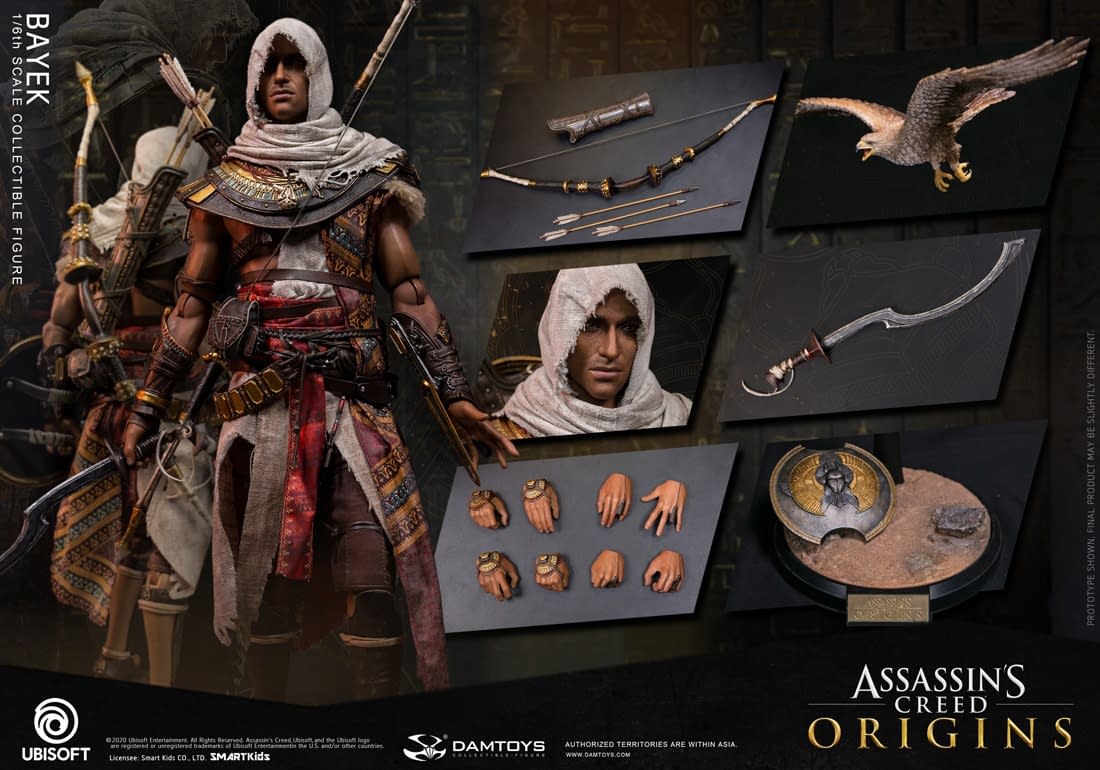 Weapons:
One (1) bow
Three (3) arrows
One (1) khopesh
One (1) quiver
One (1) shield
Accessories:
One (1) Senu Bayek's eagle
Specially designed figure stand with game logo